Discover Social Engagement - Microsoft's social listening tool.
Microsoft Dynamics 365 is becoming an increasingly competitive tool for marketing and customer services. And one of the recent additions that strengthens its appeal for both uses is Microsoft Social Engagement.
Microsoft Social Engagement is a sentiment tracking tool for social media channels. It allows for companies to follow the keywords, conversations and overall sentiment of social media activity that focus on your company or brand, a product, a marketplace or a competitor.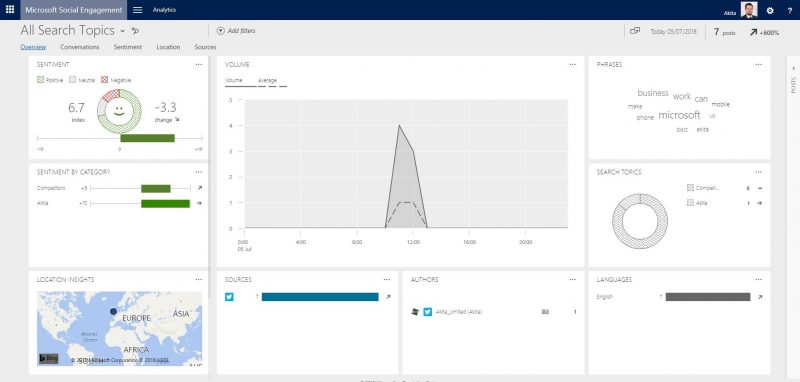 Keeping on top of social
It's taken time, but now businesses of all sizes recognise the value of social media. For just the investment of time, small companies can acquire a huge reach through capitalising on the right platforms.
But with the number of social media platforms out there and international audiences to consider, keeping track of your online audience can be tricky. Companies can find out that there's been an online conversation about them that they really wish they could've been a part of.
Microsoft Social Engagement can help build a better picture of social commentary. With post tracking based on key terms, and sentiment analysis (how positive comments are overall), you can keep on top of the latest thoughts about your company, brand or product. If need be, you can then join the conversation yourself.
Alternatively, companies can use Microsoft Social Engagement to gain valuable insight into competitors. It can allow you to see which of their updates and products are of greatest interest. You can also follow their customer satisfaction levels and establish which of their customers may be planning to move.
Microsoft Social Engagement can, therefore, be instrumental in helping you target your marketing. It can also help you protect your brand or get on top of customer service issues. Included with Microsoft Dynamics 365, it can follow the impact of specific campaigns, or be integrated with dashboards and ticketing to give a sense of customer satisfaction.
**UPDATE - The features of Microsoft Social Engagement have now been split across Dynamics 365 for Marketing and Dynamics 365 for Sales. To arrange a demo of either product, please get in touch**