New solution? Or just the new name for Common Data Service? We take a closer look.
IMPORTANT UPDATE: We have seen indications that Microsoft has faced a challenge for the Dataflex name. Currently, the solution is being referred to as 'Project Oakdale' - a new name is yet to be confirmed.
Microsoft used its recent Inspire event to announce the launch of Dataflex, a simple-to-use, low-code data solution.
Dataflex will run under many of its core transformation products, including Microsoft Dynamics 365, Power Apps and Power Virtual Agents, as a way of storing application data in a more efficient way.
But if this sounds familiar its for good reason; its primarily a renaming of Common Data Service. But there's a few important changes to be aware of.
Why was the name changed to Dataflex?
We could surmise that the change is to get away from the annoying name (why not 'the' Common Data Service?).  However, the main reason is to embrace new application deployment solutions for Microsoft Teams.
Teams has had a runaway year and has been one of few success stories under COVID-19. As part of expanding Teams' capabilities and reach, Microsoft is now empowering the software with the Power Apps App Studio and the Power Virtual Agents Portal - effectively custom apps and chatbot capability from within Teams. To achieve this requires the underlying technology that was Common Data Service.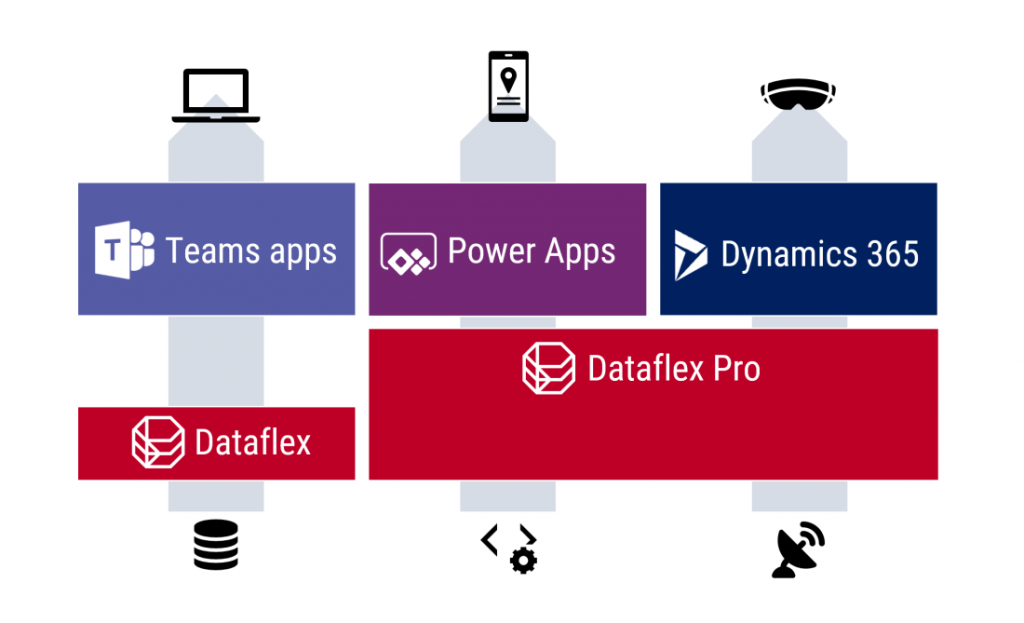 Interestingly though, the coding required for Teams appears to be even lighter than the Common Data Service. As a result, Dataflex comes in two flavours: Dataflex (used for Teams applications) and Dataflex Pro (used for Power Apps and Dynamics 365).
The key detail is that the base level of Dataflex will be included with Teams licences, so that Microsoft/Office 365 licences that have access to Teams will also have access to Dataflex.
The effect should be a wave of Power App solutions being developed for use with Microsoft Teams, further entrenching Teams as the go-to platform for business activities. Time will tell how successful this is. But from our own experiences of creating solutions with Power Apps it has the potential to be truly transformational.
For more information on the possibilities of Power Apps and Teams, please get in touch: