Customer engagement is key to retention and driving repeat business.
So it's easy to see the value of a feedback tool that can deliver professional surveying in an easy and accessible way. Enter Microsoft Dynamics 365 Customer Voice:
What is Microsoft Dynamics 365 Customer Voice?
Formerly called Microsoft Forms, Microsoft Dynamics 365 Customer Voice allows businesses to easily provide customers with surveys and monitor their responses. The easy functionality and seamless integrations offered by Customer Voice make this an invaluable way to gather feedback and related analytics so you can improve your offerings and customer experience. It's also ideal to couple with other Dynamics 365 modules such as Marketing, Field Service or Customer Service.
What are the benefits of Customer Voice?
Customer Voice has some truly great benefits for businesses. It is quick and easy to set up, and provides you with templates for surveys, or allows you to create your own. You can also integrate the data you gather from feedback with applications, both third party and those available from Dynamics 365. With broad compatibility, you can flexibly use Customer Voice across devices, making it perfect for remote working. Most importantly, the metrics gathered can allow you to make real changes that can be tracked and proven.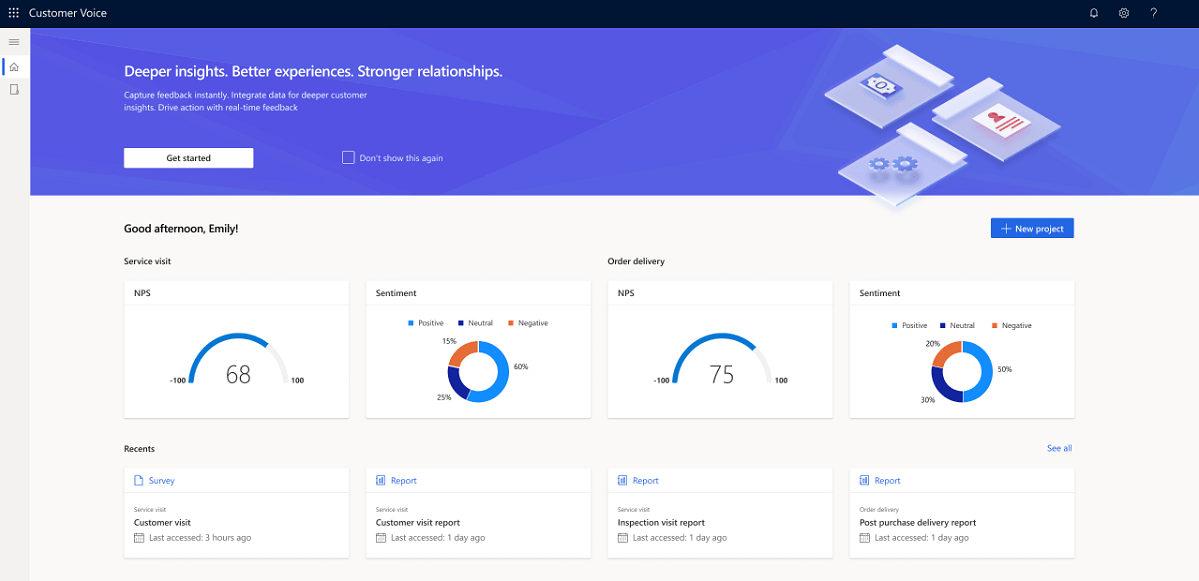 Creating surveys easily
By utilising Customer Voice, you can create fully customised surveys which can be easily distributed to your customers at any stage of the customer journey. With templates covering frequently required areas such as order delivery, service visits and support, you can also access templates for customer feedback on a periodic basis. You are also able to view how the survey will appear across multiple devices commonly used by customers - such as desktop emails or mobile sites. This means offering a seamless experience for your customers in a way that looks professional.
Reviewing metrics easily
Diving into metrics might seem challenging, but with Customer Voice it can be easy. Once the customer responses come back, you can see the results presented visually and understand customer satisfaction levels, customer sentiment, and the net promoter score - so you can see where you are doing well and where you might be falling short. Metrics can be driven into Power BI as well if desired for more advanced reporting.
For those seeking a more streamlined and effective way to manage customer feedback, get in touch with Akita about the potential of Dynamics 365 Customer Voice for your organisation: