Planning is important when it comes to intranets, as they can be completely individual to your organisation.
When considering a new intranet implementation, there are some key steps that we've identified that if followed, will ensure the success of your new setup.
If this system is tailored to your organisation, you need to guarantee that it's tailored in the correct way, and will actually serve the use you need it for.
Identify Stakeholders
The first step in planning a new intranet implementation is to identify all possible stakeholders. This will be anyone who is directly or indirectly affected by the intranet setup, including employees, managers, vendors and clients. By identifying each individual group of stakeholders, you'll be able to develop and structure your intranet around their individual needs.
Gather Requirements
The next step to getting started with your new intranet implementation is defining the problem you're trying to solve. The key here is setting goals before starting on solutions: what are we trying to achieve? What do we want users to experience on our site?
These questions need answers before any plans are made. As is common in many other areas of business, the solution needs to be a direct answer to the needs and requirements of the user(s) in question.
Gathering research from users, managers, and any other stakeholders will mean that when solutions do start getting formulated, they will be as relevant as possible.
Select A Software Solution
Conduct research to find the best intranet provider for your organisational needs. Considerations such as ease of use, security, customisation and cost should all be shaping your decision. We recommend SharePoint, due to its advanced adaptability and straightforward user experience, as well as the added bonus of it being available with most common Microsoft 365 licenses.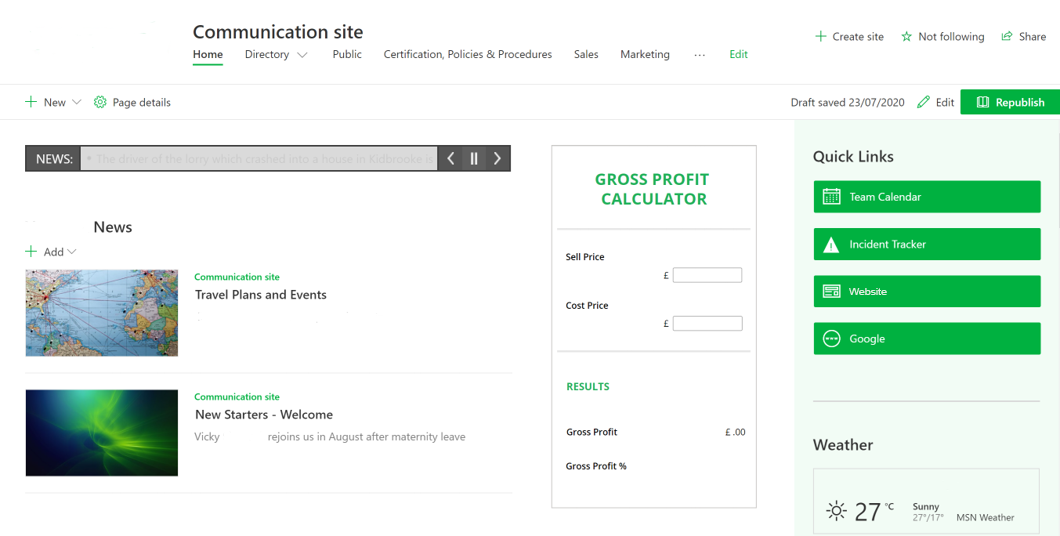 Choose A Business Partner
Once you've decided to start a new intranet implementation, the next step is choosing a business partner to support the process.
A good way to do this is by examining the company's credentials and experience with intranets. Try to find evidence that they've worked on similar projects in the past, and have an invested interest in intranet implementation.
An experienced partner will have supporting documentation of examples of their work, as well as a dedicated page towards intranets, outlining how they work and what they could do for you.
Monitor And Evaluate
Post implementation, you should constantly be monitoring and evaluating your setup to ensure its continued usability and functionality towards user needs. Your chosen business partner should be interested in developing your setup to scale alongside your organisation, and evolve as you do.
Conclusion: Successful Intranet Implementation
By following these five steps, you'll have the best chance at a successful intranet implementation. By planning your intranet before you begin to develop it, you'll ensure that it accurately reflects organisational requirements and answers user needs.
Akita develops intranets for some of the world's leading brands and organisations. Discover more about our intranet solutions: