Discover how technology can play an important part in your organisation's cohesion
In the face of rapid changes in workplace demands, an effective internal communications strategy has become more vital than ever before.
Business leaders and internal communications (IC) specialists are increasingly recognizing the critical role of fostering strong IC practices within their organizations.
According to research by VMA Group, a staggering 92% of senior leadership in businesses appreciate and support internal communication, with 77% of IC practitioners confirming that CEOs value its significance.
The advantages of a well-crafted internal communication strategy are numerous, spanning from enhancing transparency and fostering a productive work environment to keeping business goals on track and promoting collaboration among employees.
Amidst the arsenal of modern technologies employed by organizations to elevate IC, intranets stand out as a leading solution. Here, we delve into the manifold ways an intranet can enhance your internal communications strategy, propelling your company towards greater success and efficiency.
Boosting cooperation and engagement among employees
Intranet solutions improve IC since they enable the sharing and delivering of essential company updates.
The communication can be customised for a more personal touch that helps employees create a sense of belonging and feel valued by the firm.
Using Microsoft SharePoint, staff in different departments can be shown a customised view of information depending on relevancy to their job role (eg. sales targets, customer service stats, project news etc.) as well as content demonstrating their contribution to wider values (such as charity, CSR and sustainability).

Additionally, employees can effectively collaborate and share vital information through the connectivity provided at both individual and departmental levels.
Communication is multidirectional
An intranet system is an efficient tool that can be used to get rid of the traditional trend of communication where information takes a downward hierarchical flow.
It allows for multidirectional communication where top leadership can gain invaluable insights from the feedback received from employees. SharePoint can support this in several ways, from virtual suggestion boxes to feedback polls.
The all-encompassing, inclusive, and participatory approach ensures that the voice of junior staff members is heard and considered.
Fostering the culture of the organisation
IC via a SharePoint intranet platform has been established to be one of the most effective methods a company can use to instil its culture among employees.
The company can use it for the internal sharing of HR, work-related or social information as well as brand-related information that can then be passed to external customers with ease through sharing functionality (eg. for the promotion of a marketing campaign).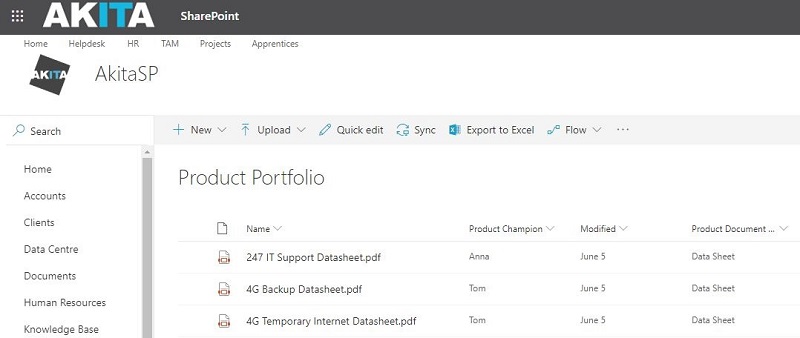 Through SharePoint's external sharing functionality, new staff being on-boarded into an organisation can also be given access to relevant information and documents before their start date. In this way, a SharePoint intranet can start to communicate the culture of an organisation to staff even before they begin working for it.
Convenient posting and access to success statistics
One of the most important details every employee should have is how much progress the business is making. It is a critical question that should be communicated internally for evaluation as well as motivation purposes.
With an easy-to-update SharePoint intranet platform, a company does not have to wait for monthly, quarterly or annual meetings to get important information out to its staff (particularly if located across multiple offices or locations).
An intranet allows for regular updates on key metrics and statistics that give employees the latest insights into the performance of the company. It can even be used to host video updates from senior management.
Enhancing internal communications strategy with an intranet
Incorporating an intranet, particularly Microsoft SharePoint, can be a transformative force for your internal communications strategy. The potential benefits are vast, encompassing improved cooperation, enhanced transparency, and the ability to provide real-time insights to your valued employees.
By embracing this multidirectional approach to communications, you foster a culture of collaboration and open feedback. Moreover, the implementation of an intranet underscores your commitment to organisational growth and the well-being of your workforce.
Empower your team with a tailor-made intranet solution, elevating the effectiveness of your internal communications strategy to new heights. Don't miss the opportunity to enhance connectivity within your organisation.
To discuss how a SharePoint intranet could contribute to your internal communications strategy, get in touch.