Cloud Enterprise Resource Planning (ERP) software has emerged as a game-changer, empowering businesses to streamline operations, boost efficiency, and foster growth.
In a resounding validation of its capabilities, Forbes recently crowned Microsoft Business Central as the best cloud ERP software in 2023, granting it a full five-star rating. We discuss why Business Central has captured the limelight and what sets it apart from its competitors.
The Evolution of ERP
Traditional ERP systems were once the cornerstone of managing complex business operations. However, as technology continues to revolutionise industries, cloud-based solutions have risen. Cloud ERP removes geographical barriers, offering real-time accessibility, scalability, and cost-efficiency.
Unpacking Business Central's Triumph
Forbes' recognition of Microsoft Business Central as the best cloud ERP software is a testament to its exceptional features and transformative impact on organisations. Below we outline what sets Business Central apart:
Seamless Integration: Business Central seamlessly integrates into your current business operations – from finance and sales to supply chain management and customer service. This end-to-end integration removes data silos and provides clarity when reviewing your organisation, empowering informed decision-making.
User-Friendly Interface: Navigating complex business processes becomes a breeze with Business Central's intuitive and user-friendly interface. Its familiar Microsoft look and feel minimise the learning curve, ensuring a swift transition for teams.
Scalability for Growth: As your business expands, Business Central grows with you. Its cloud-based nature allows for effortless scalability, accommodating increased data, users, and operations without hampering performance.
Data-Driven Insights: Business Central excels in generating actionable insights. The software harnesses the power of data analytics to provide real-time visibility into business metrics, enabling you to make informed decisions and pivot strategies as needed.
Security and Compliance: With cyber threats constantly evolving, Business Central places a premium on security. Microsoft's robust security protocols and regular updates ensure that your sensitive business data remains safe.
Mobility and Flexibility: Business Central empowers you to manage your operations from anywhere, at any time. Mobile accessibility ensures that you remain connected and in control, even when on the move.
Cost-Efficiency: Business Central's subscription-based pricing model reduces upfront costs and enables organisations of all sizes to harness the power of an ERP solution.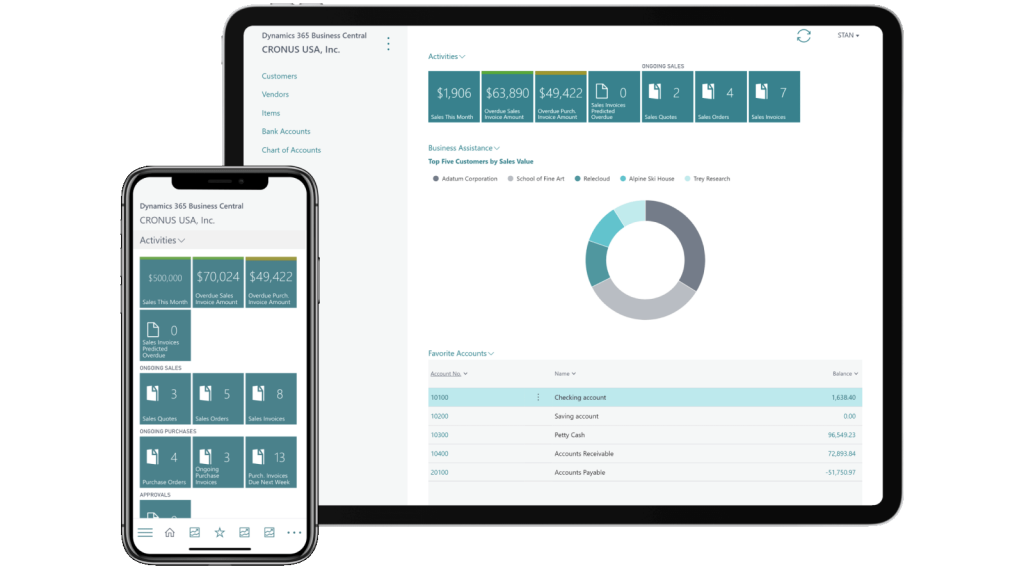 Business Central: Forbes' Best Cloud ERP Software
Forbes' recognition of Business Central as the best cloud ERP software reinforces its advanced capabilities in business transformation.
Whether you're a startup looking to set up a strong foundation or an established enterprise seeking agility and innovation, Business Central offers a compelling solution.
As organisations navigate an increasingly complex and competitive landscape, having the right tools at your disposal can make all the difference. With Microsoft Business Central, you can streamline your operations, improve processes and encourage business growth.
Find out more about why Business Central was named the 2023 best cloud ERP software: