We explore how Dynamics 365 Sales and Marketing improves communication between sales and marketing teams to streamline operations.
Sales and marketing go hand-in-hand for most organisations, often working very closely as their operations overlap and directly affect one another. Despite these teams often working together on projects, it can be common for communications to break down resulting in disjointed outcomes. Below we explore how Dynamics 365 Sales and Marketing can assist in streamlining sales and marketing teams to solve some common issues.
Improve Lead Quality
Without interaction between the two departments, the quality of lead's become inconsistent. Marketing can't recognise the potential of a sales-ready client whilst sales may waste time on low-quality leads without the help of marketing to make clear which leads are "hottest" and worth spending time and effort on.
Dynamics 365 Sales and Marketing eliminates this issue by allowing departments to identify and qualify the correct leads through its lead scoring model based on the contact's firmographic, demographic and more. This allows the team to track activity and make a collaborative decision on who is worth pursuing and who may be a waste of time and resources.
Incorporate Personalisation
Personalised marketing is one of the most effective ways to drive traffic toward an organisation. Customers want a personalised experience that companies with siloed teams can't deliver. Generic or wrongly timed marketing can actually do the opposite and deter potential customers.
The segmentation feature on Dynamics 365 Sales and Marketing helps with this as it allows users to categorise contacts/leads based on criteria such as their behavioural trends. Segmenting lead demographics and activity allows users to create a personalised marketing strategy built to boost sales.
Track Customer Journey In Dynamics 365 Sales And Marketing
With siloed marketing and sales teams, each department will have little to no idea of what a customer's experience with the business has been like so far. Sales may interact with leads with no understanding of how they responded to the previous marketing efforts or even sales interactions, whilst marketing teams may create content that doesn't resonate with their prospects.
With Dynamics 365 Sales and Marketing, the two teams can gain a visual understanding of the customer's journey. It provides a digital platform to track interactions and engagement across all communications channels, providing analytics such as open rate and bounce rate.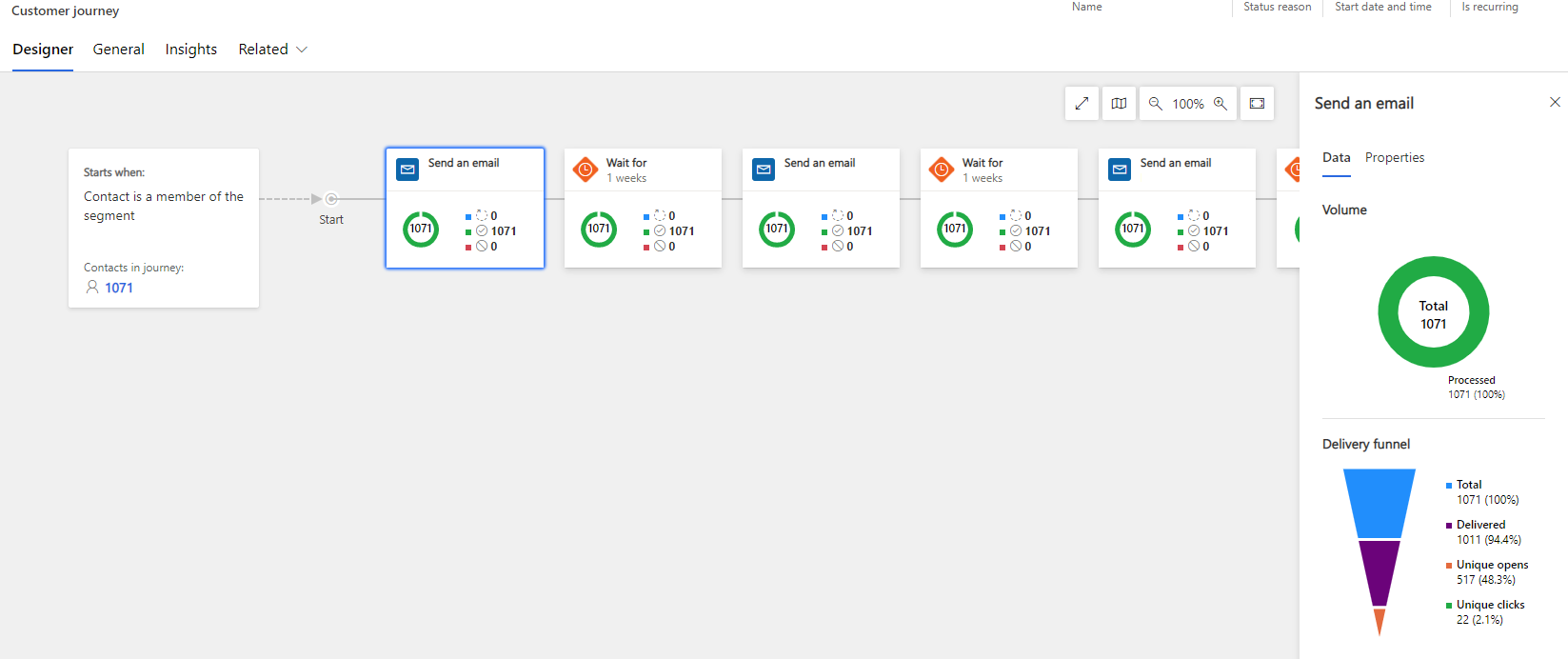 Measure Success With Valuable Insights
It's challenging to align the teams if they have different KPIs. Without having access to the same, shared data, teams may have trouble tracking important metrics.
Dynamics 365 Sales and Marketing addresses this issue by bringing sales and marketing activities together under one system, creating a unified sales marketing team. This integrated approach will provide valuable insight into the effectiveness of sales and marketing techniques allowing for a more streamlined and efficient approach going forward.
To discuss how Dynamics could improve your organisational efficiency: