Rostering is a critical activity for organisations that need to organise staff or volunteers for shifts.
Yet the task of creating and maintaining rosters can be extremely time-consuming and complex. Many organisations are now choosing to invest in digital rostering software that simplifies employee rostering and improves overall process efficiency.
Benefits Of Using Digital Rostering Software
Beyond pure time saving, there's a wider range of operational benefits of adopting digital rostering software:
The ability to integrate with business systems - this can include payroll systems, leave and absence management systems, CRMs, ERPs and more. This centralises operations, grouping information for better understanding and more joined-up working.
Quicker process – a paper solution wastes vast amounts of time compared to a digital alternative. With a digital solution, managers can update requirements as and when they need to, and employees can simply take their choice of shifts, removing the need for any confirmation, or even conversation around who takes which shifts.
Reduced costs – a digital solution removes the cost of paper, folders, office space, ink and printer maintenance. Additionally, a digital solution allows managers to spend more time on important activities that bring in money and less time on mundane admin tasks.
Convenience – digital rostering software allows employees and managers to update the system in real-time, lessening the chance of confusion or miscommunication around who takes what shift.
Digital rostering software improves the user experience for both management and employees. Managers are able to publish and manage shift requirements for each department, and employees can select which shifts they want to do; notifying managers instantly.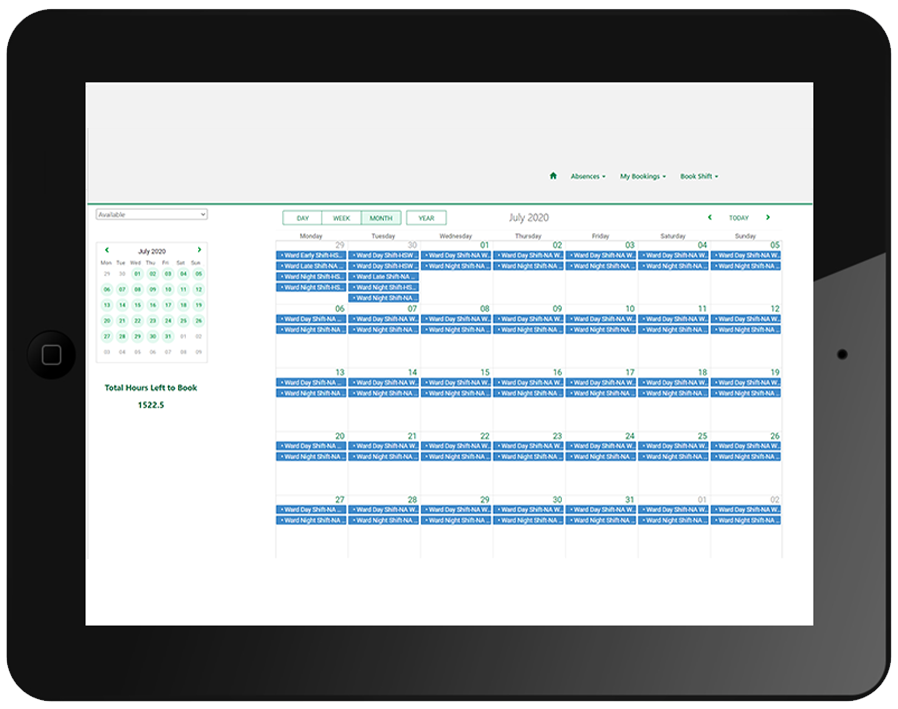 Cloud-Based Digital Rostering Software
Whilst digital rostering software has many benefits over a paper system, a cloud-based solution has further benefits too.
Further reduced costs – all the benefits of an on-premise solution without the need to purchase and maintain IT hardware.
Increase accessibility – your rostering system can be accessed from any device with access to the cloud environment, from any location.
Added security – by being hosted in a secure data centre, there's no risk of physical damage or theft to your server, and constant maintenance and monitoring ensure the system will always be running at optimal capacity.
Microsoft's Digital Rostering Software Solutions
With its capabilities in resource management and scheduling, Dynamics 365 Field Service can be used as a digital rostering system. This can then be further enhanced with Microsoft Power Apps or Power Pages to add a convenient front end to simplify data input and allow for true self-service. The result is a fully digitised system that saves time, reduces administration and eliminates margin for error.
Find out more about digital rostering software that Akita has developed in an example of our work: