Most organisations now make use of digital files such as images and video throughout their operations.
Whether it's the branded items you need for a proposal or the design files for aspects of your website, storing these digital files for all to use improves consistency and prevents duplication of effort. But managing digital assets at scale can be difficult. So what is a digital asset manager and how can it be of benefit for managing media?
So What Is A Digital Asset Manager?
In simple terms, digital asset management (or DAM) helps businesses to organise, find, share and use their digital assets. This could include anything from images to videos, audio to white papers.
DAM gives organisations an easy way to keep tabs on what digital assets they have and how they distribute them. And a centralised approach to DAM means that employees, peers and stakeholders can easily locate the digital assets they need without having to create them from scratch every time.
About DAM Platforms
A digital asset manager refers to the platform or application used to manage DAM. They're designed to be a convenient way to store and share your assets from.
They also make it much easier to find the type of asset that's needed - ideal if you have hundreds or even thousands of files. Digital asset managers will typically make it easier to tag and filter assets by a variety of credentials such as file type, size, composition and format. This makes finding an up-to-date picture of your headquarters, in landscape format, that's big enough to feature on a billboard (for example) a matter of just a few simple clicks.
The best DAM platforms include cloud-storage functionality for more convenient, secure asset management. Top-class DAM packages also include automation of workflow, backup functionality and usage tracking. All this makes them a very powerful solution for companies to use in managing digital assets.
What's The Benefit Of A DAM?
A Digital Asset Manager (DAM) provides a centralised platform for efficiently organising and managing digital assets.
It streamlines workflows, saving time through rapid asset retrieval, version control, and automation of tasks like metadata management and file conversions.
DAMs also enhance collaboration among team members, ensure brand consistency, and enforce access control and permissions. They also offer insights (through usage analytics) into the most used assets. DAMs can also typically be integrated with other software systems.
Overall, DAMs improve productivity, scalability, and cost-effectiveness while maintaining data integrity and security.
Microsoft SharePoint As A DAM Platform
While many bespoke (and expensive) DAM platforms exist, Microsoft SharePoint Online can be tailored to be a highly-effective DAM solution. As many organisations already have the relevant Microsoft 365 licences, it's often a cost-effective solution as well (organisations get up to 1TB of cloud storage free with their Microsoft licences).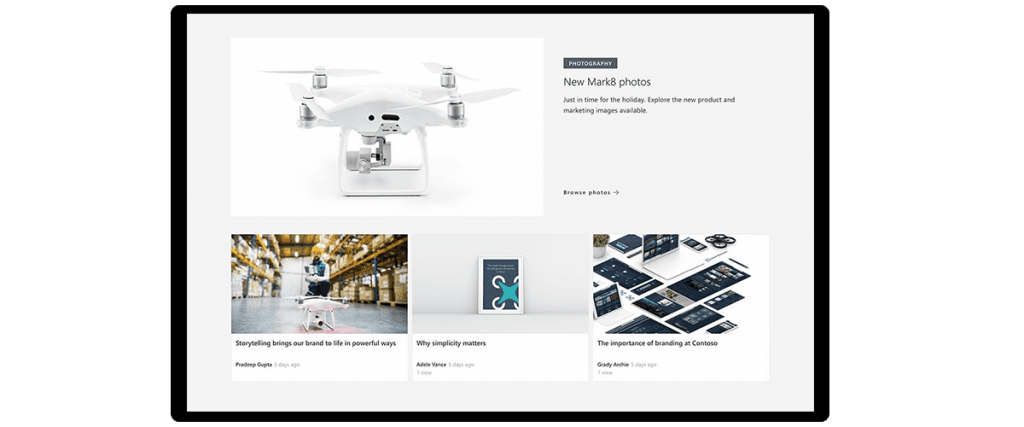 As with the best DAM platforms, SharePoint makes it secure and simple to share digital assets - no more sending confidential files as email attachments. It also comes with an easy-to-use interface which makes storing and organising digital assets very straightforward. And there's a range of smart solutions for filtering through your assets, including meta-tagging and advanced search functionality.
Plus as a cloud-based package, it also gives 24/7 access to your assets from wherever you plan to work. So if a sales team member suddenly needs that PDF document comparing your product to your competitors, they can find it easily on the go.
And as many organisations already use SharePoint Online as an intranet or internal communication solution, it makes the perfect choice to become your digital asset manager too.
Which Organisation Needs A Digital Asset Manager?
Once DAM was mainly the reserve of creative agencies and those operating large image galleries (like media organisations). But digital assets are now so much a part of communication that most organisations can benefit from a digital asset manager.
From marketing departments who want to track the use of branded items (like logo files), to pitch teams looking to spice up presentations with relevant video, a digital asset manager can assist them all. Not only can it speed up finding assets, but it ensures the work of one department can now be easily shared with all rather than siloed.
For more about SharePoint as a digital asset manager on our solutions page: