We outline Microsoft's new solution and experiment with its capabilities.
Understand more about Power Apps and what it is capable of for your business.
What is Power Apps?
It's Microsoft's new software solution for creating mobile-friendly applications and interfaces that can revolutionise how a business undertakes its core tasks.
Each Power App can be tailored to the specific requirement of a business. It requires minimal code to create a Power App, meaning they can be created quickly and cost-effectively.
Importantly, Power Apps can also sync data to a variety of sources, notably Dynamics 365. This means solutions can be used to access or fill in records within your CRM or ERP system, making them the perfect solution for business processes.
And as Apps can work on or offline, they can be handy for undertaking tasks where an internet connection isn't available
How can Power Apps be used?
The possible uses for Power Apps are broad. Some options include day-to-day business activities such as case management, event registration and absence/holiday requests.
There's already a large selection of templates available, so many some solutions that can benefit organisations already exist.
Power Apps has already been used by the likes of the National Trust to create a custom app to help track the success of its preservation efforts. The Power App solution removes much of the manual work and duplication involved in recording data for the Trust's more remote locations by allowing recorders to log data directly into Dynamics. This improves the efficiency of data logging and therefore saves money.
Example: New Starter Log
In the example below, we've created an automated solution for setting up new IT users on a system: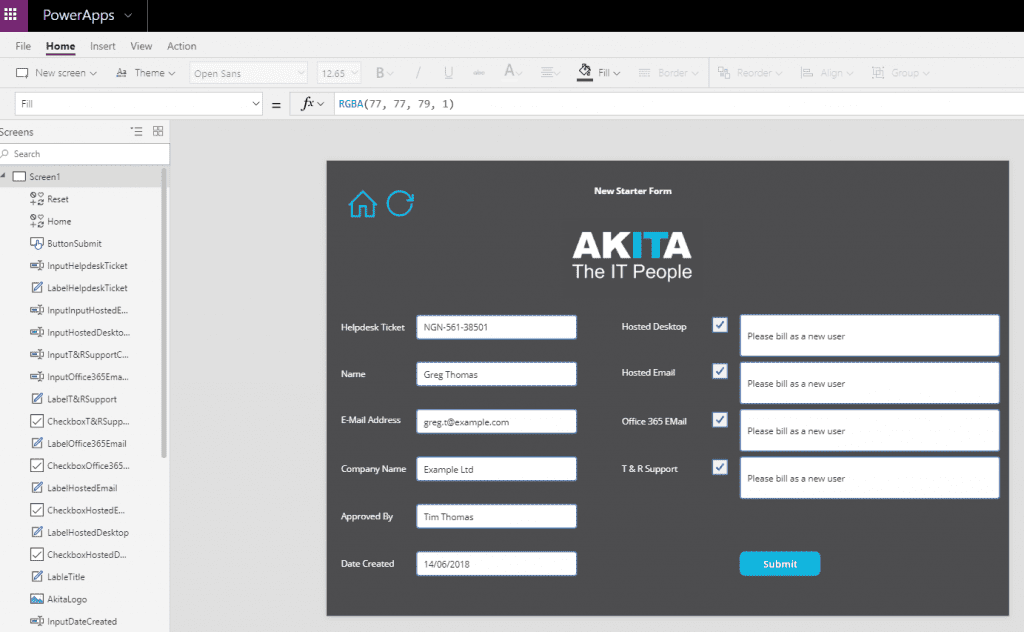 Setting up a new user can be tricky: there's a number of permissions and data items to establish. Names can easily be miscommunicated over the phone, while sharing data via email is not necessarily secure.
Power Apps allowed for a professional-looking interface to be designed in a short period of time. The form contains all the key fields that Akita would need when setting up a new joiner on an IT system.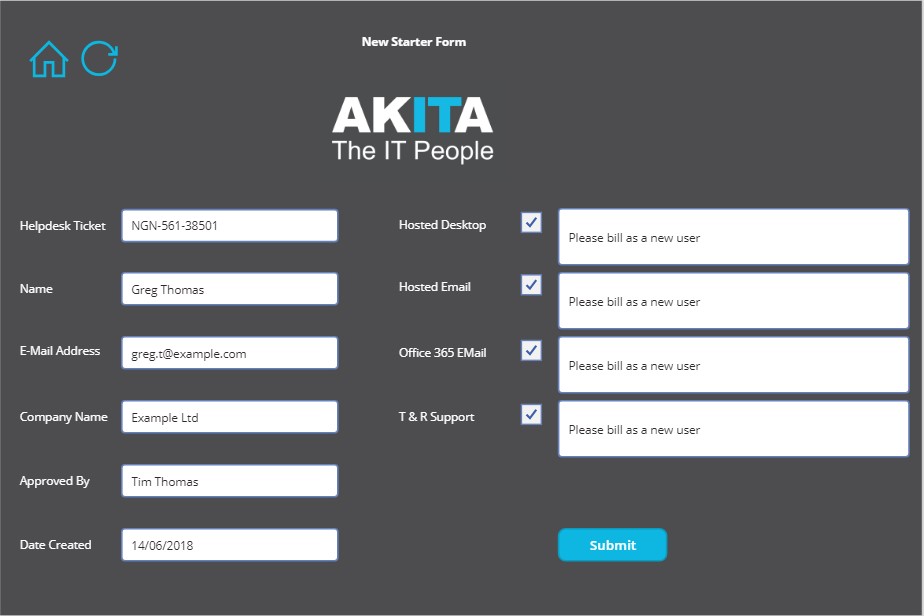 When all details are completed, the request is submitted and the details synced with Dynamics 365. At the same time, a trigger email is generated that alerts a support engineer to permission the user: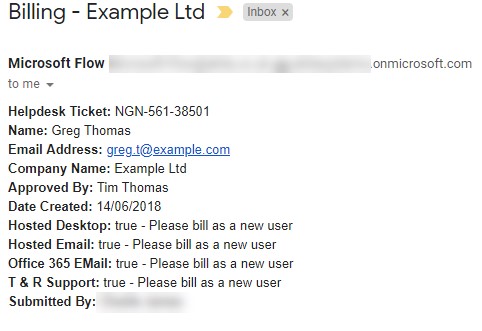 With the speed and ease that such a professional-looking app can be created - not to mention the benefit it can bring - Akita has already developed a number of solutions. Discover more in the 'Our Work' section.
To discuss solutions for your organisation, please get in touch: