We outline Microsoft's new solution and experiment with its capabilities.
Understand more about Power Apps and what it is capable of for your business.
What is Power Apps?
It's Microsoft's new software solution for creating mobile-friendly applications and interfaces that can revolutionise how a business undertakes its core tasks.
Each Power App can be tailored to the specific requirement of a business. It requires minimal code to create a Power App, meaning they can be created quickly and cost-effectively.
Importantly, Power Apps can also sync data to a variety of sources, notably Dynamics 365. This means solutions can be used to access or fill in records within your CRM or ERP system, making them the perfect solution for business processes.
And as Apps can work on or offline, they can be handy for undertaking tasks where an internet connection isn't available
What are the uses of Power Apps?
One of the key advantages of Power Apps is its flexibility and ability to cater to various business needs.
For day-to-day business activities, Power Apps can be used for case management, providing a streamlined system for managing and tracking customer cases or inquiries. This allows businesses to enhance their customer service and resolve issues more efficiently.
Event registration is another area where Power Apps can be incredibly useful. Organisations can create custom apps that allow attendees to register for events, manage their registration details, and receive event-related updates and notifications. This simplifies the registration process and provides a seamless experience for both event organisers and participants.
Additionally, Power Apps can facilitate absence and holiday requests within an organisation. Instead of relying on manual paperwork or email exchanges, employees can use a Power App to submit their leave requests digitally. Managers can then review and approve these requests within the app, reducing administrative overhead and improving the overall efficiency of the process.
The availability of pre-built templates further expands the possibilities of Power Apps. These templates serve as starting points for creating custom apps and cover a wide range of use cases. With the templates, organisations can quickly adapt and customise existing solutions to meet their specific needs. This saves time and resources that would otherwise be required to develop applications from scratch.
Power Apps, therefore, offers a wide range of possibilities for organisations to streamline their day-to-day business activities, with tangible benefits in terms of saving time and resources while enhancing overall productivity.
ves money.
Example: New Starter Log
In the example below, we've created an automated solution for setting up new IT users on a system: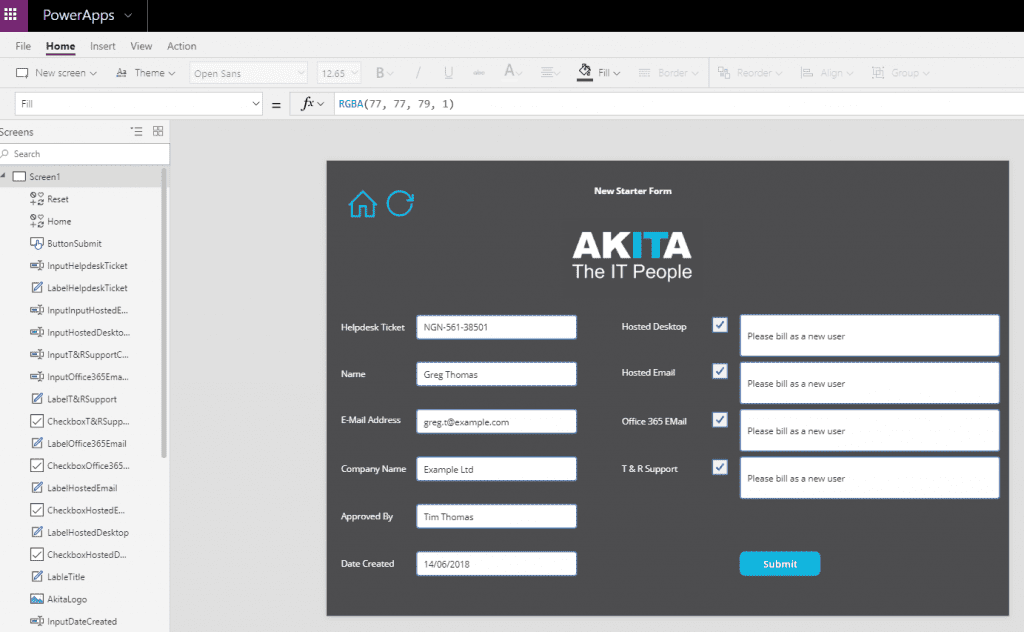 Setting up a new user can be tricky: there are a number of permissions and data items to establish. Names can easily be miscommunicated over the phone, while sharing data via email is not necessarily secure.
Power Apps allowed for a professional-looking interface to be designed in a short period of time. The form contains all the key fields that Akita would need when setting up a new joiner on an IT system.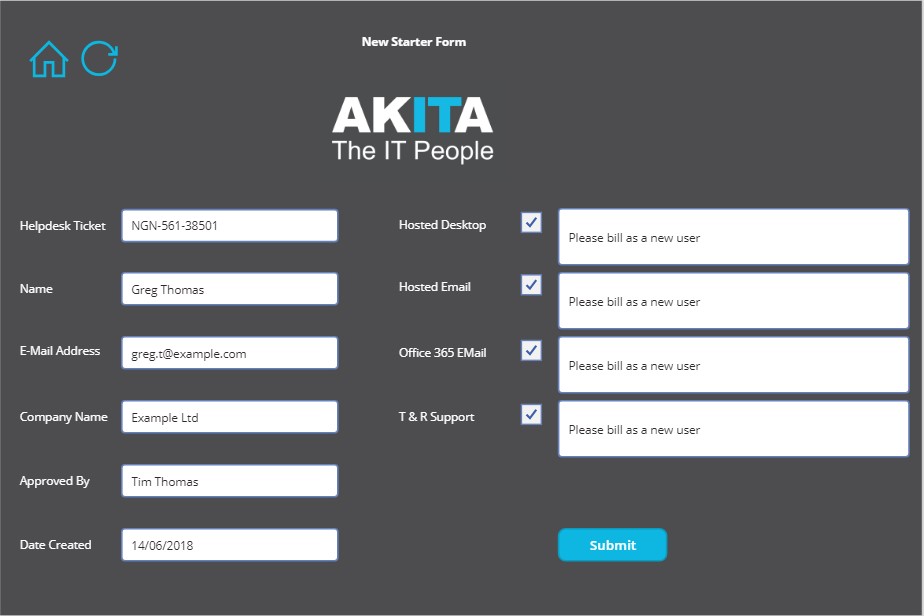 When all details are completed, the request is submitted and the details are synced with Dynamics 365. At the same time, a trigger email is generated that alerts a support engineer to permit the user: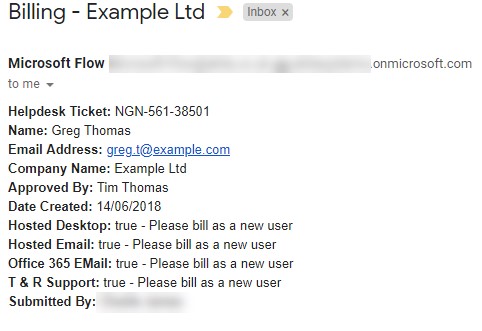 With the speed and ease that such a professional-looking app can be created - not to mention the benefit it can bring - Akita has already developed a number of solutions. Discover more in the 'Our Work' section.
Discover more about Microsoft Power Apps with Akita