Once referred to as 'new media', social media is now a crucial part of the marketing mix.
With brands and companies required to manage a presence across multiple platforms, smart tools have evolved to simplify the management of posting and reporting. Hootsuite and Dynamics 365 Marketing both offer social media marketing automation. But how do they stack up against each other? As we're often asked for a comparison, we've assessed Hootsuite vs Dynamics 365 Marketing and explain the strengths of each:
Benefits of Hootsuite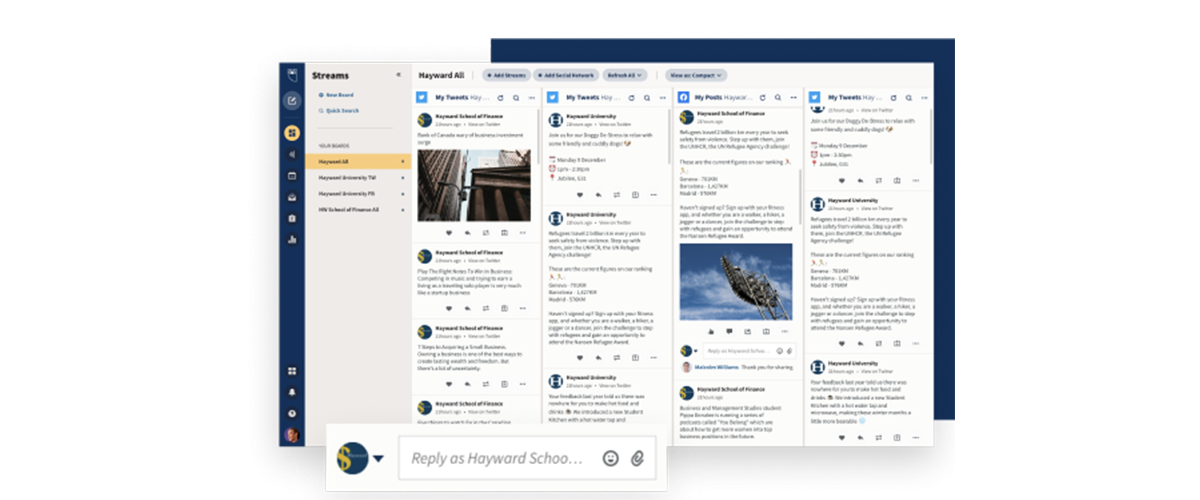 Hootsuite is a leading platform for the management of social media channels. As such it's configured to support a wide range of social channels including Facebook, Instagram, YouTube, LinkedIn, Twitter, Pinterest and TikTok. Some of the core features of Hootsuite include the ability to;
Manage multiple contributors at once. This means you can assign tasks and monitor progress in real-time.
Share your content with ease by simultaneously updating multiple social networks at the click of a button.
Use social analytics reports to learn how your audience engages with your brand on social networks.
The Delivery Optimisation feature allows you to schedule your posts to reach your audience when they're most likely to engage with your brand.
Monitor your brand mentions to see how people are talking about you.
Benefits of Dynamics 365 Marketing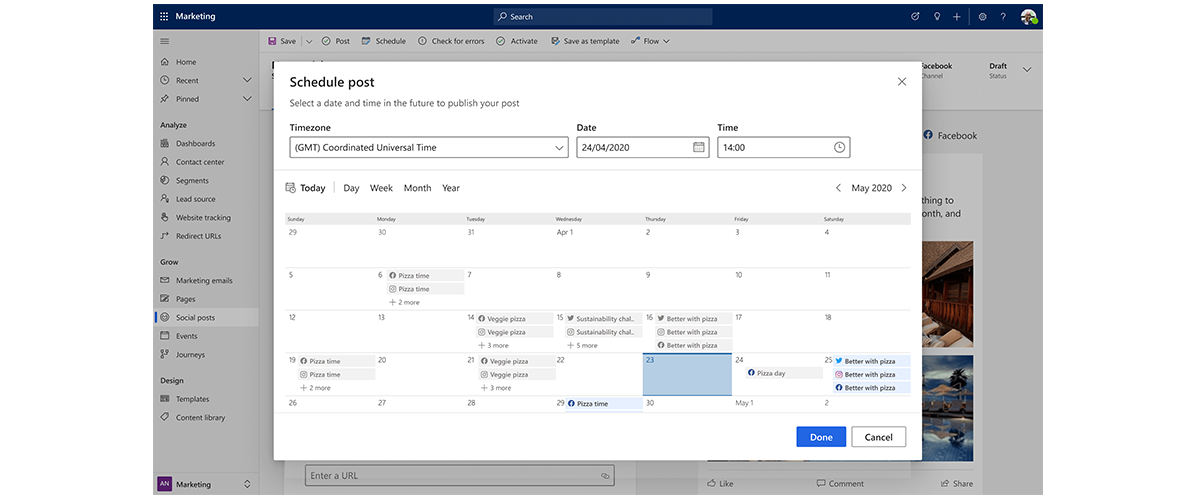 In contrast to Hootsuite, Microsoft Dynamics 365 Marketing is a full-service marketing automation platform and CRM system. Social media automation, therefore, is just one part of its wider capabilities, which include;
Create campaigns using social media channels, but also email, landing page, website interactions, phone calls, assets and text messages.
Manage prospects from the beginning to end: Track each lead's progress through your funnel until they are converted into customers.
Manage your data effectively: look at data such as customer location, demographics, and interests to understand who is engaging with your company's digital assets.
Manage customer journeys by creating a personalised customer experience across all channels, ensuring that audiences receive the right message at the right time.
Analytics helps you track and understand the performance of your campaigns across all channels.
Customer Voice lets you create surveys and polls to get feedback from customers on a specific product or service.
Event management lets you organise events with other people in your organisation, such as salespeople or partners.
It is worth noting, however, that Dynamics 365 Marketing is more limited in terms as social posting, focusing primarily on Facebook, Twitter and LinkedIn.
Hootsuite VS Dynamics 365 Marketing: What's Right For You?
In reality, these are two very different platforms, serving different requirements. For brands that need a way to simplify the management of a wide range of social channels, Hootsuite offers a comprehensive social media planning, deployment and monitoring solution.
Dynamics 365 Marketing in contrast is a turnkey, multi-channel marketing automation platform, of which social media is just one element. While the scope of the social channels it supports is more limited than Hootsuite, they are the channels that most B2B businesses will utilise the most. And as the platform covers much more of the marketing mix, it's better for the holistic management and management of marketing interactions and campaigns across all channels.
So the answer to 'Hootsuite vs Dynamics 365 Marketing' really depends on the extent of social media automation you require. Most organisations will need a platform like Dynamics 365 Marketing to take care of their marketing requirements. But some (often B2C brands) will need a more comprehensive social solution. So in some cases, there'll be room for both solutions.
To discover if Dynamics 365 Marketing fits your organisation's needs, please get in touch for a demo: