SharePoint Syntex is a new service that's been made available as part of Microsoft 365.
SharePoint Syntex uses both advanced Machine learning (ML) and Artificial Intelligence (AI) to harness the full potential of an organisation's content and expertise, effectively converting it into accessible knowledge.
How does SharePoint Syntex work?
SharePoint Syntex works by enabling ML to identify, understand, and deliver intelligence to available content by first extracting key pieces of information from the documents.
It can quickly categorise and classify documents based on models established by the user, before extracting potentially useful data and tagging it.
What benefits can SharePoint Syntex offer?
SharePoint Syntex amplifies human expertise, automates the processing of content, and converts information within organisations into knowledge they can draw upon. Crucially, this includes both structured information (such as forms) as well as wider documentation. In this way, Syntex provides enterprises with the capability to easily track down and manage their company content. Then at scale, it can translate this wealth of information into accessible knowledge. This then allows users to find useful information faster.
Syntex also empowers organisations to streamline their everyday tasks and processes through automation. By training Syntex in the information you need, it can automatically categorise new content as its added to SharePoint. Content identified can then trigger alerts from SharePoint that may be useful to a user (eg. expiry dates for contracts or policies).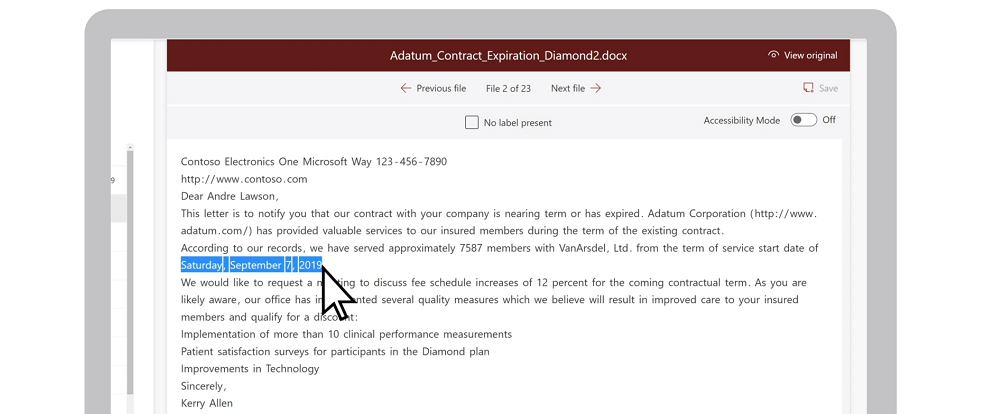 Additionally, Syntex can reduce risks to security and compliance issues by efficiently and automatically applying labels for retention and sensitivity. This in turn improves data security.
Why should organisations adopt SharePoint Syntex?
In an era where information is pivotal to the success of enterprises, the ability to harness, organise, and retrieve vast amounts of data in a structured manner becomes indispensable.
At the heart of SharePoint Syntex's value is its proficiency in streamlining the labour-intensive process of document sorting and tagging. When minutes can translate to significant financial implications, the acceleration of information retrieval is paramount.
With the colossal volume of content retained in the average corporate intranet, combined with the burgeoning data on their external websites, the potential for inefficiencies and the sheer time wastage can be staggering without a robust tool to navigate through this maze.
Moreover, the digital revolution has rendered many metadata strategies out of date. Consequently, organisations find themselves contending with inefficiencies that impair productivity. SharePoint Syntex addresses this void, offering tools that breathe new life into archaic metadata strategies, thus enabling companies to reclaim the invaluable asset of time.
And the advantages don't end there. As regulations tighten and the imperative for data security escalates, organisations are under pressure to ensure compliance. SharePoint Syntex not only provides easier access to vital data but also fortifies an enterprise's control over its data, ensuring both compliance and enhanced security.
By adopting an automated solution such as this, businesses arm themselves with a tool that is not just about efficiency, but also about fortifying their digital infrastructure for the future.
Syntex is available now as a SharePoint add-on licence. View more information about SharePoint and our solutions: