If using SharePoint to create content structure, it's important to make the correct choice between using a document library or a folder to organise content.
To make that decision easier, this article looks at the main differences between using a SharePoint document library vs folders and identifies key areas to consider:
Choosing A SharePoint Folder
A SharePoint folder is the most straightforward way to organise content in SharePoint. They act as containers for files and allow users to configure them by name or through permissions. They can be used to create a hierarchy of folders and subfolders, which can make it easier to locate specific files.
Choosing A SharePoint Document Library
A SharePoint document library is a little more complex and allows users to customise how they organise and store content. Some of the main options found in document libraries include:
Templates: Templates work at the document library level, so if working with multiple data sets that require different templates, it's good practice to create two libraries instead of folders.
Sensitivity labels: Sensitivity labels provide access to documents based on permissions. They can't apply to folders, so it's only suitable for document libraries or individual files.
Search visibility: Toggle visibility for document libraries.
Audience targeting: Select specific audiences to target using document libraries to ensure that the right people can access and view documents.
Information rights management: When dealing with compliance or data privacy, information rights management gives users the power to control the library contents. This stops certain users from accessing documents or editing them.
Version history: Track and store different versions of a file as it's edited and updated over time.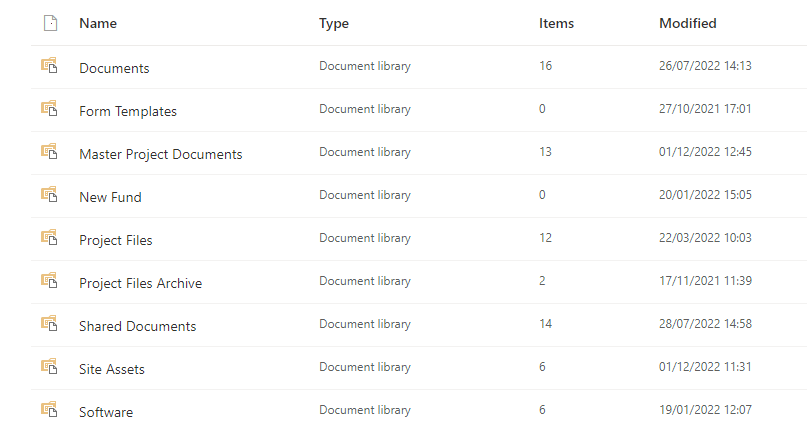 Consider Content Volume
One of the biggest factors to consider is the content volume. If trying to organise a large number of documents, folders may make it difficult for users to locate specific files. In contrast, document libraries allow the use of meta tags which enable users to find and filter documents by specific criteria, making it much easier to locate individual records.
SharePoint Document Library Vs Folder: So Which Is Right?
To conclude, document libraries offer far greater capabilities in terms of organising data. Folders may be a better choice if a smaller number of documents simply need to be grouped, however, folders can also be used within document libraries, so for higher levels of organisation, document libraries are the suitable choice.
Akita develops professional document management solutions in SharePoint. View more about our services: