On the CRM landscape, Zoho is growing popularity thanks to low pricing and out-of-the-box functionality for sales teams.
But when it comes to Dynamics 365 vs Zoho which is better? Is Dynamics 365's price to entry too high? Does Zoho represent long-term value for money for an expanding company?
See our comparison of the two platforms.
Dynamics 365 vs Zoho
We've compared the two CRM solutions on a series of criteria below. These are based on some of the most common concerns that we hear from businesses when we first implement a CRM for them.
Cost
Zoho: One of the biggest appeals of this CRM is its low cost of entry. Zoho is free for companies of less than 3 users. After this, the most basic package for sales and marketing starts at around $12 per month per user (about £9), rising to a top value of $100 per month per user (£76).
On top of this, organisations can expect to pay around $100 (£79) per month for finance capabilities (up to 10 users – further users at a small extra cost).
If companies wish to use Zoho's HR capabilities, they can expect to pay $45 (£34.50) per user per month.
Lastly, the top level of support for Zoho is priced at $25 per organisation for a month. There are no apparent initial development costs.
Dynamics 365: Microsoft's licensing starts as low as £30 per user. For a reasonable level of functionality however, a Customer Engagement Plan licence costs £87 per user per month ($113). This rises to £158 ($205) for the Dynamics 365 Plan licence, which includes the more expensive finance and retail modules.
For most organisations, there will also be development costs involved, but Dynamics 365 support is included within licensing costs.
Conclusion: Zoho represents an affordable solution if you're only interested in one set of functionality and are happy with how the platform works out-of-the-box. The ability to bolt-on functionality will appeal to those looking to experiment with CRM modules.
However, it's worth pointing out that users would need to purchase Zoho's top-priced licences for the platform to start competing with Microsoft's Customer Engagement Plan. Even then, Dynamics 365 has much greater functionality and its slightly higher price point can be justified by Microsoft's inclusion of support.
Functionality
Zoho: In terms of CRM functionality, the platform offers sales, marketing, finance and HR utility.
The sales and marketing functionality is the most developed and includes quite advanced options including automation of emails to help faster lead management and SalesSignals which tracks interactions across social media.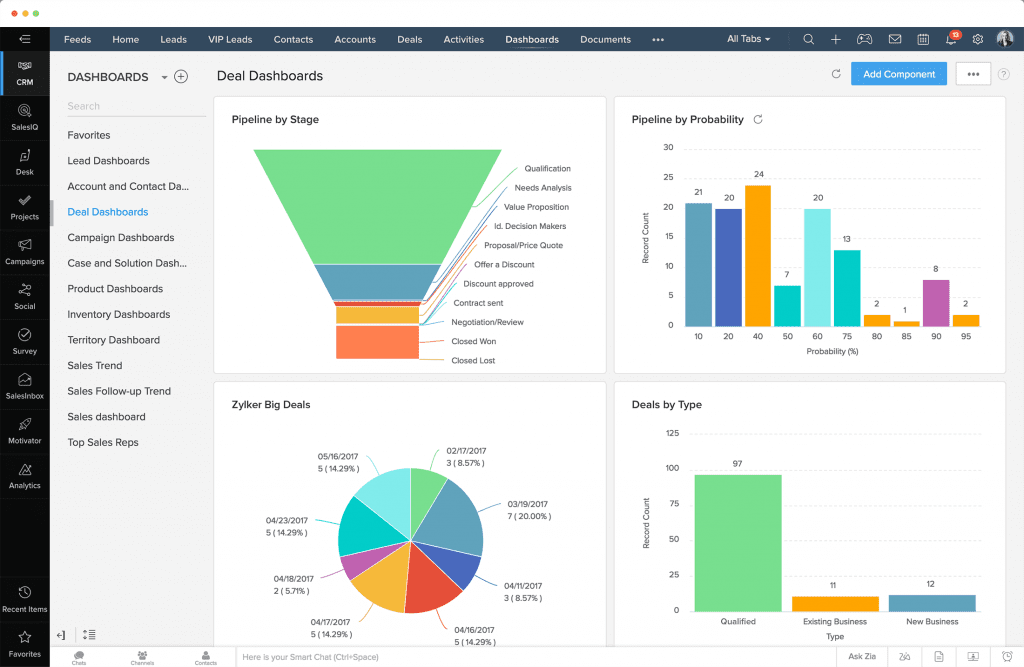 Finance functionality includes features such as bookkeeping, expenses, inventory management and invoicing. HR functionality in the meantime helps to manage both existing staff and recruitment.
Zoho has a sandbox environment for development and has its own managed email solution that it looks to promote with its CRM.
Zoho is a cloud-based solution and comes with 5GB of storage (extra storage up to 100GB comes at an unspecified cost). We couldn't find any information about where data was stored, how it's protected or whether this is GDPR compliant.
Dynamics 365:  On the Customer Engagement Plan licence, Microsoft Dynamics 365 comes with sales, marketing, customer service, project automation, field service and social engagement functionality – more than enough for the average SME.
The licence also includes access to Microsoft PowerApps as part of the price. This allows you to access or build customised apps powered by Microsoft Dynamics 365 (equivalent Zoho solution has an extra cost). Dynamics 365 also has a sandbox environment but this comes at an additional cost.
Dynamics 365 is also a cloud solution. It comes with 10GB of storage per organisation, with a $50 per month charge per extra 10GB (though there are free solutions for avoiding this). Data is held in Microsoft's highly-secure datacentres and is GDPR compliant.
Conclusion: Zoho's CRM has existed since 2005 and has clearly evolved from a sales and marketing solution to offer more functionality. This accounts both for the advanced state of the sales solution and comparative simplicity of finance. That said, the interface is attractive and much of the functionality looks intuitive, which may appeal to those new to a CRM.
Microsoft Dynamics 365, on the other hand, benefits from 25 years of heritage and evolution. Microsoft has been keen to develop Dynamics 365 in every direction where it might have a business application. And you can be pretty sure that each application has been tested by thousands of companies.
Given this, Dynamics 365 can require some training and setup to get the best out of it but can provide near limitless business intelligence options once up and running.
Customisation & Compatibility
Zoho: Zoho's CRM has some customisation options, with instructions on its website on how to perform them. The majority of these appear to be cosmetic, which raises the question of how flexible the platform is if it doesn't meet your needs out of the box. Equally, given the importance of a CRM to a business, customisation is not something a layperson particularly wants to undertake.
There are some companies now offering Zoho customisation services, but even here there appears to be a limit to what is possible. Many of customisation services appear more geared towards integrations with other platforms rather than customising workflows however.
Dynamics 365: Being a Microsoft product, Dynamics 365 natively integrates with platforms such as Outlook, SharePoint and the Office 365 suite, along with more surprising platforms such as LinkedIn.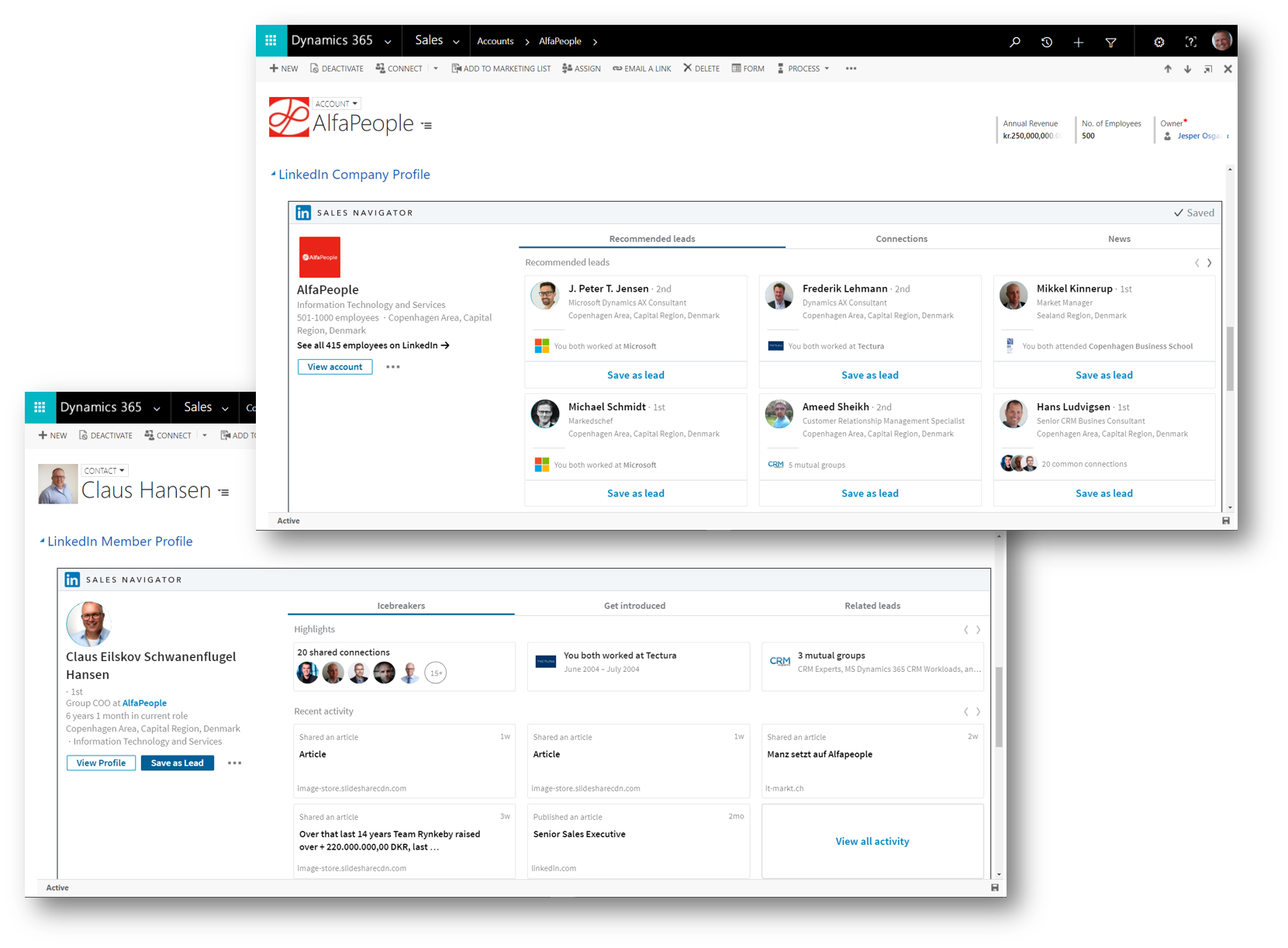 Other integrations are generally simple. Most marketing automation and accountancy platforms can be integrated by using readily-available third-party middleware. Some software even has indigenous integration capabilities (due to the prevalence of Dynamics 365).
There's a much larger marketplace for Dynamics 365 customisation and more options for what companies can have. Various companies offer solutions based on a specific industry or required functionality. Alternatively, companies like Akita can provide more general development, suitable for a wide variety of industries.
Dynamics 365 also benefits from twice-yearly updates which add new functionality to the platform. Zoho offers some updates but not to the same scale.
Conclusion: Dynamics 365 is clearly ahead here, with far more scope to deliver a customised solution. Microsoft Dynamics 365 integrations also introduce a broad range of business functionality. While Zoho also offers this, reliable solutions feel fewer and farther between.
Dynamics 365 vs Zoho: Conclusion
It's clear to see why Zoho has been attracting attention. Its competitive pricing and core business functionality will prove enticing for small businesses. And it will likely work well to introduce companies to CRM functionality.
The limitations come however when that business is no longer a small business. A good CRM system can help increase business growth by as much as 40% each year. It's not hard to imagine a company buffering up against Zoho's limitations within a few years. At this time, it's likely a company would have to invest in another CRM solution. This would require both further investment and a costly migration process.
It's perhaps for this reason that there are not many big name Zoho advocates. Even companies that are using it only adopt one or two aspects. In contrast, businesses adopting Dynamics 365 usually find themselves expanding beyond just its CRM functionality. So it depends how holistic you want to be in your adoption.
While it's expected that a Microsoft Dynamics developer would promote this CRM platform, the benefits feel obvious. Dynamics 365 will serve businesses of 5 to 500,000 users equally well. It's applicable to practically every job function in your company and can be configured to work with most software your business will find itself using.
Dynamics 365 is not necessarily the cheapest solution to start with (as much as double the costs of Zoho), but it is one that is guaranteed to keep pace with your business' growth. With any CRM system, it pays to think long-term. Zoho will give you a fast-deploy CRM that will serve some of your teams; Dynamics 365, in contrast, will give you a solution that can help run your whole business, from SME size to enterprise level.
Want to make your own mind up on Dynamics 365 vs Zoho? Arrange a Dynamics 365 demo with us to see that it's right for your organisation.