This year Microsoft will launch the latest (and rumoured best) update to its market-leading business platform.
Dynamics 365 has come a long way since its days as a pure customer relationship management (CRM) system. The latest update, Dynamics 365 version 9.0, will help further enhance its status as an all-round business platform.
Improved UI for desktop and mobile
Dynamics 365 version 9.0 will give a much-needed facelift to the platform. The new Unified Client Interface will bring a much slicker look to the platform, more akin to the rest of the Microsoft 365 suite. Other than improving the look of Dynamics 365, version 9.0 will radically improve the experience on devices.
While Dynamics is currently accessible via mobile and tablet, the latest update is set to update the experience more in line with the desktop experience. This will make Dynamics 365 a much more portable tool. Businesses will be able to access valuable intel on sales or company performance wherever staff might be, making key updates to Dynamics 365 on the go rather than waiting to get back to a desktop computer.
Crucially, Dynamics 365 version 9.0 will also be available on- and offline. This means that information can be checked even when an internet connection is not available.
Customer Service Hub
For some time, Dynamics 365 has been developing into a customer service tool. The launch of the Customer Service Hub will cement this by bringing key features together. This includes the ability to log and track cases, tag key customer communications (emails, recorded calls etc.) against case records, and manage customers based on pre-defined service level agreements.
The addition of the timeline feature, which presents a linear view of interactions allowing users to get up to speed quickly with accounts, will also benefit users of the platform.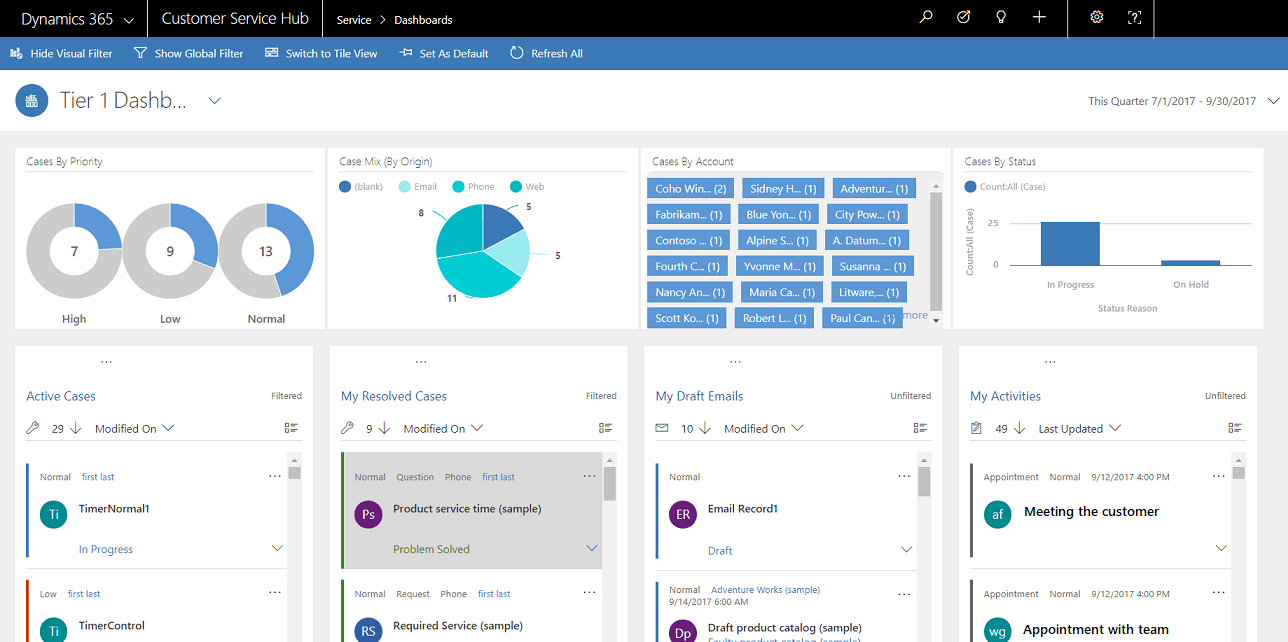 Dynamics 365 app for Outlook
With version 9.0, you'll soon be able to get Dynamics 365 and Outlook working much closer together. Clicking on an app within Outlook will enable key Dynamics contact and account information to be seen alongside emails. Messages from Outlook can then be saved to Dynamics 365 account records, ensuring that all communications related to an account are logged together.
New Dynamics 365 account records can be created directly from Outlook. Meanwhile, email templates and marketing materials currently saved in Dynamics 365 can be brought across into Outlook to enhance sales communications. Very useful indeed.
Integration of LinkedIn Sales Navigator
Partnering with one of the most widely used sales tools available, Dynamics 365 version 9.0 will allow users to migrate data from LinkedIn Sales Navigator directly into Dynamics 365. This will range from contact information through to tracking InMails. While not the most exciting update perhaps, it is symbolic of how far Dynamics 365 has come as a sales and marketing tool, coming to a point where it may soon pose a serious challenge to more complex (and expensive) marketing automation software.
Multi-select fields
Sometimes it's the little things that make the most difference. The multi-select option allows users to select more than one option in set fields.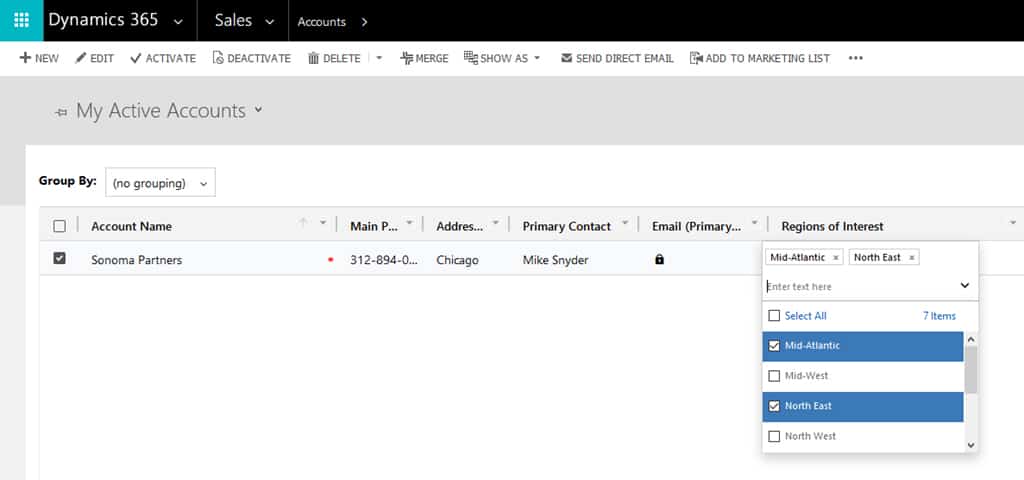 It may sound simple but it's a big improvement for the platform. This update will make advanced searches and query finding faster and simpler. If you've used Dynamics 365 before, you'll likely be excited by this one.
With plenty more new features as well, there isn't long to wait. Existing customers can upgrade to version 9.0 from version Dynamics 2016 8.0, Dynamics 2016 UPD1 8.1 or Dynamics 365 8.2.
To have a further conversation about Dynamics 365, please get in touch: