Having a good Customer Relationship Management (CRM) system is crucial for a sales team to work well.
Microsoft Business Central may be an ERP system, but it can also be a top choice for businesses that want an all-in-one solution for managing customers and opportunities. We explore more about Business Central as your sales CRM below:
Wait, does Business Central Have A CRM System Included?
Yes, Business Central includes a sales CRM feature! This means it's more than just a tool for managing your accounts and resources; it helps you keep track of your customers as well. With Business Central's CRM, you can manage customer information, track sales opportunities, and handle your entire sales process in a simplified way.
Why Choose Dynamics 365 Business Central As Your Sales CRM?
There are several benefits of Business Central as your sales CRM. These include:
All-In-One Functionality: This is one of the leading benefits. Having all of your sales information - from the first lead to the final invoice – allows for seamless data management. This means there's no lost time with the replication from data from one system to another and no gaps in insight. Plus, with your sales pipeline in the same platform as your operations data, you can make smarter decisions about resourcing, production and overall financial performance.
Easy Of Use with Other Microsoft Tools: If you're already using Microsoft products like Outlook or Excel, Business Central will fit right in. You can share data easily and everything works together smoothly.
Strong Analytics Tools: Business Central gives you real-time sales data. This lets you monitor pipelines and forecasts and make quick, well-informed choices, helping your operations stay ahead of your sales team's predicted performance.
Automate the Routine: With Business Central, you can set the system to do regular tasks for you, like sending follow-up emails or logging new enquiries. This means your sales team can focus on building relationships with customers, rather than getting bogged down with routine work.
Tailorable To Your Needs: You can adjust Business Central to fit your specific business needs. You can add custom fields, for example, to track information that's unique to your business. So the system is tailored to both your sales and operational requirements.
Grows With You: Business Central is used by organisations ranging from SMB to enterprise level. So you can be sure that as your business grows, Business Central will scale up with you. You can add new features or adjust the existing ones to meet your growing demands.
But What Is The Difference Between Dynamics 365 Sales And Business Central?
Dynamics 365 Sales is a dedicated CRM system focused solely on managing customer relationships and sales. Business Central, on the other hand, is a broader solution that covers multiple business needs like finance, operations, and yes, customer relationship management. While Dynamics 365 Sales offers more specialised CRM features, Business Central provides a more general set of tools that include CRM as part of the package.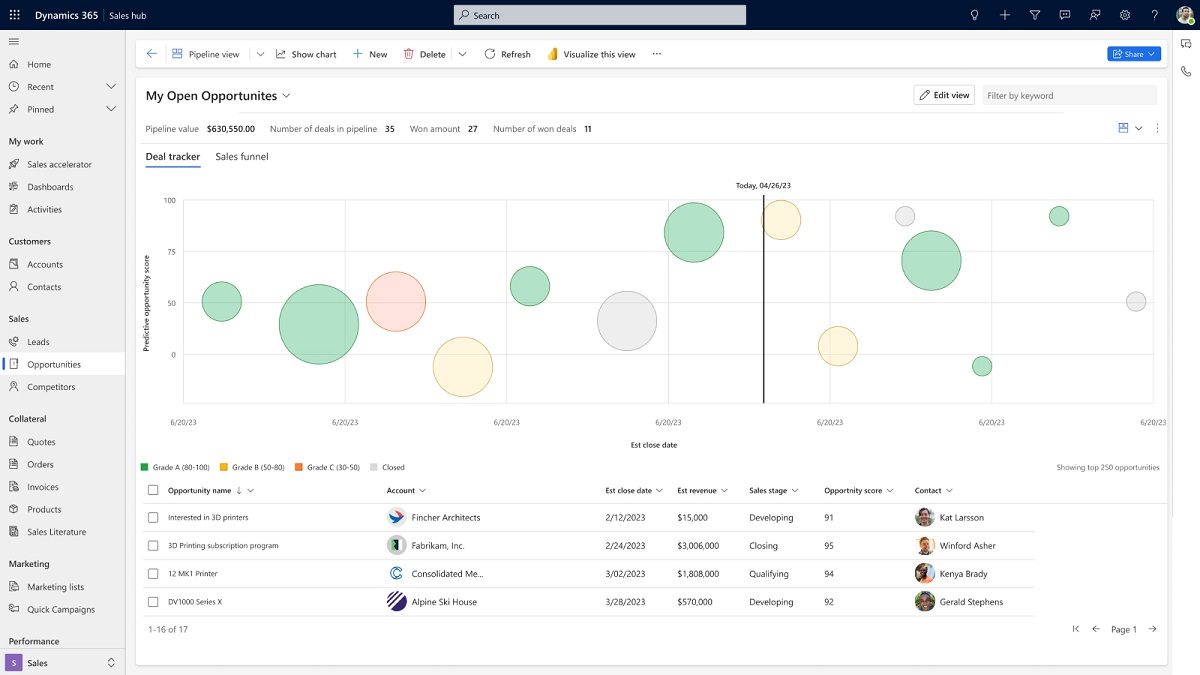 So Which Should I Choose?
The answer is typically specific to organisational challenges. If your organisation doesn't require an in-depth sales process, or has a consistent pipeline, then the CRM functionality within Business Central will fulfil your requirements.
Where a sales pipeline is typically more involved, then there's a real benefit to having both Dynamics 365 Sales and Business Central. Organisations then have access to more advanced sales CRM functionality offered in Dynamics 365 Sales. Equally, native integration ensures that they also benefit from seamless data flow between Dynamics 365 Sales and Business Central.
If this sounds expensive then don't worry: not everyone in your organisation needs access to both systems. Organisations can therefore stay efficient in terms of licensing while getting maximum utility from the combined solution.
Interested in learning more about Business Central as a sales CRM? Get in touch for a demo: