If you're planning to invest in a customer relationship management (CRM) system as a way of increasing efficiency and saving your business money, you'll naturally want to be up and running quickly with your new solution.
But to get a CRM system running as best possible, you'll need to dedicate time to ensure correct implementation. Implementation is the most time-consuming (and therefore costly) phase of any CRM project. But as the success of your project will hinge on your solution being deployed correctly, it is worth investing time and resources on. Below, we outline five tips for successful CRM implementation planning.
Choose the right CRM platform for implementation
The first tip for successful CRM implementation is choosing the right CRM software. Its obvious but not simple.
Think all CRM systems are the same? Think again! While platforms may have features that are comparable, the depth and functionality of each system, and the third-party systems that it can integrate with, will be very different.
A CRM system is a big investment so think long-term about your business needs: you don't want to find after just three years that your business' growth has outpaced your CRM platform's capabilities.
Ahead of a CRM system purchase, know the answers to the following questions:
What do you want your CRM system to do?
What business improvements do you want your CRM system to achieve?
How well does the CRM system fit your business plans for the next 3/5/10 years?
Who in your business needs to be able to use your CRM system?
What is your budget (think both in terms of one-off development and ongoing costs)?
Once you have the answers to these questions, it's time to choose the platform. Start with a group of solutions and work this down to two or three options that you then review and trial in-depth (Microsoft Dynamics 365 for example allows for a 30 day trial).
As part of your selection process, make sure that staff from across your business have the opportunity to feedback on CRM system choice. If staff already know and prefer one solution, it can save you time and money on training to choose that solution.
Know how your organisation works
If you intend to improve how your organisation operates by implementing a CRM system, you first have to know how it operates at present. So one of our tips for successful CRM implementation is get to know your business.
You need to have a good idea about where the inefficiencies and redundancies across your whole business lie. This will involve engaging staff in all areas of the business, and at all levels, for their feedback. Don't presume you know how to do your staff's jobs better than they do; they may well be aware of workflows that could be improved already.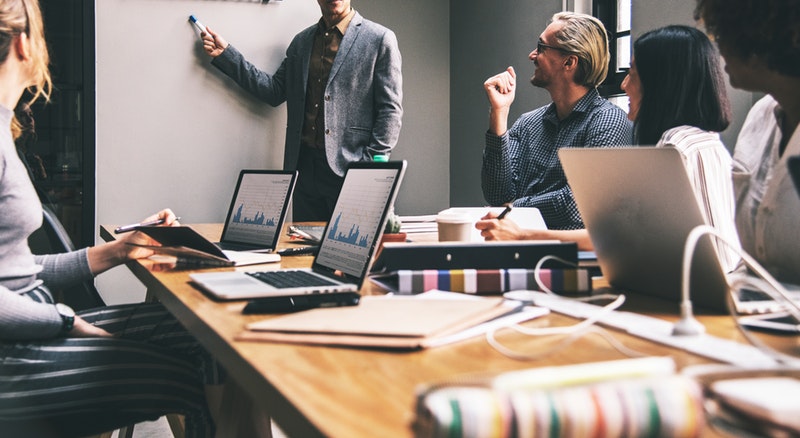 At the same time, you also need to recognise where processes in your business work well. Failing to acknowledge this when implementing a CRM system risks alienating staff and actually creating inefficiencies. Don't throw the baby out with the bath water.
Get professional help with CRM implementation plan
It's not always easy to see the problems and inefficiencies in your own business: you're either too close to issues to recognise them, or may have some emotional investment in the situation. This is where external assistance can be of value.
Engaging a CRM system consultant can be valuable at all stages of a CRM implementation. At the start of a project, they can help find the inefficiencies in your business and suggest the best way to solve them based on experience from other businesses. Their solutions may be the right processes to adopt for your aims, the right CRM modules to use, or even the best CRM platform to use.
Their help will also be invaluable in shaping CRM implementation plan. With a strong understanding of both your business and your CRM platform, a good CRM consultant will help you make short work of tasks such as determining what data needs to be uploaded into your system, what form fields are required, and the access permissions that users require.
Once your platform is developed, your consultant should also be able to help train staff and ensure the platform is adopted successfully. They can also be on hand during your first six months to ensure your business aims are being met and that your CRM implementation has been successful.
Choose your champion to support your implementation
A consultant will be able to assist you periodically with staff engagement. However, if you're adopting a CRM system for the first time you'll need someone in-house to be fighting its corner every day. This is your CRM champion.
Your champion – or team of champions in larger businesses – need to be involved in your CRM system at the earliest possible opportunity to ensure they are invested in the project. They should work closely with your consultant so that they fully understand the project.
Once the new CRM system is ready, they need to be on hand to answer user questions of the technical variety (the inevitable 'how to' questions) and the existential: someone needs to be able to explain to staff why they are changing their processes for a CRM system, particularly if it may be introducing more work.
Your champions will be invaluable in ensuring your CRM system is adopted correctly among staff. Possibly they may also be your police, checking that users are doing what they should be.
Equally, your champions will also be a trusted voice should a process in your CRM system not be working as it should. While other staff may moan about a CRM implementation, your champions should be able to tell you where there are actual problems to be addressed. So if they say there's an issue, take it seriously
 Don't stop at the start
Of all our tips for successful CRM implementation, this is where we see the most failure: The first six months of a CRM system are just the beginning.
Your business can only find more efficient if you continue to adapt processes and workflows after your CRM system has been launched. It's not a case of 'set-and-forget'.
Working with your champions and your consultant, identify the business KPIs you'd expect your CRM system to improve. Assign metrics to these aims then measure on a periodic basis. If your CRM is not performing as hoped, find out why. Conversely, if your CRM system is proving a resounding success in one area of your business, work out how this success can be replicated in others.
The last thing you'll want to do with your new CRM system is to undertake more development. But staying on top of new features and functionality is the way you'll find even more ways to benefit your business.
Once you have seen (or started to see) return from your CRM system, start looking at other areas of your business that could benefit from CRM functionality. You don't have to invest straight away, but you should investigate how such developments could fit in and supplement your long-term business plan.
Akita develops CRM solutions in Microsoft Dynamics 365. View more about our services