Find better ways to complete manual tasks with Power Automate.
Time is money. With many organisations looking increasingly to digital solutions to increase productivity and improve efficiency, Microsoft has recently made a lite version of Power Automate available as part of Windows 10. But what is Microsoft Power Automate? Read on to learn more about Power Automate and its benefits.
What is Power Automate?
Power Automate, formerly known as Microsoft Flow, is a business application that leverages robotic process automation (RPA) capabilities. This powerful tool can significantly streamline and optimise business workflows, allowing for seamless task automation with minimal user intervention.
One of the key strengths of Power Automate lies in its versatility, enabling both attended and unattended automation. Attended automation refers to scenarios where human input is required at some point during the process, whereas unattended automation can operate autonomously without any user involvement. This flexibility empowers organisations to customise and deploy automation solutions that best suit their unique requirements and preferences.
With its integration prowess, Power Automate stands out as a truly connective platform. The system can effortlessly bridge processes across a vast array of applications and software types, ranging from Microsoft 365 suite applications like Excel, SharePoint, and Outlook to external services like Salesforce, Google Workspace, and various cloud-based platforms. This expansive compatibility provides users with virtually endless possibilities for automating and simplifying work processes across different departments and systems.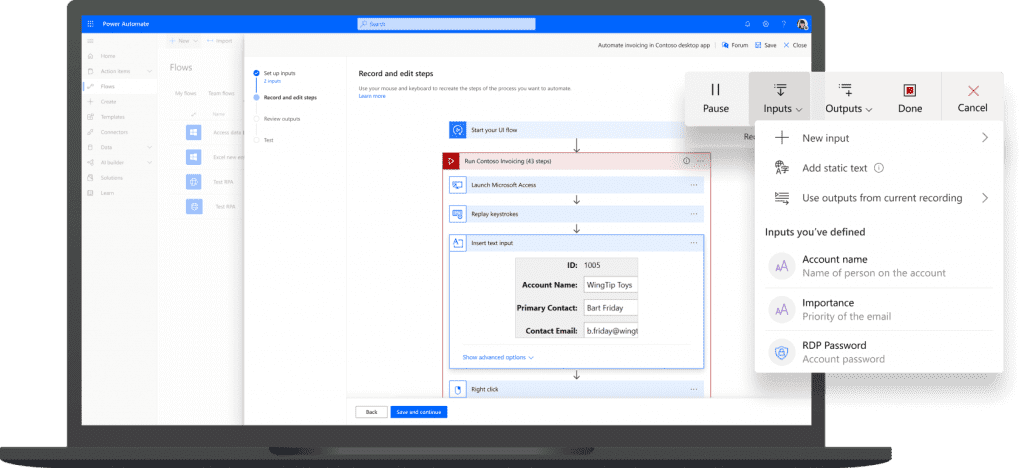 Beyond its compatibility, Power Automate boasts a user-friendly interface that simplifies the process of designing and deploying automated workflows. Through a visual drag-and-drop interface, even non-technical users can easily create and manage automation processes, eliminating the need for extensive coding knowledge. This democratisation of automation allows employees from various backgrounds and skill levels to contribute to the efficiency of their workflows, ultimately fostering a culture of continuous improvement within the organisation.
Power Automate's automation capabilities extend to a broad spectrum of tasks and processes, from simple data entry and notifications to more complex data integration, approvals, and advanced decision-making processes. For instance, it can be used to automatically send personalised emails to customers, trigger actions based on specific conditions, automate repetitive administrative tasks, and streamline employee onboarding processes, among many other applications.
Benefits of Power Automate
Automating repetitive manual tasks can have immediate and tangible benefits across an organisation. Beyond this, Power Automate can drive productivity, improve communication and fuel collaboration. Here are more of the benefits of Power Automate:
1. Delivers Cost Savings In Multiple Ways
Power Automate saves money by boosting productivity for more profitable tasks. It can allow users to get on with other tasks instead of having to manually input data (like expenses and expenditure). Thanks to this, they have more time to focus on other tasks, there is less chance of human error and your overall operational costs are significantly reduced.
2. Keep Up To Date with progress
A common use of Power Automate is to generate notifications in real-time. It's an ideal way, for example, of keeping track of project progress without having to send out chaser emails. So if a team member makes an update in SharePoint, you can get a notification. Not only will this save time catching up on profess, it can make projects run faster as tasks can be reviewed and signed-off the moment they're finished.
3. Keep Order Over Emails
With users receiving countless emails daily, they can quickly become distracted from important day-to-day tasks. One of the smart benefits of Power Automate is that it can help decode the contents of each email and place them in relevant folders -  even deciphering which ones need attention immediately and what can wait.
4. Data Integrations To Speed Up Processes
Power Automate allows you to transfer data to and from Microsoft 365 and other applications. Instead of manually inputting data, you can create automated workflows between numerous applications. For example, a form completed from your website can be set to automatically log within your CRM system.
All of these benefits of Power Automate may seem small. But over time and across an organisation, the time savings can quickly become tangible. And the more automation you implement, the more time you save.
To discuss the  benefits of Power Automate for your organisation, please get in touch: