Find better ways to complete manual tasks with Power Automate.
Time is money. With many organisations looking increasingly to digital solutions to increase productivity and improve efficiency, Microsoft has recently made a lite version of Power Automate available as part of Windows 10. But what is Microsoft Power Automate? Read on to learn more about Power Automate and its benefits.
What is Power Automate?
Previously known as Microsoft Flow, Power Automate is an enterprise system that offers robotic process automation. Working either attended or unattended, Power Automate allows customised processes to happen with little or no user interaction.
Power Automate can link processes across hundreds of applications and software types, giving virtually endless options for automating and simplifying work processes.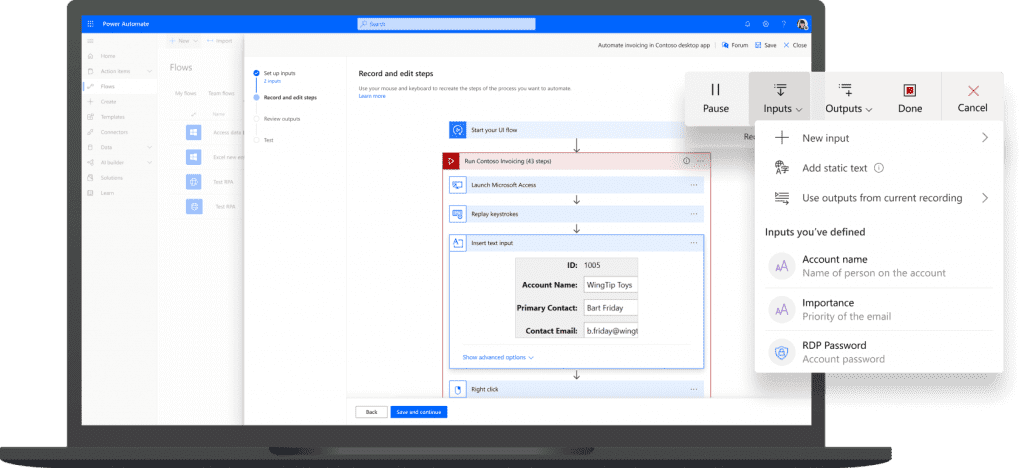 Benefits of Power Automate for business
Automating repetitive manual tasks can have immediate and tangible benefits across an organisation. Beyond this, Power Automate can drive productivity, improve communication and fuel collaboration. Here are more of the benefits of Power Automate:
1. Delivers Cost Savings In Multiple Ways
Power Automate saves money by boosting productivity for more profitable tasks. It can allow users to get on with other tasks instead of having to manually input data (like expenses and expenditure). Thanks to this, they have more time to focus on other tasks, there is less chance of human error and your overall operational costs are significantly reduced.
2. Keep Up To Date with progress
A common use of Power Automate is to generate notifications in real-time. It's an ideal way, for example, of keeping track of project progress without having to send out chaser emails. So if a team member makes an update in SharePoint, you can get a notification. Not only will this save time catching up on profess, it can make projects run faster as tasks can be reviewed and signed-off the moment they're finished.
3. Keep Order Over Emails
With users receiving countless emails daily, they can quickly become distracted from important day-to-day tasks. One of the smart benefits of Power Automate is that it can help decode the contents of each email and place them in relevant folders -  even deciphering which ones need attention immediately and what can wait.
4. Data Integrations To Speed Up Processes
Power Automate allows you to transfer data to and from Microsoft 365 and other applications. Instead of manually inputting data, you can create automated workflows between numerous applications. For example, a form complete from your website can be set to automatically log within your CRM system.
All of these benefits of Power Automate may seem small. But over time and across an organisation, the time savings can quickly become tangible. And the more automation you implement, the more time you save.
To discuss the potential applications and benefits of Power Automate for your organisation, please get in touch: