Microsoft announces deeper integration between Dynamics 365 and Teams, further unifying and streamlining workflows.
Dynamics 365 and Teams are two of Microsoft's most popular innovations, both of which have experienced a high level of uptake in the business community. Microsoft's announced integration plans for Dynamics 365 and Teams, therefore, are a welcome new announcement for those looking for a more unified experience.
What is Microsoft planning?
Microsoft's announcement explained that, going forward, users of both Teams and Dynamics 365 will have the capability to access data and functionality from either application in certain situations while using the other. This includes:
Embedded Teams chats and channels are viewable in Dynamics 365. The app will promote chats that are linked to particular sales opportunities, making it easier for staff to locate and view relevant chat history quickly.
An embedded Teams dialler will sit within Dynamics 365, making it simpler for staff to make calls without having to navigate away from their Dynamics 365 window. This should make it easier to make calls, take notes, and access relevant information simultaneously.
A Dynamics 365 Sales panel will be added to Teams meetings, where participants can use the panel alongside chat while in a call. Notes, recordings and transcriptions captured in the panel will automatically be added to Dynamics at the end of the call.
Users will also be able to search, view and edit Dynamics 365 records from a Teams meeting, without having to interrupt the flow of the meeting to navigate away from the application.
Teams posts can be used to create Dynamics 365 tasks and notes.
Microsoft Teams will enjoy new webinar capabilities, including integration with Dynamics 365 Marketing.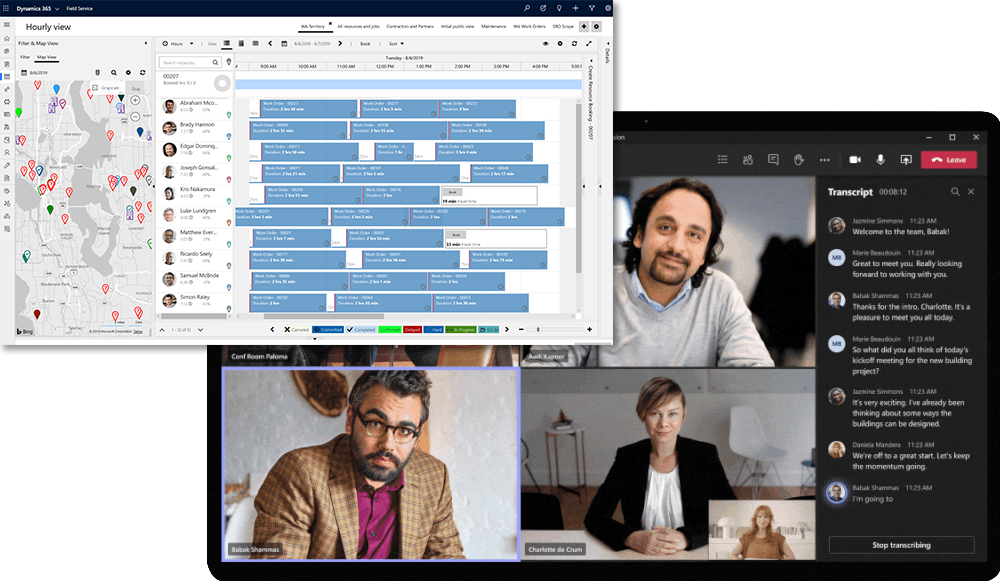 Benefits of Dynamics 365 And Teams integration
Considering how many businesses across the world already use both Microsoft Teams and Dynamics 365, this integration between the two services is a welcome improvement.
While this in part means less hopping between workspaces, it's yet another step toward a single platform for fully unified communications. The new links between these applications, therefore, promise an improved workflow and therefore better working efficiency.
For more information on Dynamics 365 and Teams deployments: