When it comes to small business operations, a CRM system may not be the top of your list. Yet this may be short-term thinking.
Research from Capterra suggests that 65% of businesses adopt a CRM system in their first five years of operation. Meanwhile, 53% of top-performing companies continue to invest in their CRM systems to drive sales according to Forbes Insights. With this in mind, this blog aims to explain the benefits of Dynamics 365 for a small business.
It's 'Big Data' for small (and not so small) businesses
Business intelligence is valuable no matter the size of your company. But with Dynamics 365 you don't have to be a multinational to have access to better analysis of your business.
A major attraction of Dynamics 365 is how well it can bring data from across a business to generate new insight. Reports - whether sales pipelines, customer service desk efficiency, finance updates or other - can come together in minutes. This is often data that would have taken days to gather and process when working from multiple sources.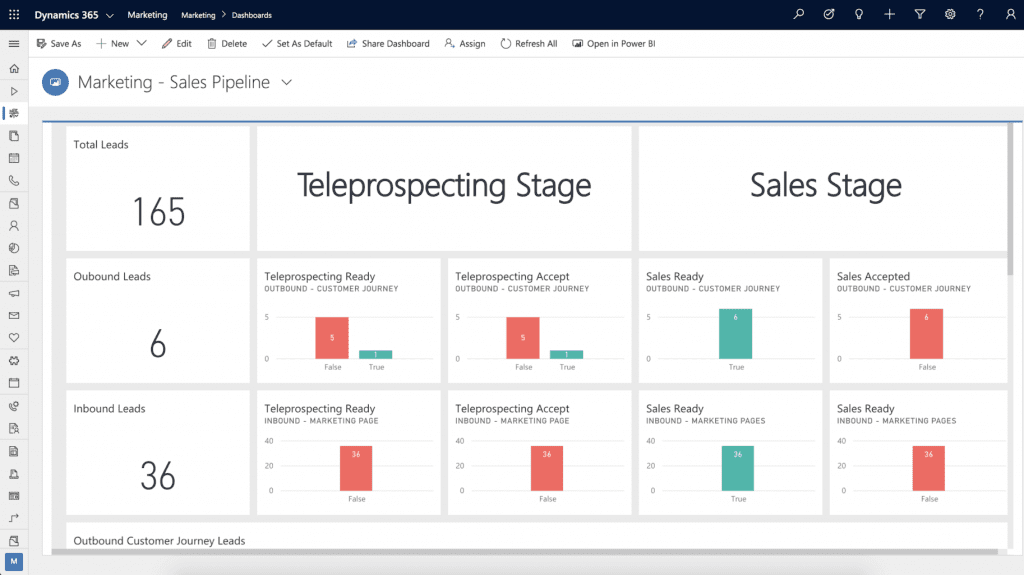 Customisable dashboards can also allow you to be proactive in your work. Discover if customers are under-spending and target your marketing towards them, determine if your business is using resources too quickly or find out when staff are under-performing and may need support. Whatever the query, provided the data exists Dynamics 365 can help you find an answer.
Dynamics 365 supports your entire business
Business intelligence may help support the management effort, but Dynamics 365 can be used across nearly every team.
Sales and marketing are obvious business functions that benefit from a CRM and there are dedicated modules for each. According to Demand Metrics, 84% of businesses find a CRM beneficial to managing the quality of their leads. And based on research by Annuitas, leads nurtured via a CRM system (both in terms of sales and marketing) yield sales 47% larger then those not nurtured.
Finance personnel also gain from the reporting that Dynamics 365 can generate, particularly functionality such as automatic invoice generation that can save time. Even administration staff can make use of features in Dynamics 365: the Field Service module that can help increase the efficiency of scheduling resources.
Should there be any concern that so many departments have access to sensitive business information, restrictions can be put in place to ensure that teams or individual users only have access to the data they need.
Microsoft Dynamics 365 integrates with your current applications
Existing software can be an obstacle to adopting a new platform. Thankfully, Dynamics 365 is one of the most flexible applications available when it comes to integration. Most commonly used accountancy and marketing software will integrate without an issue, and this is just the tip of the iceberg.
Microsoft is also working towards more surprising integrations. Dynamics 365 Version 9.0 and above will support integration with LinkedIn Sales Navigator to assist sales teams. Meanwhile, the Dynamics 365 for Outlook app can also boost productivity by providing you with key information held in Dynamics 365 from directly within Outlook - perfect for a small business looking for a more joined-up workflow.
It takes the strain off your server
Given the power of a Dynamics 365 small business setup in bringing together and crunching data at phenomenal rates, you'd be forgiven for thinking your server was about to take a beating in terms of memory and performance. Not so. Dynamics 365 sits within Microsoft's cloud network, hosted with their industry-grade data centres.

The benefit of this is not only to move much of the processing requirement off of your network, but also the risk: Microsoft will protect your Dynamics 365 installation with their own market-leading security, ensuring your data is safe. Information is held in a GDPR compliant way. And with excellent uptime to boot, your CRM system will always be there when you need it.
A Dynamics 365 for small business solution is cheaper than you might think
While Microsoft Dynamics 365 is endlessly customisable for your business requirements, much of the functionality described in this blog comes pretty much out of the box. So you can be up and running quickly with minimal costs.
If your business has niche requirements or specific workflows, Dynamics 365 can take of those too. With a little development, Dynamics 365 can be your customised platform at the fraction of the cost of custom software. For more information
Ready to feel the benefits of Dynamics 365 for a small business ?
Adopting a CRM system can seem daunting. Akita has simplified the process with our QuickStart offerings.
Available to fulfil for sales management, marketing, customer service or field service requirements, QuickStart will deliver you a packaged Microsoft CRM solution for a fixed price and to a speedy deadline (as little as a week in some cases).
Packages also contain all of the relevant consultancy and training organisations to get up and running with a Dynamics 365 solution.
For more information on the benefits of Dynamics 365 for a small business, please get in touch: