Microsoft Teams has unlocked huge benefits for unified communication and remote working. Dataverse is set to take this further - with a new universe of opportunities.
Given the global circumstances, the significant business uptake of Microsoft Teams is not overly surprising. As we all look to the 'new normal', Microsoft is looking to maintain momentum and further capitalise in changing working trends with Dataverse and Dataverse for Teams.
What is Dataverse?
Microsoft Dataverse is a low-code solution for storing information and creating custom solutions to work alongside Microsoft's common applications.
If this sounds familiar there's a good reason – Dataverse is the new name for the Common Data Service (which has gone through a bit of an identity crisis in the past few years).
Applications such as SharePoint, Dynamics 365 and the Power Platform applications already utilise Dataverse for backend functionality and storage.
But what's new is Microsoft Dataverse for Teams and the potential it has to transform the communications platform.

What Does Dataverse For Teams Allow Businesses To Do?
While Microsoft Dataverse is already a simplified coding solution, Dataverse for Teams takes this to the next level.
Many organisations run Teams from PCs and mobile devices - often simultaneously. But the latter devices typically don't have the processing power to deal with heavy workloads.
Dataverse for Teams lightens the code load further, allowing organisations to deliver the following:
Custom Working Solutions
Thanks to Dataverse for Teams, organisations can now build, deploy and utilise model-driven apps and flows within Teams.
Power Apps offer enormous possibilities for simplifying workflows and creating smarter processes. And their potential for enhancing working is practically endless.
Power Apps has always worked from mobile devices. But the ability to integrate apps seamlessly into the same platform as its internal communications transforms Teams into an all-encompassing and cost-effective working solution.
Chatbots Function
Dataverse for Teams also allows organisations to create customisable chatbots for greater automation and self-service.
Many organisations are embracing Teams' potential as a field service platform. Utilising Power Virtual Agents chatbots within the platform allows field agents to receive answers and access resources relating to their work with ease.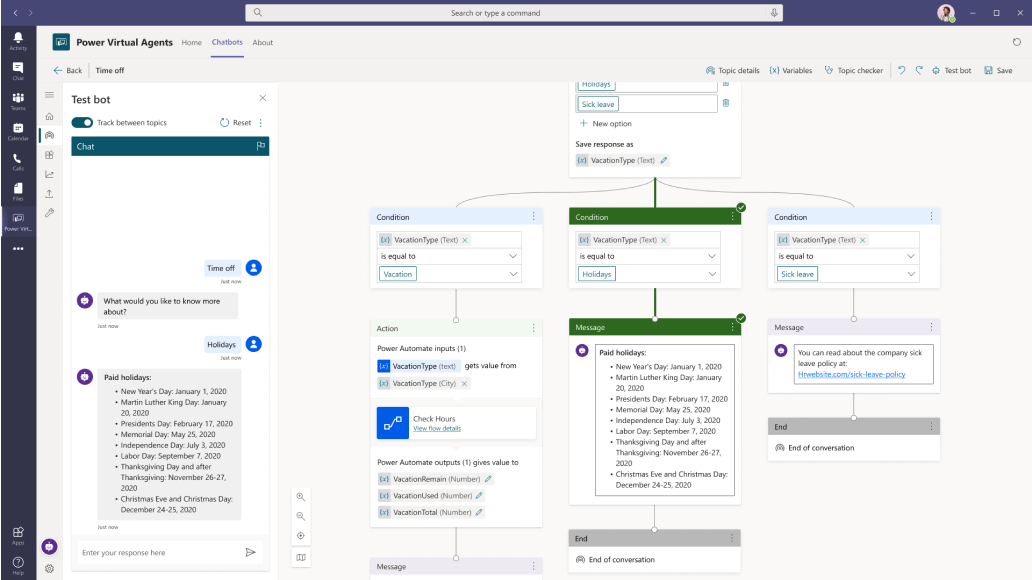 What's more, this is all achieved without needing to engage with a person – the chatbot automatically directs them to the content they need.
As such, chatbots can boost productivity levels by providing the answers needed to complete jobs quickly - without needing to engage more resources.
Easy Deployment
The capabilities of Dataverse for Teams are certainly impressive. But as with most technology solutions, organisations are only likely to use them if they're simple to implement.
Solutions built-in Dataverse for Teams can be deployed with just one click, making them instantly available across departments or your whole organisation. No big rollouts required, just build and go. And the business transformation begins straight away.
As a digital transformation partner Akita Intelligent Solutions can help unlock the possibilities of Dataverse for Teams for your organisation.
For more information or to discuss a requirement please get in touch: