When it comes to choosing a platform to assist with document storing and sharing, many organisations find themselves torn between SharePoint and OneDrive.
Both are developed by Microsoft and included as part of (most) Office 365 licences. They also deliver some similar functions, yet operate in different ways.
In this post, we'll explore the differences between SharePoint vs OneDrive and why we find SharePoint to be a more effective and efficient solution.
SharePoint vs OneDrive: What's The Difference?
SharePoint vs. OneDrive is a common dilemma for many businesses. But understanding what each platform is designed for can assist in ensuring correct use.
Microsoft SharePoint is a robust platform designed for collaborative teamwork. It serves as a central hub for storing, organising, and sharing documents and information across teams and departments. With SharePoint, you can create custom intranet sites, manage workflows, and collaborate on projects seamlessly.
On the other hand, OneDrive is more like a personal filing cabinet in the cloud. It is primarily intended for individual users to store their files securely and access them from anywhere.
While both SharePoint and OneDrive are part of the Microsoft 365 suite, they cater to different collaboration needs within an organisation. SharePoint excels in facilitating team collaboration and knowledge sharing, while OneDrive is ideal for personal file storage and easy access.
Understanding the unique strengths of each tool helps businesses make informed decisions about their document management and collaboration needs.

Individual vs group collaboration
Storage
Both OneDrive and SharePoint provide users with a large amount of storage. But where OneDrive offers 5GB per user as standard, SharePoint Online offers 1TB per organisation. For many SME companies, this is more space than they'll need, meaning SharePoint Online can function as their file server in terms of storage.
In contrast, we've seen plenty of organisations suddenly caught out by reaching OneDrive's storage limit. And while multiple users can access multiple lots of 5GB, this doesn't support collaborative working in the same way as SharePoint allows for.
Scalability
In terms of scalability, SharePoint is also the better solution if you're thinking about long-term use for your organisation. In time, SharePoint can be built out with further functionality as an organisation grows, and users added or removed as needed. One Drive will always just be a storage solution.
If the person who is the account holder for the main OneDrive account leaves the organisation (particularly if under bad terms) they can take all of an organisations files with them.  Akita has seen this happen on more than one occasion and it's rare for Microsoft to help as this is not how it intends for OneDrive to be used.
Better security and permissions
While both tools are encrypted to protect your files, you are assured more robust security when sharing and accessing resources with SharePoint thanks to its functions such as setting auditing policies.
Unlike OneDrive, there are options for SharePoint to be made accessible offline, which gives you greater peace of mind about single-server security, plus extra control over your accessibility, which is essential for data compliance.
SharePoint can also be configured to obtain and analyse data from customers and users, making it more useful for monitoring changes to files and documents.
More efficient and effective collaboration
It is possible for multiple users to work on a document via OneDrive. However, the original user remains in control and can only grant access to others by sharing the file link. This becomes problematic if the original user is unavailable when you need access.
With SharePoint vs OneDrive, this step is eliminated, as multiple employees with the appropriate permissions are able to access and edit a document.
What's more, any changes are automatically tracked and management is able to see who is currently working on a document in real-time.
SharePoint can also help manage productivity across teams thanks to the ability to create custom workflows as well as utilise prebuilt templates.
Granular permission setting
Available across a network or via the cloud, SharePoint also comes with a greater level of version control and user access that simply isn't available with OneDrive. Particular permissions can be modified at intricate levels, enabling you to fully manage your access requirements to protect sensitive data (only allowing HR staff to view personnel documentation for example)
Easy customisation and integration
SharePoint has an easy-to-use interface straight 'out of the box', but it can also be customised to your organisation's needs. Users can modify which apps appear and change the layout and content structure.
Because SharePoint uses an open architecture that is highly scalable, it also facilitates easy integration with not just Office 365 but a number of other web-based services such as email and calendars, whether Microsoft or not, perfect for growing businesses.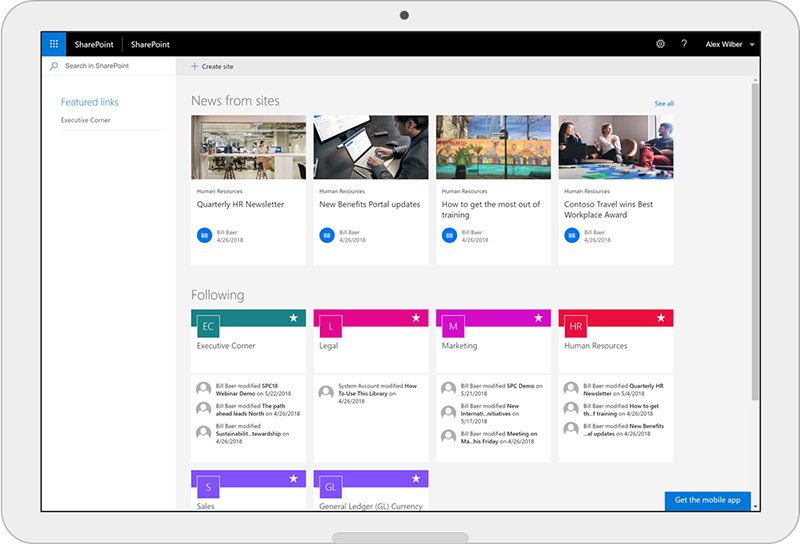 SharePoint vs OneDrive: Conclusion
When it comes to SharePoint vs OneDrive, there really is a right time and place for each. But it's essential to understand that each of these tools serves distinct purposes, and their suitability depends on your business needs.
OneDrive is an excellent option for individual users who require a secure and convenient way to store and share their files and documents. It acts as a personal cloud-based storage system, allowing users to access their files from anywhere, which can enhance their productivity and flexibility. OneDrive is a straightforward choice when your primary focus is on personal file management and sharing.
On the other hand, SharePoint goes beyond individual file storage. It offers a wide array of tools and features designed to facilitate collaboration and boost productivity, making it particularly valuable for organisations with in-house teams or remote employees. SharePoint can serve as a central platform for project management, custom intranet site creation, complex workflow management, and fostering knowledge sharing. It's the ideal choice when your business aims to enhance team collaboration and productivity significantly.
In summary, when it comes to SharePoint vs OneDrive, your decision should be based on your organisation's specific requirements. OneDrive suits individual file management needs, while SharePoint empowers teams and businesses to take their collaboration, productivity, and knowledge sharing to a higher level. By recognising the strengths of each tool, you can make informed choices to support the success of your business.
View possible Microsoft SharePoint solutions for your organisation on our service page