SharePoint Online is a web-based service that allows (at its most basic) for organisations to share, store, and manage data and applications.
So what is SharePoint Online? The collaborative platform is a Microsoft product and a component of Office 365. Sharepoint Online is available with many commonly-used Office 365 licences and works intuitively with applications such as Word, PowerPoint and Outlook.
According to Microsoft's statistics on cloud computing, over 180 million business users have adopted Office 365 as of Q3 2019. The increase in users is making cloud services like SharePoint Online more and more attractive for organisations.
SharePoint Online vs SharePoint On-Premise
With SharePoint Online, all data is held within Microsoft's reliable cloud setup. With SharePoint On-Premises, organisations host SharePoint from their own servers or personal cloud setups.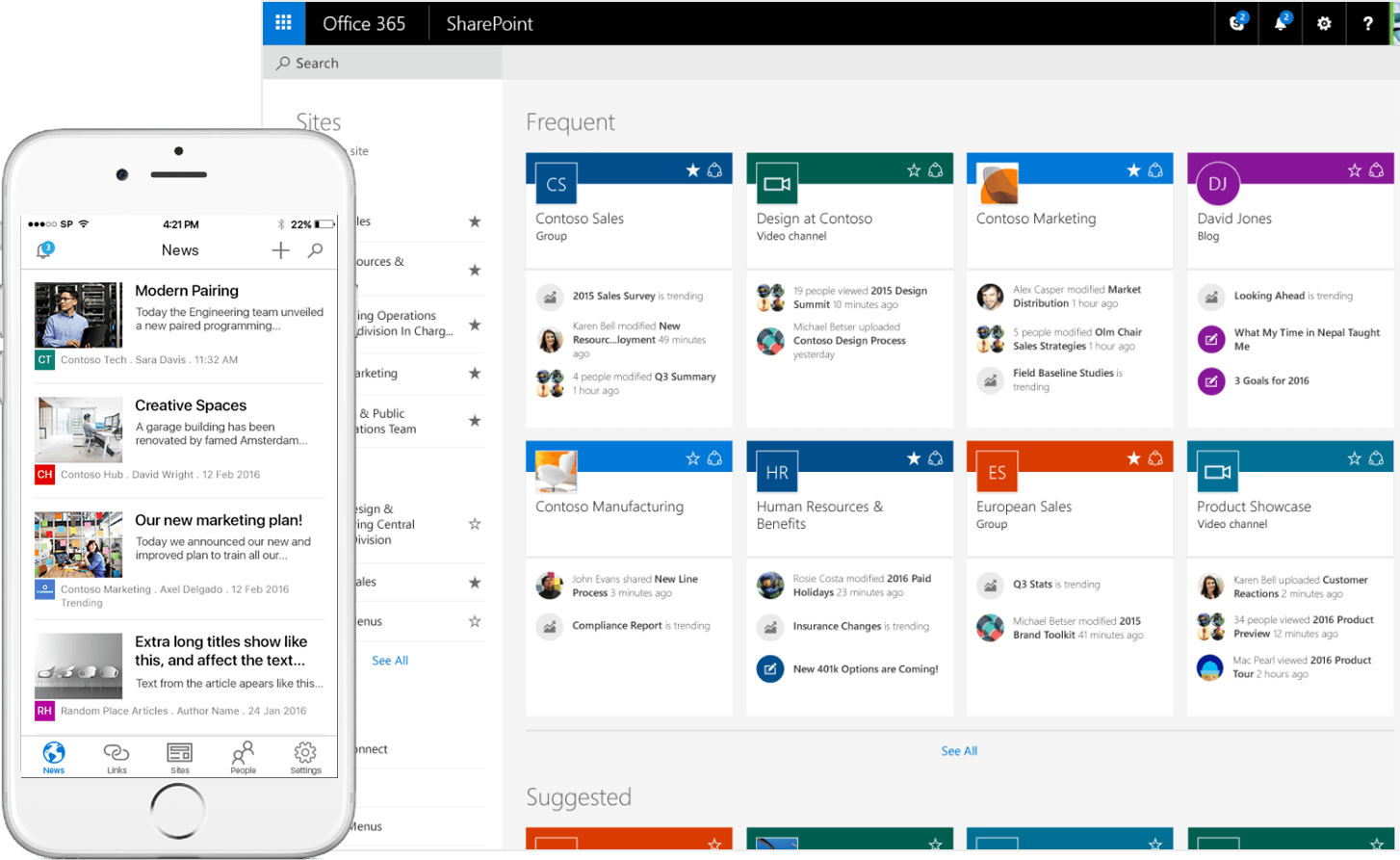 Advantages of SharePoint Online
1. Easy access
Accessing SharePoint Online is simple because it is web-based. All that you need is an internet-enabled device and an internet connection to access and share your files.
2. Reliable platform
Microsoft's cloud setup is highly reliable, meaning your SharePoint instance will always be available. It also means that SharePoint Online can grow with ease (up to 1TB in size). SharePoint On-Premises, in contrast, requires an organisation to care for the servers that host its SharePoint instance. An on-premise solution will also be limited by the size of the server that it is on.
3. Security
Data encryption and the use of other security measures enhance SharePoint data security, which prevents unauthorised access to the system. Like Office 365, access to SharePoint Online is password protected with security further enhanced with multi-factor authentication.
4. A centralised point of information
SharePoint Online can become an organisation's central hub for information. With users accessing it daily to share or collaborate on files and documents, SharePoint also makes the ideal place to host important company news and information. SharePoint Online can also be used for an organisation's administration, storing HR documents or hosting an expense request form for example.
5. Easy sharing and collaboration with external users
SharePoint Online promotes collaboration with those both in and outside of an organisation. The platform provides an out-of-the-box solution for sharing relevant content and data with parties outside an organisation, allowing them to collaborate on files and content within your SharePoint setup. When a task is complete, access permission can then be easily withdrawn.
6. Always up-to-date
Unlike SharePoint On-Premises, users always have access to the latest version of SharePoint Online. Microsoft provides new features and improvements on a regular basis at no extra cost, meaning you're never out of date.
SharePoint On-Premises to SharePoint Online Migration
Organisations looking to migrate from On-Premises to Online need to proceed with care. To ensure a SharePoint migration is a success, organisations need to consider the following:
1. The status of the current SharePoint On-Premises content
Does the data and information in your current system have a proper structure? Could this structure be improved? Any migration plan should include forethought of what works and what doesn't, and what files or documents are needed and what can be left behind.
2. Employees' knowledge of the new system
Users should be trained on how to operate the new SharePoint system. With so many existing users of Office 365, most employees should find it intuitive. However, teaching employees how they are expected to use SharePoint will ensure it does not get misused or become a dumping ground for files or documents. Employees should also be consulted about the structure and functionality of the new system as part of the migration. This promotes a shared sense of ownership and better user adoption.
3. Migration of functionality and content
An organisation should look to become more flexible as it adopts SharePoint Online. It should carefully examine all functionality available to see how new solutions (such as business process automation for example) can be of benefit. It should also look at its own structures and standards and assess where changes made possible by the new platform might yield more flexible or productive working. Undertaking this task at the beginning of the project will prevent disruption or further development requirements post-migration/implementation.
To find out more about SharePoint Online or a migration project: