Effective marketing relies on data. But marketers also have to be able to understand what they're seeing.
Combining Microsoft Power BI and Google Analytics can help make better sense of data, supporting smarter marketing and improved business intelligence.
Year-on-year, the data sets available to organisations about their customers and buying trends are increasing. And with effective data analysis, organisations can properly examine the business landscape that they're in, and use it to their advantage. Systems such as Google Analytics allow you to learn more about the performance of your digital presence and pay-per-click advertising, as well as give valuable insight into your customers and audience.
However, Google Analytics can be tough to understand. Plus this valuable data lives in isolation from your wider systems. This is where using Power BI and Google Analytics together can help increase your success.
Used in the right way, this information can put companies in a much stronger position than ever before.
Present your data coherently with Power BI and Google Analytics
Google Analytics can be an excellent tool for collecting data. But the platform has a real learning curve.
While experienced marketers may be able to read the trends with ease, that's not necessarily the case for everyone else. And when it comes to getting Analytics data into a more readable format it can be a real struggle.
Microsoft Power BI can be used to present your company's marketing – and indeed wider - data in an understandable way.

Power BI can visualise live Google data in ways that are easier to understand, whether that's a bar chart, graph, map or just a table. And more importantly, it's your choice of how and what data is presented, not Google's.
Combining Power BI and Google Analytics can also allow you to simply drill down on the data points in ways that Google's platform doesn't necessarily allow for. This means the answers to important data questions are never far away.
Visualising and responding to trends
Missing out on a trend is any marketing team's worst nightmare – particularly if the data was technically right there in front of them.
Whether it's a sudden spike in traffic for a particular web page, increased interest from a specific vertical market, or advert performance faltering, unless your Google Analytics view is set to see this, it can be easy to miss.

Power BI and Google Analytics combined can be tailored to help spot such trends with ease. On top of this, pulling information in from other systems as well it can help your wider business react to trends too.
So if Power BI shows that your advertising for a product is performing well but your stock levels are low, you can take action to ensure you don't disappoint potential customers.
Empowering your Analytics
With the potential to track anything from top visitor locations to the most common enquiry age, there's huge potential in combining Analytics with Power BI.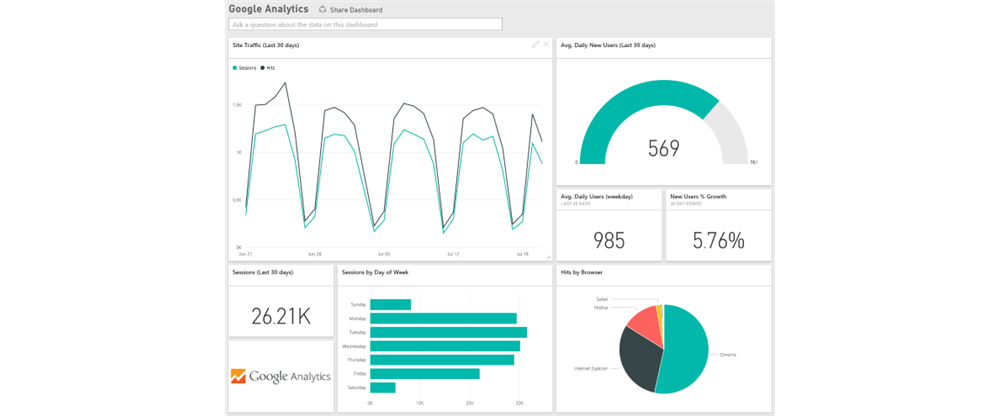 And it's easy as well – with a dedicated Google Analytics API available, Power BI developers can quickly link the two applications and start designing the visuals and reports that will be most useful to their organisations.
For more about Microsoft Power BI solutions for enhancing your business intelligence, view our service page: