Data plays a critical role in helping organisations to engage with their customers, make informed decisions and develop new products.
To streamline these processes, many organisations have turned to cloud services for data storage. SharePoint Online is a leading cloud solution allowing organisations to store, share, and manage data with ease. Notably, SharePoint Online is among the most preferred and recommended tools for document management. Here's why you should store documents in SharePoint.
Collaboration On Documents In SharePoint Online
SharePoint Online can enable employees within an organisation to work concurrently on the same document. It is, therefore, a valuable tool for organisations that are not geographically connected: simultaneous access can foster creativity and innovation among employees working on similar documents even when they are separated geographically.
Additionally, SharePoint Online also supports collaboration with those outside of an organisation. Permission can be given to external partners or customers to collaborate on documents held in your SharePoint Online instance. Once work is complete, access can be removed. This makes SharePoint Online the perfect tool for project and account management.
Hub working
When an organisation chooses to store documents in SharePoint, it simplified access for all. A SharePoint library facilitates the centralisation of data by placing every document in a single easy-to-access location. This enables employees to access data quickly and managers to oversee all processes efficiently. As a result, SharePoint Online proves to be an excellent data management system by saving both time and effort.
Customisable to an organisation's needs
A huge asset in data management is the ability to develop storage solutions beyond their stock forms. SharePoint Online provides organisations with the ability to customise each data management tenant through personalisation and branding. This makes it perfect for company or department intranets.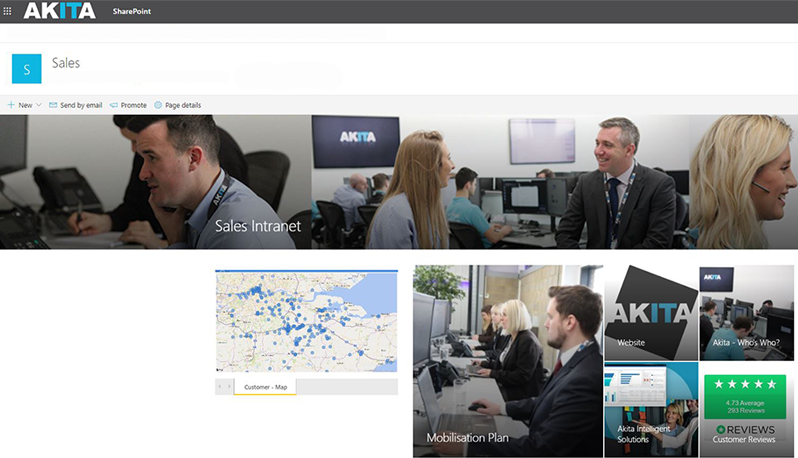 It also provides options to lock down data based on the user. This means access can be aligned to an organisation's hierarchical structure as needed.
Interconnectivity with Microsoft Office 365
As SharePoint Online is a Microsoft product (and even included with some Office 365 licences) it works effortlessly with the Office suite.
SharePoint Online gives users the option of opening documents natively or in browser versions of the Office applications. This is useful for access on the go when accessing documents on a device other than your PC (eg. mobile devices). And any changes made in either Office version are saved back to SharePoint Online for consistency.
Highly secure to store documents in SharePoint
As a Microsoft product, SharePoint Online also benefits from Microsoft's security. Users can choose which country data is stored in to comply with data regulations. All data is encrypted and can be additionally secured with Multi-Factor Authentication. You can also lock access down to set IP addresses and locations, as well as blocking downloads especially useful when sharing documents externally.
Cost-effective storage with SharePoint
Storing documents in a SharePoint library offers excellent value for money. Each individual licence gives access to 10GB of storage – the equivalent of over 500,000 Word documents. In addition to this, the organisation as a whole receives an additional 1TB of storage for files. It's no surprise then that some organisations replace their file servers with SharePoint Online – it's often better valued and reduces maintenance costs and requirements.
Considering storing your organisation's documents in SharePoint Online? Akita can assist with data migration, setting up SharePoint Online and providing any required licensing.
For more information on storing documents in SharePoint: