Microsoft Dynamics 365 and Salesforce are the two market-leading CRM solutions for modern businesses.
They allow businesses to store customer and prospect data and manage interactions with them to drive business growth. However, as with any industry that has more than one top-level product to use, a common question is which one is better. To try to answer the Dynamics 365 vs Salesforce sales CRM dilemma, you have to look at what each brings to the table.
Salesforce
In terms of market presence, Salesforce still just about has the edge over Dynamics 365.
Salesforce is a top-end CRM package with a wide range of sales and contact management functionality and a depth of options to help manage your customer interactions. It allows all types of businesses to move beyond standard features like managing customer data to offer much more.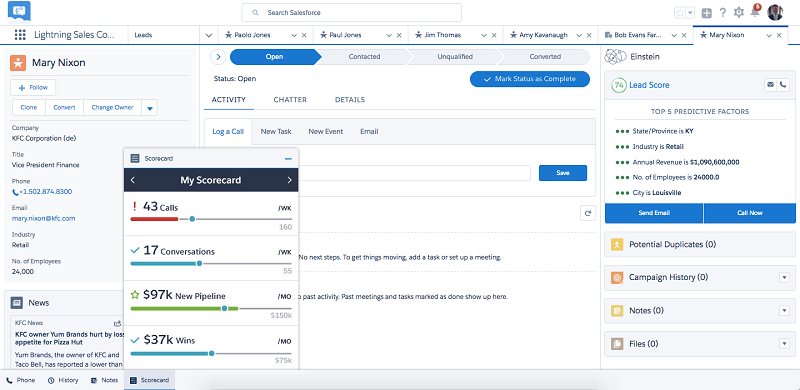 Salesforce also offers strong customer support once purchased with a handy education network called Trailhead to make use of. It is also fairly easy to operate with an intuitive user interface for staff.
Salesforce therefore offers a first-class sales CRM solution. But that's also its limitation. While the company is increasing integration functionality and adding new modules for marketing and eCommerce, its flagship solution is very much tied to sales.
And as most businesses will tell you, sales aren't everything.
Microsoft Dynamics 365
Released in 2016, Dynamics 365 is the latest cloud incarnation of Microsoft's CRM system. While this relative newness may put some businesses off, it really shouldn't. Dynamics 365 is a powerful CRM package which also has many advanced features to assist with business operations. It has a competitive pricing structure and flexible licensing which is a real bonus for SMEs.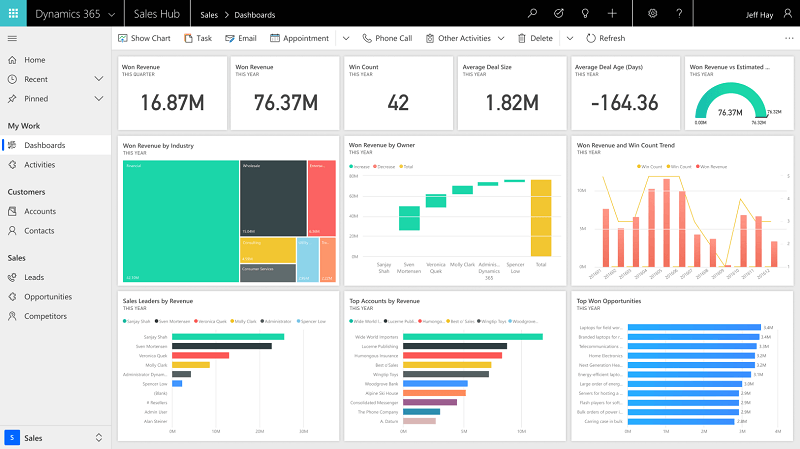 One big reason for its growing popularity is the seamless way it integrates with other Microsoft products like Outlook, SharePoint and Office 365. This makes it simple to unify your whole workflow and processes together into one efficient whole. If you already use Microsoft products, you will love the familiarity that the Dynamics 365 interface offers.
In addition, one particularly neat touch of Dynamics 365 vs Salesforce is the Service Level Agreement you receive, which guarantees 99.9% uptime for the cloud environment.
This CRM is very easy to use and will allow you to get all the data you need to grow.
Dynamics 365 vs Salesforce: Which is the better sales CRM?
In truth, this will very much depend on your business. Both have some great features to recommend and it will depend on what type of CRM your individual organisation requires and what users are already familiar with.
Where Dynamics 365 will edge out Salesforce for businesses is its scope for wider functionality. While Salesforce is a leading sales and customer service CRM, Dynamics 365 is these things plus (potentially) an enterprise resource planning platform, a finance solution, a field service management solution, an HR solution, a project management tool and more. Simply put, an end-to-end business solution.
Dynamics 365 is therefore a flexible, cost-effective and powerful solution that can join up all areas of your business, as opposed to Salesforce which offers a more sales and marketing-focused experience.
To make a decision for yourself, view our demo of Dynamics 365 Sales. After that, we can show you the full breadth of Dynamics 365 functionality to see if it's the right fit for your business.
View more about Dynamics 365 Sales solutions: