Centralised & streamlined intelligence
Customer Relationship Management (CRM) software is an advanced solution for managing contact details and data. Discover why you should use a CRM system, and the benefits of using Microsoft Dynamics as your CRM system for centralising and simplifying information and business intelligence.
To discuss a Microsoft Dynamics CRM solution for your organisation, please get in touch:
Contact Us
Why use a Microsoft CRM system?
Microsoft Dynamics 365 is a collection of market-leading CRM applications. Together they can help you to:
Improve the management of contact data and business intelligence
Manage and enhance customer and prospect communication across all mediums
Automate and simplify tasks for more efficient working
Monitor and manage the effectiveness of marketing and sales campaigns
Improve sales and overall performance of your organisation
To understand the potential for Dynamics 365 for your organisation, please book a demo:
Request A Demo
Uses For A Microsoft Dynamics 365 CRM Solution
Manage your information to provide better customer service. Important information such as key relationships, orders, invoices, sales opportunities, ongoing projects, contact history, documents and more can be seen from one screen. A CRM system can improve customer retention by as much as 27%.
A CRM system allows you to manage both prospect and client sales cycles. Sales pipeline management provides more accurate forecasting, helps you to understand win/loss ratios, and allows you to produce fully customisable charts and reports to keep you informed at all times.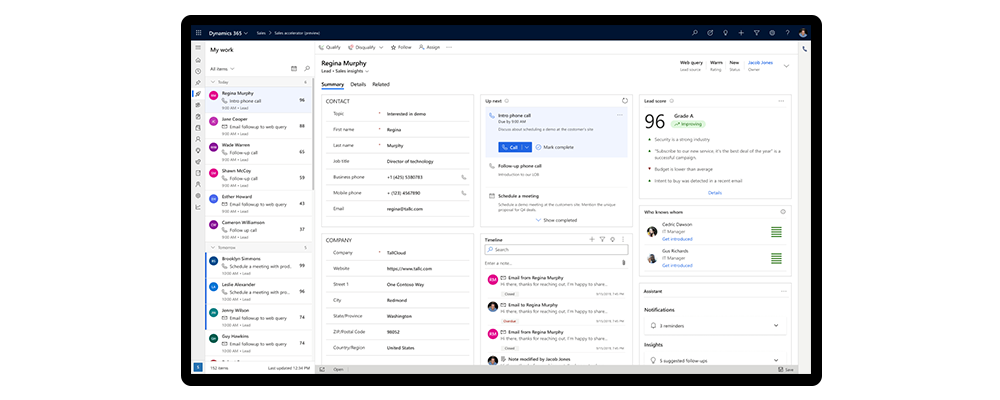 A professional CRM will allow your team to easily create professional marketing emails and content, target the right contacts with dynamic content, and manage campaigns. As well as integrating seamlessly with 3rd party marketing software and solutions, a good CRM also gives you a complete overview of the success of marketing campaigns meaning that you can maximise your effectiveness.
Manage your field operatives more effectively and efficiently. Simplify jobs planning based on operatives' skills, travel and proximity to their next job. Store key customer information in your CRM for operatives to access in the field, including access to job instructions or guidance.
For examples of CRM systems in use, please view Our Work:
Our Work
Why Use Microsoft Dynamics As Your CRM System?
Microsoft Dynamics is one of the most mature and advanced solutions available on the market.
Refined over years of development, Dynamics 365 is one of the most flexible systems on the market in terms of a modular approach, licensing model and cloud deployment options.
It's an industry standard and often the CRM system that experienced sales and customer service operatives will request. But Dynamics 365 also goes much further, with expansion options available to improve all areas of your business.
Tailored To Your Needs
Highly recommended by many leading software advisers and analysts, Microsoft Dynamics offers organisations the following benefits:
Range of functionality for all areas of operations
Customisable reports and interface to fit your organisation's processes.
Total mobility and security
Advance business insights including AI features
Ease of integration with other Microsoft and third-party software
To find out more about a Microsoft Dynamics solution speak to our consultants today.
For more information on adopting Microsoft Dynamics as your CRM system, get in touch: