Microsoft Power BI is an advanced data visualisation tool.
It can take your data and transform it into stunning and insightful visuals that help you make better sense of analytics and performance data.
While most organisations generate endless data points, understanding that data can be another issue entirely. That's in part because people are inherently visual – they don't do well at spotting trends in rows of figures, but they can see them on a graph, chart or map.
Power BI reports help organisations cut through the numbers, turning datapoints into meaningful visuals.  They not only make your data easier to understand, but will allow you to dig deeper into it to spot the trends that matter.
In fact, companies that use advanced analytics capabilities are twice as likely to be in the top quartile of financial performance within their industry.
For more information on Power BI or to have us demonstrate report examples, please get in touch:
Contact Us
The leading business intelligence solution
Acknowledged by Gartner as the leading solution for Analytics and Business Intelligence platforms, Power BI can transform your data into easy to understand visuals.
From a map of your client base that can help you plan your field service delivery, to the exact impact of marketing spend on sales results, Power BI is the easy way to view and understand multiple and complex datasets.
Power BI can be used with practically any data source you may have. It particularly excels at getting more from a CRM or ERP system, whether that's Dynamics, Salesforce, or pretty much any other platform you can think of.
Answers at your finger tips
Users can soon find useful trends in unlikely data set comparisons. In turn, this can help organisations to make smarter decisions about the way they operate.
More than just showing trends, Power BI can help you dig further into them. Rather than just static reports, Power BI allows you to click through levels of data, change variables and add conditions, with results available immediately.
Plus, Power BI reports can be incorporated into a range of other platforms, including SharePoint, Power Apps and even Word documents.
So when you need to compare EMEA sales performance to that of the North America division for Q1 over the last 3 years, don't cry into a spreadsheet – reach for Power BI.
Contact Us
Power BI Development
Akita develops Power BI reports for the specific needs of organisations.
Depending on the business intelligence that you need to see, we can develop dashboards, reports or graphs that can bring it to life. Need to see your pipeline revenue based on invoicing? Not a problem. Want a breakdown of sales leads by month compared to previous periods? That's fine too.
With broad industry experience, our consultants can also advise organisations on the types of reports they might like, whether that's sales to customer service to finance.
So if you think there's more to your data then you're currently seeing, let us help bring it to life.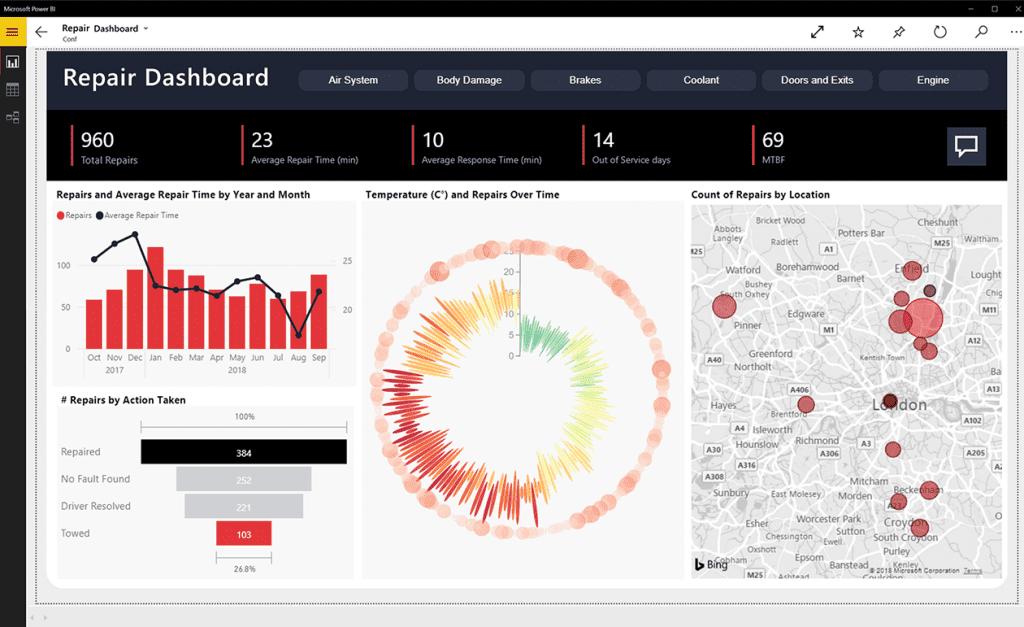 We can also set up reports to run for you on a periodic time frame (monthly reports, yearend etc). You'll then receive them in your inbox at whatever frequency you.
And with a live link to your data source, your report will always be up to date. So you can get up-to-the-minute results at the click of a button.
Power BI reporting is inexpensive compared to the benefits it can deliver. To find out more, contact us with your requirements.
To discuss Microsoft Power BI reports or to arrange a demo, please get in touch.