Our Microsoft PowerApps solution has helped simplify the management of a vehicle fleet for a busy company, reducing vehicle downtime, improving safety and saving both time and money.
Running an efficient fleet requires careful attention to the maintenance and condition of vehicles. Downtime is costly and can often be prevented through better management. Our fleet management Power Apps  can help achieve this.
The Requirement
We were approached by an organisation looking to modernise its fleet maintenance. The company's staff were trying to perform checks on vehicles but it was not always easy to establish when a vehicle had last been checked or if checks were significantly overdue.
Each user had a slightly different approach to vehicle checks. This led to inconsistent reporting, making trendspotting difficult.
Vehicle reports were also submitted via email. This made it difficult for management to easily keep track of reporting.
Microsoft Power Apps For Fleet Management
To resolve the issues within the fleet management process, Akita designed a custom Microsoft Power Apps solution that staff could deploy from their phones or work devices.
The fleet management Power Apps delivers a digital fleet maintenance checklist. The format of the Power App ensures that staff conduct vehicle checks uniformly. This means that anyone in the company can undertake the task accurately and in a way that is consistent with previous checks. Watch our video for more information:
Within each check area, details have been added about specific items to look for. This includes diagrams to instruct users where relevant and details of relevant UK motoring law to explain the importance of that check item.
Along with an overall pass/fail selector for each check item, there is also a free text field that allows the user to add notes. This is handy for recording issues that aren't necessarily visible but affect vehicle performance (such as issues with steering).
To ensure that all vehicles are checked regularly, the fleet management Power App solution displays when a vehicle was last checked and when it is next due. Should a vehicle become overdue, it is moved to a priority list, and staff are prompted to explain why it's not been checked.
Benefits Of Fleet Management Power Apps
Moving away from the old process has allowed for more consistent and efficient vehicle checks.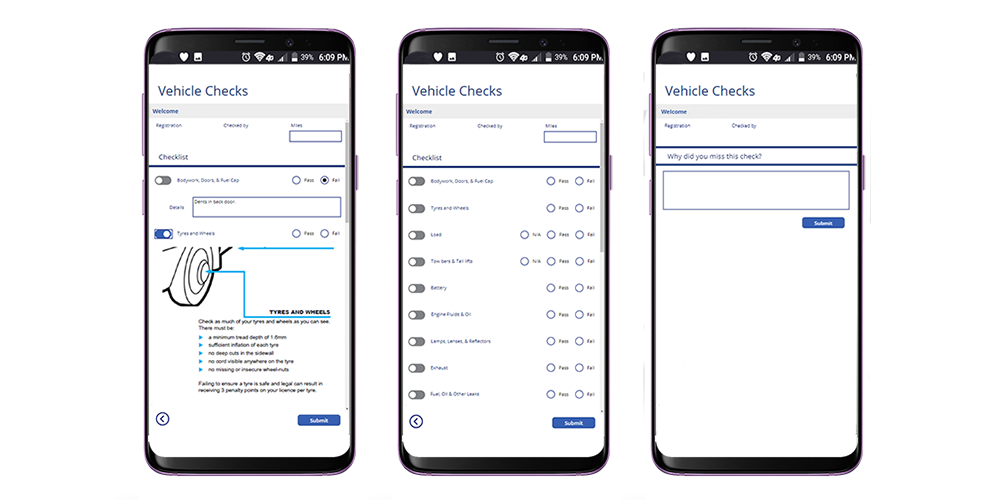 Information is now recorded in a consistent way with an appropriate level of detail. Knowing, for example, exactly which vehicle light has failed saves staff time on remediation.
As the fleet maintenance app can be accessed by staff via their devices, anyone can now log faults. Performance issues with vehicles can be recorded by drivers (when safe to do so). This is valuable as some indicators of major vehicle faults only occur when a vehicle has been driven for a prolonged period.
All vehicle maintenance check reports from the fleet management app now link through to the company's SharePoint Online instance. Managers can then review vehicle checks at a time suitable to them, rather than being disturbed by sporadic emails.
Having all reports in one format in one location also makes it easier to spot long-term maintenance trends. Reoccurring issues can be addressed permanently, reducing spending on repeated maintenance.
The Development Process
Starting from scoping and finishing with a fully functional and branded app (plus staff training), our fleet management Power Apps was delivered in just a few weeks - much faster than usual app development.
The fleet management app has significantly reduced the cost and effort of keeping vehicles roadworthy. It's helped staff capture the level of detail needed in a faster way, and reduced the amount of time spent by management on this task.
The fleet management app has therefore been an efficiency driver for the organisation, paying for itself quickly in the time and costs it's saved.
Let Us Develop Fleet Management Power Apps For Your Organisation
The fleet management Power Apps was developed to meet the specific challenges of our client. We'd love to develop a Power Apps project that meets yours.
Whether this project is close to your current fleet maintenance requirements or simply sparks ideas about what's possible, we'll help achieve your goal.
Power Apps has a nearly limitless capacity for transforming workflows. Get in touch with us to see how it can benefit you.
Discover more about fleet management apps we've developed: