Simplifying communication and resource planning.
Our Microsoft SharePoint Online calendar solution has provided a scalable resource management solution for a busy manufacturer.
Requirement
When an organisation grows, even simple tasks become harder. Keeping track of who is on holiday or what resources are available can result in difficult moments when what's required can't be found. This is what the SharePoint Online calendar solution looks to address.
We recently worked with a manufacturer facing exactly this issue. With a staff of 20, managers were struggling to keep track of who was where. There was also no information on available meeting rooms and company vehicles, leading to inconvenient schedule clashes as staff used resources without knowing they were needed elsewhere.
SharePoint Online Calendar Solution
To tackle the issue, Akita created the company a custom centralised SharePoint Online calendar solution. From a single app, staff can make all requests for holidays, as well as rooms and vehicle use. Requests are submitted to management who then can then approve.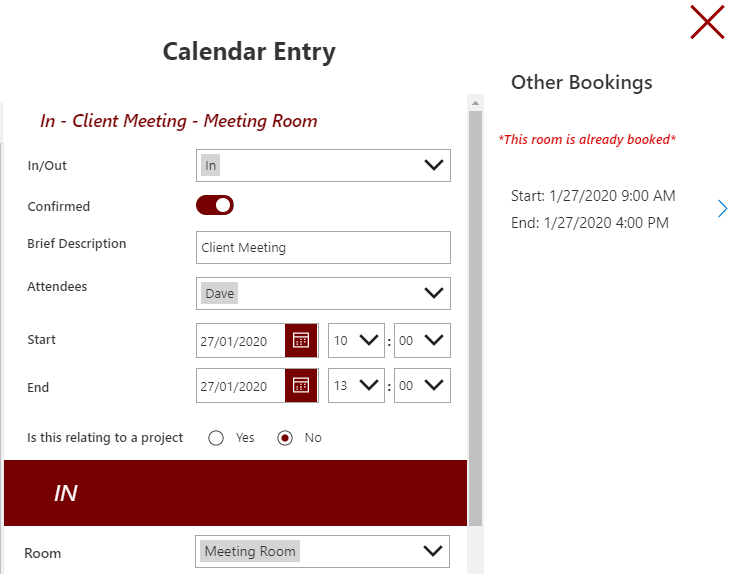 Crucially, all information is then displayed within a central SharePoint Online calendar, linked to individuals' Outlook accounts. All staff can see when other colleagues will be available and plan key meetings accordingly. They are also able to see what resources are booked, thereby preventing clashes.

Equally, staff can see if rooms are free - and crucially for how long - if they need to use it for an ad hoc meeting.
Benefits of the SharePoint solution
A simple concept, the centralised SharePoint Online calendar solution has helped this manufacturing company to operate in a more unified and efficient way, in turn creating a more professional image.
The solution also provides a scalable solution going forward. More users can be added to the system as the company grows. Managers can then keep track of staff from a central location, both in terms of where they are and what they are doing. This means if there's a sudden need for a resource, managers can see at a glance who is free at that time and who can't be interrupted.
To discuss a SharePoint Online calendar or wider solutions for your organisation, please get in touch.