Transforming operations with SharePoint cloud storage and a project management solution
Working with a specialist gas engineering company, we undertook a multi-source migration to SharePoint Online for smarter cloud storage.
We also developed a SharePoint project management system to standardise the project approach and develop more efficient ways of working.
Disparate Data
Prior to the project, the company was suffering from a lack of control and structure over its business data. Information was being stored across various systems, including Dropbox, OneDrive, and offline storage making it difficult to find resources.
The lack of a coherent storage approach was also further complicated by the company operating from three separate international locations, meaning relevant files could be held in one of multiple locations. And there was no control over who within the organisation could access data.
With no standardisation of storage or access control, a better approach was required. For its secure cloud storage and ease of accessibility, SharePoint Online was chosen as the cloud hosting solution of choice.
Supporting Migration To SharePoint Online
Following consultancy and scoping to ascertain working processes and wider organisational requirements, Akita undertook a full data migration to SharePoint Online.
As part of moving the company to a cloud storage model, we designed SharePoint to match working processes. By aligning the site structure to users' requirements, users were more likely to adopt the solution as their method of storage, ensuring the success of the project.
Alongside the migration, we also developed a permission management system. As data security and access had been a key issue prior to the project, the new SharePoint was setup to allow users to manage their own content within SharePoint.
At the same time, a user matrix was created and configured within SharePoint Online to set data access levels. Linked to a defined business structure, this setup ensures access to sensitive data and information is restricted to those with the relevant seniority, meaning documents relating to finance and HR can be conveniently yet securely stored in the SharePoint solution.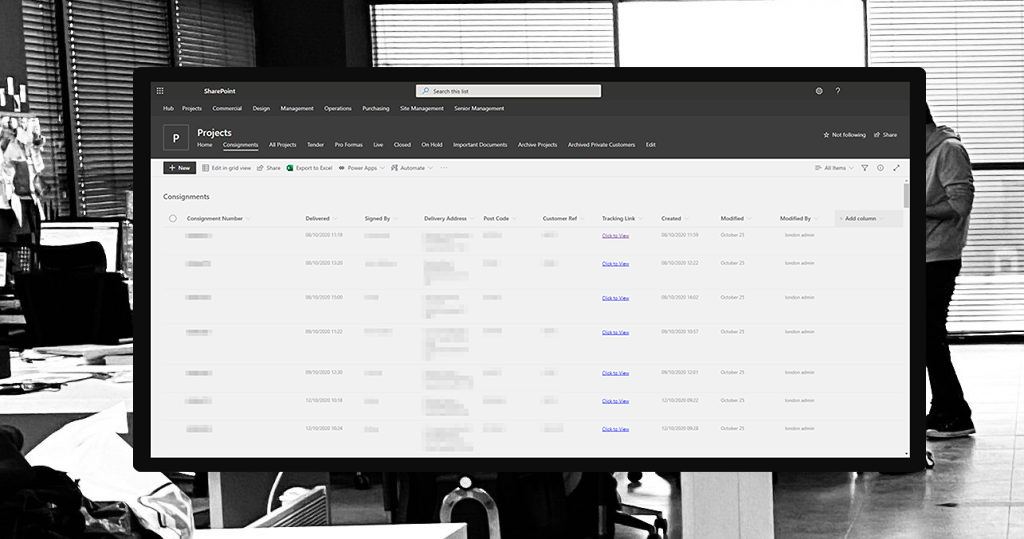 SharePoint Project Management System
In addition to data migration to SharePoint, we also worked with the company to develop SharePoint for project management capabilities.
Tailored to the organisation's typical project workflow, the SharePoint project management system allows for automated templating and structuring of the company's projects. Through the new structure, all files relating to a project are stored within a specific project location. This has simplified working across offices, and has also meant documents can (where required) be shared with external parties in a controlled manner.
In developing SharePoint for project management, Akita's team were also able to integrate the solution with an existing opportunities management system (also hosted in SharePoint). This effectively allows for the continuous flow of information from one SharePoint system to another, avoiding information gaps or data silo issues.
Project Results Following The Migration To SharePoint Online
The migration to SharePoint Online has helped the company overcome its issues with data and document storage standardisation.
Adopted company-wide, staff are now able to easily find the resources they need, in turn increasing their efficiency.
Management can now also get a complete view of business documents due to the formalised structure of data and user access management. This was impossible when documents were siloed in multiple systems.
The automated SharePoint project management system also offers a more streamlined process. This again ensures that files and data are kept in a consistent structure making it easy to find project information and resources.
To discuss migration to SharePoint Online or a SharePoint project management solution, please get in touch: