Our Microsoft PowerApps solution has helped simplify the management of a vehicle fleet for a busy company, reducing vehicle downtime, improving safety and saving both time and money.
Running an efficient vehicle fleet requires careful attention to the maintenance and condition of the vehicles. Downtime is costly and can often be prevented by through better management.
We were approached by an organisation that was facing fleet management problems and was looking to modernise its fleet maintenance checks. The company was performing checks on their commercial and passenger vehicles using paper reports, overseen by a busy operations manager. The system however was ineffective: vehicle scheduling meant some had not been checked for over 100 days.
Meanwhile, the paper format made it difficult for the busy operations manager to quickly spot reoccurring issues. This was resulting in vehicle downtime, as well as time and money being wasted on short-term fixes, rather than the long-term problem being addressed.
Micrsoft PowerApps solution
To solve this, we were able to deliver a custom app solution using Microsoft PowerApps.
The solution was a new digital vehicle maintenance checklist that could be accessed and used by all staff on their phones and mobile devices.
To ensure that all vehicles are checked regularly, a landing page has been created that details the time since last vehicle check. Should the check period exceed 30 days, an amber warning appears against the vehicle name and registration. Should the period exceed 40 days, a red warning appears and an alert is sent to the operations manager to prompt checks to be done.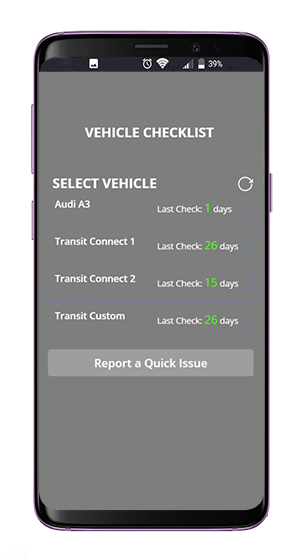 Moving away from paper has allowed the checklist to become more detailed: information on exactly which vehicle light has failed, for example, is now logged. This saves time on remediation.
As the vehicle checklist can now be accessed by all users via their devices, anyone can now log faults. This means that performance issues with vehicles can be recorded by drivers (when safe to do so). This is valuable as some indicators of major vehicle faults only occur when a vehicle has been driven for a prolonged period.
All vehicle maintenance check reports from the app now output into easy-to-view tables. This makes it far simpler for the operations manager to quickly spot reoccurring issues that might indicate more serious problems (frequent low tyre pressure indicating a possible puncture for example). This in turn improves the safety of the vehicles.
PowerApps benefits
Starting from consultancy and ending with a fully branded solution in company colours and logos, the Microsoft PowerApps solution was delivered in less than two weeks - much faster than usual app development.
The PowerApps solution has resolve all fleet management problems and reduce the cost and effort. Vehicle issues are now frequently identified before they become serious, reducing vehicle downtime as well as making vehicles safer. With more staff registering vehicle issues, checks are also more efficient and there are far fewer instances of vehicles reaching the 30 day check limit. This in turn saves staff time, as fewer checks need to be made.
To discuss a Microsoft PowerApps solution for your organisation, please get in touch.