Advanced data visualization software
Take data from a wide range of Microsoft and third-party data sources and transform it into stunning and insightful visuals that help you make better sense of analytics and performance. As an expert Microsoft Power BI developer, we create data visualisation solutions that help organisations cut through their numbers, turning data points into meaningful visuals that are both easier to understand and support trend analysis.
Organisations that use advanced analytics capabilities are twice as likely to be in the top quartile of financial performance within their industry. So what are you waiting for?
Get in touch to arrange a demo with a Microsoft Power BI developer:
Contact Us

Market-leading Business Intelligence
Acknowledged by Gartner as the leading solution among Analytics and Business Intelligence platforms, Power BI can transform your data into easy to understand visuals.
From a map of your client base that can help you plan your field service delivery, to the exact impact of marketing spend on sales results, Power BI is the easy way to view and understand multiple and complex datasets.
Akita can provide solutions as cloud service, or on-premises using Power BI Report Server. It can be used with practically any data source you may have. It particularly excels at getting more from a CRM or ERP system, whether that's Dynamics, Salesforce, or pretty much any other platform you can think of.

Answers At Your Finger Tips
Users can soon find useful trends in unlikely data set comparisons. In turn, this can help organisations to make smarter decisions about the way they operate.
More than just showing trends, Micorsoft's data visualization software can help you dig further into them. Rather than just static reports, it allows you to click through levels of data, change variables and add conditions, with results available immediately.
Plus, Microsoft Power BI reports can be incorporated into a range of other platforms, including SharePoint, Power Apps and even Word documents.
So when you need to compare EMEA sales performance to that of the North America division for Q1 over the last 3 years, don't cry into a spreadsheet – reach for Power BI.
Contact Us
Uses For Power BI
Marketing
Track lead numbers by campaign, contact source and location.
Sales
Live reporting on performance by salesperson, product or territory.
Customer Service
Reports on customer enquiries, complaints and resolution times.
Phone Systems
Call numbers, call length and abandonment rates by agent and overall.
Operations
Measure key metrics across your organisation such as resource levels, pipelines and P&L data.
Always Up-To-Date Sales Dashboard
Smarter Sales Insight With Power BI
Discover how our Microsoft Power BI solution has helped improve sales reporting and insight for a motor company in our case study
Our Work
Microsoft Power BI Implementation For Accounts Software
While accounting software may be excellent at managing payments, many platforms lack the analytics capabilities that organisations require. This means manual reports need to be generated for organisations to get the answers they need, wasting hundreds of hours each year.
Power BI can be used with Sage, Xero, QuickBooks and other platforms to give you the reporting you need instantly. From P&L data to income statements, you can get up-to-the-minute data from your accounting platform formulated in the way that you want it.  And there's the option to drill down further into data with just a few clicks.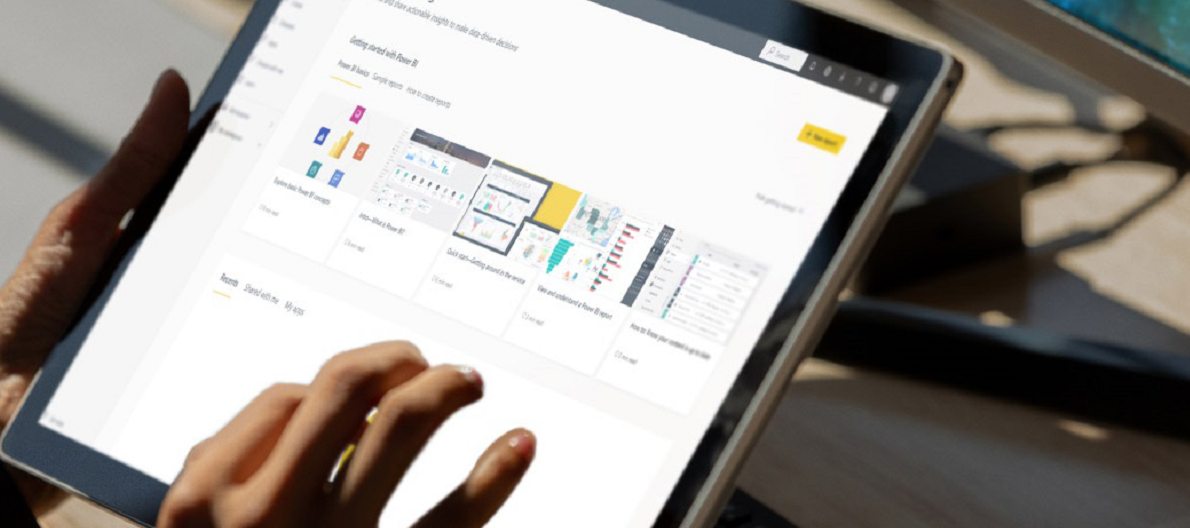 As well as being used by finance teams, reports can also be shared directly with investors, directors or whoever needs to see them, providing them with the knowledge they need instantly.
And with its data visualisation benefits, Power BI can enhance your forecasting capabilities, allowing you to better anticipate trends. For an example of using Power BI for financial reporting please read about one of our projects:
Case Study

Our Power BI Services
As a Power BI developer, we develop reports that meet the specific needs of organisations. With broad industry experience, our consultants can advise organisations on the types of Power BI reporting that they may find useful.
We can also tailor reports to run for you on a periodic time frame (monthly reports, year-end etc). Alternatively, we can help embed Power BI solutions so that you can share them internally or externally as you require. And thanks to our Microsoft Tier 1 CSP status, Akita can also provide Power BI licensing (you can view more about Power BI licensing costs here).
So if you think there's more to your data than you're currently seeing, its time to adopt data visualization software:
Contact

Power BI Training
Providing Power BI reports can start organisations on the path to smarter use of data. Our training then helps them along the journey.
Power BI training covers practical uses for reports including how to manipulate data, share reports with colleagues and use reports in documents and other sources.
From there we can also show you how to create your own Power BI dashboards and reports: how to use data sources to create reports, changing colours and stylings and how to set automated email reports.
For a further conversation about Microsoft Power BI, please get in touch: