Smarter & digitally transformative working solutions
Microsoft SharePoint is a team collaboration and content management tool.
While this description sounds simple, the results this application can achieve are anything but. SharePoint solutions can transform business processes, power field services and deliver organisation-wide smarter working.
To discuss SharePoint solutions for your organisation or to arrange a demo, please get in touch:
Contact Us
Benefits of SharePoint
Collaborative – SharePoint creates a dynamic working environment. It can engender a sense community by updating users on organisational developments. It can boost productivity by allowing users to collaborate on documents and digital projects simultaneously. And it can allow you to securely share files, document and content, both inside and outside of your organisation, helping your team's efforts go further.
Transformative – A SharePoint solution can enhance the way an organisation works, increasing productivity and transforming processes. SharePoint allows you to harness the collective knowledge of your organisation, unlocking the best of your work. Combined with Power Apps and Power Automate, SharePoint can also automate and streamline work processes to drive greater working efficiency.
Cost-effective – SharePoint delivers powerful and professional solutions with minimal need for development. Cloud-based (with SharePoint Online), solutions are scalable to any size of organisation or storage requirement. The initial investment is much lower than custom solutions, and many organisations will find that they already have the required Microsoft 365 licences to get up and running.
Cohesive – SharePoint brings users together, no matter where they are. For this reason its the perfect tool for staff engagement and internal communication, as well as. It's also ideal for providing secure communication with those outside of an organisation, making it a cost-effective solution for project management and providing customer service.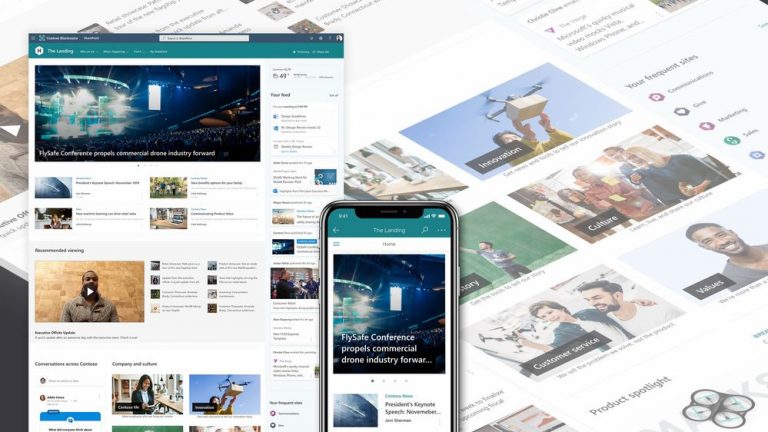 Our SharePoint solutions
We develop SharePoint to meet the specific organisational requirements. Some of our most common solutions include:
Each solution has the power to make significant improvements to the way you operate. So it's often the case that organisations undertake phased developments of multiple solutions.
To discover some of the projects we've undertaken, view our case studies:
Our Work

Our Development Approach
Akita is an experienced SharePoint developer and Microsoft Gold partner. Each project we undertake is completely custom to the needs of the organisation we're working with. So you can be sure that we'll deliver what you need rather than try and fit you to a template.
If you have an existing SharePoint instance, we can rebuild and restructure it in line with best practice. And we can migrate on-site hosted SharePoint instances from your servers to SharePoint Online or our own cloud infrastructure
As well as development, we also offer SharePoint consultancy, licensing and training services, all delivered by our expert consultants. We can even configure SharePoint for use with Microsoft Teams.
To discuss SharePoint solutions and services, please get in touch.