Configuring A Microsoft Teams - SharePoint Solution
Akita Intelligent Solutions develops Microsoft SharePoint for Microsoft Teams as part of unified and internal communication strategies, as well as a way of boosting productivity.
Together with Power Platform development services, we unlock the potential of Microsoft Teams both as a unified communication platform and as a comprehensive mobile working solution. Discover the possibilities for enhancing your operations.
For more information on a Microsoft SharePoint for Teams solution, please get in touch:
Contact Us

Teams & SharePoint: Intrinsically Linked
Microsoft Teams is the communication and collaboration solution that's revolutionised how organisations work remotely.
Teams uses SharePoint as its backend file storage solution and is an integral part of the Microsoft Modern Workplace.
But did you know that when you create a new team or group in Microsoft Teams, you are automatically creating a SharePoint team site in the background? So many organisations are using SharePoint without realising.
With this in mind, if you've got a strategy for using Microsoft Teams in your organisation – but aren't considering how you'll use SharePoint – you're only getting the benefit of half the solution.
Using SharePoint For Teams
How ever you are currently using Microsoft Teams, SharePoint Online can be developed to enhance the experience.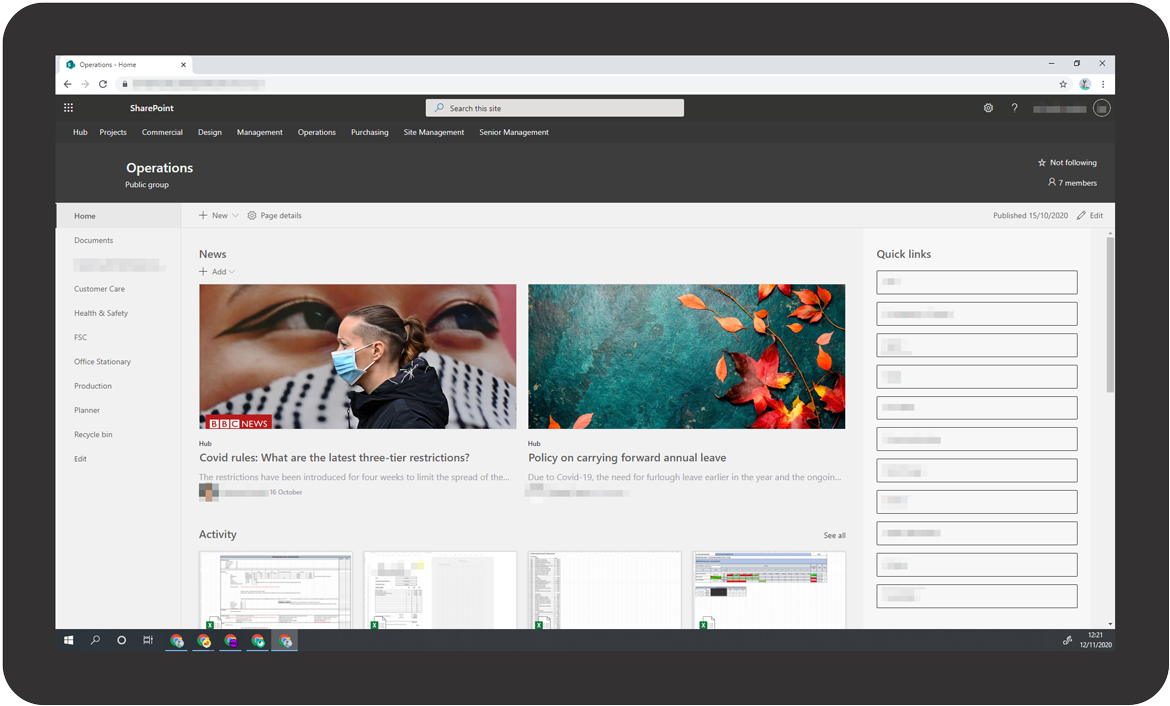 If you're managing projects via Teams, SharePoint with Teams can be used to store and collaborate on relevant files and documents as you'd expect. But it can also support the project in other ways such as progress Gantt charts, the latest updates, countdown timers to key deadlines, time logging and more.

Benefits For Field & Remote Teams
Teams and SharePoint make excellent partners for field service. Agents onsite with customers can take photos of issues that are then automatically stored in the relevant areas of SharePoint Online.
Thanks to SharePoint's flexible access, this information can then be accessed by internal teams and shared with customers directly from SharePoint as well to help describe problems.

Enhance Microsoft Teams
The uses for SharePoint for Teams are practically limitless. Teams can be further extended with Microsoft apps such as Tasks (to schedule your team's activities) and a huge range of third-party apps are available.
Linking to SharePoint through Teams also means relevant Power Apps (such as expenses or mileage) are accessible easily on the go.
SharePoint for Teams revolutionises the way your organisation works and collaborates. To discuss your requirements or for a demo, please get in touch:
Microsoft SharePoint For Teams FAQs
Custom SharePoint Solutions
SharePoint pages can be inputted into Microsoft Teams channels by adding a SharePoint tab to the channel and selecting the "Page" option. Users can then choose the SharePoint page they want to display in the Teams interface.
Documents can be added from SharePoint to Microsoft Teams channels by adding a SharePoint tab to the channel and selecting the "Document Library" option. Users can then choose the SharePoint library and document they want to display in the Teams interface.
Yes. SharePoint lists can be used as tabs in Microsoft Teams channels by adding a SharePoint tab to the channel and selecting the "List" option. The desired SharePoint list can then be chosen and displayed in the Teams interface as a tab.
SharePoint workflows can be created and managed in Microsoft Teams. Workflows can be triggered by events in SharePoint or Teams, and can automate tasks such as document approvals and task assignments.
Yes. Power Apps can be used in custom SharePoint solutions, for example, by adding a Power Apps tab to a Teams channel. Users can then design and publish custom Power Apps that can access SharePoint content.
Users can search for SharePoint content within Microsoft Teams by using the search bar in the Teams interface. SharePoint content that has been added as a tab to a Teams channel will also be searchable within the Teams interface.

SharePoint & Teams with Akita
As a Microsoft Gold partner, we're experts in SharePoint for Teams development. Our SharePoint projects drive collaboration and working efficiency across organisations. Meanwhile our Teams installations have transformed business communication, replacing traditional calling systems with modern and smarter solutions.
If you're about to adopt Teams, Akita can oversee both parts of the project and ensure you also get the most functionality out of SharePoint. And if you're already using Teams, contact us to see if we could help you do more with SharePoint.
To discuss combined SharePoint for Teams projects, please get in touch: