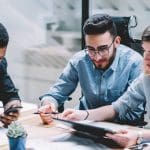 Microsoft SharePoint Solutions
Discover more about the functionality of Microsoft SharePoint and how it could improve your processes.
Microsoft Sharepoint Solutions
Centralise Knowledge & Data For Enhanced Teamworking
Microsoft SharePoint is a collaboration and content management application that enables organisations to share, manage and collaborate on information across teams, departments and geographies.
Our SharePoint solutions allow users to store and collaborate on files, share news, and automate business tasks and processes.
SharePoint has the capacity to integrate with additional Microsoft products such as Teams and Office 365, as well as other third-party software, and can be customised to fit specific business needs.
Find out more about our SharePoint solutions from one of our expert consultants:
SharePoint Solutions For Your Organisations
Get in touch to discuss how our SharePoint solutions can work for you:
What Can SharePoint Do?
Capabilities Of SharePoint Solutions
SharePoint Experts
Our Services
Our dedicated SharePoint experts are well-experienced in providing effective solutions to organisations of all sizes, coming from a range of industries.
We support organisations in every aspect of their SharePoint setup, meaning whether you're just warming to the idea of SharePoint, or if you're an already well-established SharePoint user, we have the tools to provide what you need.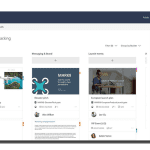 Internal Communications
SharePoint Intranets
Intranets and communication sites are internal-facing websites, used as a central hub for sharing company information. This can be useful for a range of articles, from everyday internal or external news, through to training documents and company policies.
One benefit of an effective intranet is that it's likely to improve staff morale and motivation. By sharing more information with users, whether it's useful to them or not, you'll be making them feel more involved in the company.
Knowing the achievements the organisation has gained recently, and interesting developments both internally and externally hopefully gives users a sense of pride towards their input.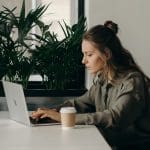 QuickStart SharePoint
Packaged SharePoint Site Implementations
Our QuickStart SharePoint packages offer a quick, straightforward implementation to get you up and running in as little as five days. Our packages start from just £600 for the starter site, which includes the cost of training your staff base.
We also offer an enhanced site for £1650, for organisations needing more functionality; including features such as expanded libraries, metadata configuration, advanced permission and access management and customised pages and navigation.
We also offer bespoke implementations if our fixed packages don't fit your operations.
How Could SharePoint Benefit Your Organisation?
To speak to one of our consultants and find out how our SharePoint solutions could improve your operations:
View Our Video
QuickStart SharePoint Demo
Get In Touch With Any Other Questions
SharePoint FAQ
How can I access SharePoint?
Many organisations have SharePoint available through their current Microsoft licensing. Get in touch with one of our experts to find out if you already have access:
Get In Touch
Is SharePoint the same as OneDrive?
No. OneDrive is a personal cloud storage service for individual use, allowing users to access files from anywhere with an internet connection. SharePoint on the other hand is a collaboration and content management platform designed for team and enterprise use, providing tools for team collaboration, document management and process automation. They both have their place, but things can quickly go wrong when users start using OneDrive when they should be using SharePoint
Find Out More
How much storage do you get with SharePoint?
All SharePoint instances start with 1TB of storage available per organisation. Then depending on the number of users in your organisation, an extra 10GB per license will be added.
Find Out More
What is a SharePoint library?
A SharePoint library is a collection of files and folders that can be shared and managed by a group of people. Libraries can have custom metadata, versioning, and permissions settings. These features make SharePoint perfect for document management:
Find Out More
Can I create and manage permissions for users SharePoint?
Yes, SharePoint offers advanced user management preferences - from who can see data to what they can do with it (read-only, edit etc.) We can setup user access permissions as part of any SharePoint project. Alternatively, we can link SharePoint to any wider Microsoft 365 or Azure AD security settings you might currently have in place.
Can SharePoint integrate with other applications?
Yes. SharePoint indigenously connects with Microsoft 365 applications including Office 365, Teams, Outlook and even Dynamics 365 CRM and ERP solutions. We can also assist organisations with wider application integrations including platforms such as DocuSign, wider CRM & ERP technology (SAP, Salesforce, Oracle), service desk software (ServiceNow and Zendesk) and HR software (Jira, Condenco and more) to mention only a few. Get in touch for more:
Get In Touch
Can we customise the look and feel of SharePoint?
Yes. SharePoint can be tailored to reflect your brand logos, colours and imagery. We can also customise the structure of SharePoint to match your requirements, such as matching your organisational structure by creating sites for each of your departments linked to a central hub site. Book a demo for more on customisation capabilities
Book A Demo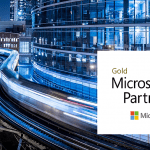 SharePoint Experts
About Akita Intelligent Solutions
Akita is a leading provider of Microsoft business applications services. From locations in London and Kent, we develop professional SharePoint solutions for organisations worldwide.
With 25 years of experience in digital success solutions, we have the tools and expertise to manage and support every aspect of your SharePoint journey, from initial consultancy all the way through to final implementation or migration and ongoing support.
Our SharePoint experts work with leading brands and institutions, deploying solutions to improve their processes and make better use of their time. Our SharePoint solutions support teams by improving communication and the flow of information across the organisation.
As a Microsoft Gold Partner, we also have an advanced knowledge of wider products, meaning we can be your partner for all Microsoft implementations.
To discuss SharePoint or other Microsoft products, please get it touch: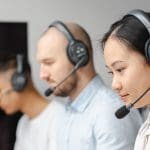 Microsoft SharePoint Solutions
Get In Touch
To discuss SharePoint solutions, or wider Microsoft products with our experts: