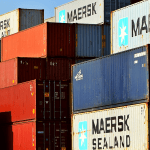 Microsoft ERP Software
Business Central
Transforming operations and finance management with Microsoft ERP solutions and services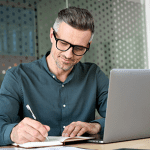 Business Central
Connect All Your Operations
Business Central is Microsoft's SaaS-based ERP software package that offers an advanced solution for managing and monitoring all areas of your operations.
Our Business Central services help supercharge operations by transforming workflows and driving efficiency improvements. Whether new to ERP systems, migrating from Dynamics Navision or another software, or augmenting an existing Microsoft Dynamics 365 setup, we can tailor solutions to your requirements.
We even offer a QuickStart BC Finance package, offering a new Microsoft accounting solution in just five days that is guaranteed to improve your
Transform Your Operations
Benefits Of Business Central
Use Microsoft ERP software to manage and track the following areas of your operations from a single platform
Business Central Pricing
Discover our pricing for packaged deployments of a Microsoft ERP solution, or contact us for a custom solution:
Packaged Finance ERP Implementation - From £4,750
'QuickStart BC' offers everything your organisation needs to get started with Business Central. Our fixed-cost implementations focus on improving finance and operations, with options to add more functionality as you require. And our packages provide all the development and training you need to get up and running. Find our more:
View
Custom Business Central Implementation - Request A Quote
Looking for a more bespoke deployment of a Microsoft ERP system? Akita and our partners can get assist you with the development of a custom ERP solution to fit your needs. Discuss your requirements with us today.
Speak To An Expert
Business Central Licensing
As a Microsoft Gold partner, Akita can supply licensing at the same cost as buying directly from Microsoft. We can provide the following variants:
- TEAM MEMBER LICENSE -
£7.20/ MONTH
Read anything that's enabled in Financials or any other Dynamics 365 Application
Update existing data and entries in Financials – Existing data are records like customer, vendor or item records which are already created. Entries means entries on which it is specifically allowed from an accounting perspective to update specific information.  (e.g. due date on customer ledger entries)
• Approve or reject tasks in all workflows assigned to a user
• Create, edit, delete a quote or requisition
• Create, edit, delete personal information
• Enter a Time Sheet for Jobs
• Use PowerApps for Dynamics 365
- ESSENTIALS LICENSE -
£63.36/ MONTH
The Essential license is for full user employees whose job functions require the comprehensive features of an application. These include productivity users or management level employees. Essential users have complete access to edit and approve within the application, and can manage the Team Member user's access within their organisation.
Dynamics 365 Essential has full access to the following:
• Financial Management
• Customer Relationship Management
• Project Management
• Supply Chain Management
• Human Resources Management
• Warehouse Management
- PREMIUM LICENSE -
£90.48/ MONTH
All of the features of Essentials plus access to the Manufacturing and Service Management features.
We offer a support managed service offering banked time for use for break/fix, change requests, consultancy and training. Discover more:
More About Support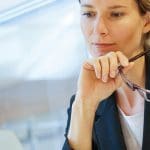 QuickStart BC - Packaged Finance ERP
Looking To Move From Sage Or Xero?
Our packaged Business Central deployment - QuickStart BC - is tailored to replace accounts software, offering an enhanced cloud experience with improved workflows and reporting. Discover more:
Microsoft ERP Software
Why Choose Business Central As Your ERP System?
Dynamics 365 Business Central is the perfect solution for organisations that have grown beyond their traditional management solutions, and are ready to adopt a solution that will make them more effective, agile and profitable.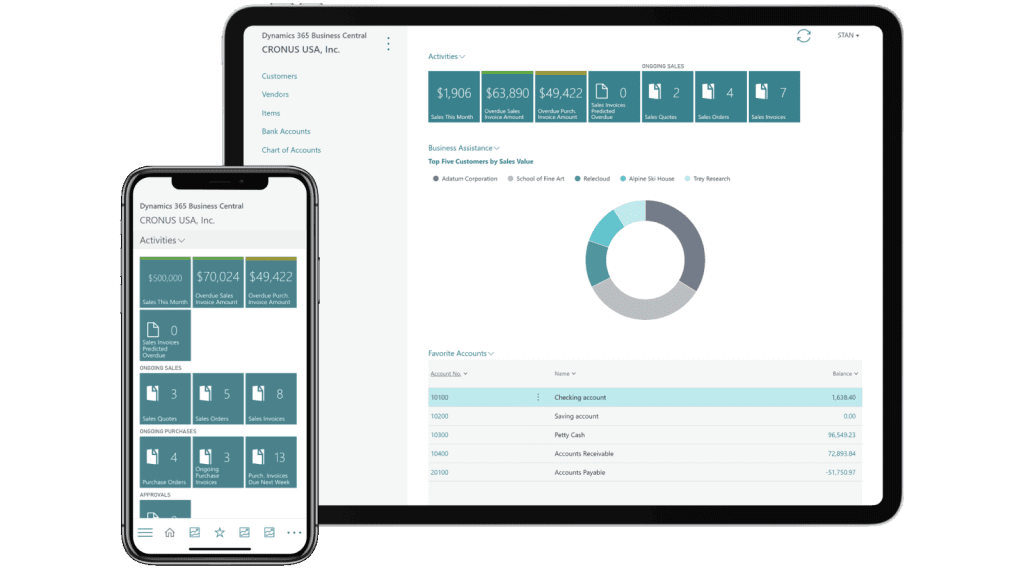 Microsoft has tailored Business Central to serve most requirements out-of-the-box. This means that it can fit into the way your organisation works with minimal development. It's an excellent solution for managing operations, supply chains, service help desks, manufacturing processes and accounts, and can help maximise performance in all of these areas. View the full potential of Business Central.
Plus, with its pre-developed operations functionality, Dynamics 365 ERP solutions offer better value than many competitor solutions that tend to require expensive customisation.
Read more about why organisations should consider an ERP system
Microsoft ERP Partner
Business Central Services
Our expert consultants offer a wide range of Microsoft Dynamics services, supporting organisations at all stages of their requirements.
With their wider expertise, they can also provide assistance with wider Microsoft and third-party software integration requirements.
And their knowledge of business and policy best practices means any solution will be delivered in a way to deliver success.
Microsoft ERP Services
Case Studies
Discover more about some of our work with Microsoft ERP solutions:
Business Central Services FAQs
Can Business Central Be Customised?
Yes, customisation is one of the application's strengths. Functionality can be tailored to your organisation's processes. And through the use of extensions, there's the ability to change how the system works by using a direct coding interface. This means any unique operations within your organisation can be incorporated into your ERP system.
How Can I Implement Business Central In My Organisation?
Business Central is developed by Microsoft partners (such as Akita) who will configure the platform to your setup. Based on your requirements, we can give you an indicative cost for the consultancy involved with deploying your ERP system. We then confirm this estimate through the process of discovery, where we'll dedicate time to getting to understanding your operations and providing a recommendation of how a project should. We also offer packaged deployments for Business Central for finance - view our QuickStart offering:
View More
What Type Of Organisation Can Benefit From Business Central?
MIcrosoft Dynamics Business Central can work with a wide range of industries and operational requirements, from manufacturers to professional service providers. Some of the more industry-specific are catered for with add-ons that bolt-on to the core product - with a growing list of these available to buy from Microsoft's online shop, AppSource.
Does Business Central Have CRM Capabilities?
Dynamics 365 Business Central does have a simplified lead and order management functionality. However, for organisations requiring more comprehensive sales and contact management, we will typically recommend Dynamics 365 Sales as a comprehensive CRM solution. View more about the application here:
About D365 Sales
What Support Can I Get For Business Central?
Akita has a number of support options, from ad hoc to an ongoing managed service. Discover more:
More
Can I Install Business Central On Premise?
Yes. Typically Business Central is hosted in Azure, Microsoft's cloud infrastructure. However, for organisations with specific needs we can install Business Central locally.
Can You Help Us Move From Dynamics Navision (NAV) To Business Central?
Yes, we support organisations looking to migrate away from Navision. Please get in touch to discuss your requirements:
Contact Us
Do You Offer ERP Rescue Services?
Yes. If your Business Central implementation has gone wrong we can provide you with our Microsoft ERP rescue service, getting your project back on track. Get in touch for more information:
Contact Us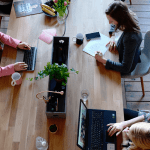 Download Our eBook
Supercharge Your Business
Technology can transform operations. Download our eBook on how ERP systems can drive efficiency and fuel your growth: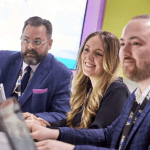 Microsoft 365 Partner
Extending Your Microsoft Dynamics 365 Solution
Our Microsoft expertise goes well beyond Business Central solutions. Go further with Dynamics 365 with the full width of Customer Engagement applications. And enhance your operations with SharePoint and Power Platform, delivered by our in-house experts.
And together with our IT managed services division, we can support the wider Microsoft ecosphere including Azure, Teams and wider Microsoft 365 support.
Learn more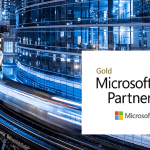 Business Central Services
About Akita Intelligent Solutions
With over 20 years of experience in digital success solutions, we develop, manage and support business intelligence technologies for organisations across the UK and internationally.
We are Microsoft Dynamics 365 ERP experts. Our services are utilised by leading brands and organisations. And our solutions have supercharged operations, increasing efficiency and profits in the process.
Contact us to discuss Microsoft Dynamics 365 ERP solutions:
Contact Us