Put Microsoft Dynamics 365 at the centre of your charitable operations for less.
Akita designs solutions in Microsoft Dynamics 365 for charities and non-profit organisations.
Using Dynamics, we help charitable organisations improve the efficiency of tasks ranging from managing donation databases to automating staff rotas and managing finances. Our Microsoft Dynamics 365 solutions also help with wider operational improvements and intelligence.
And thanks to special Microsoft licensing, charities can enjoy all this for a significantly reduced cost compared to a commercial Dynamics 365 setup.
Features of Dynamics 365 for Charities
Microsoft Dynamics can help organisations to undertake common tasks such as:
Simplify resource management and staff rotas with automated diaries and approval systems.
Manage member lists, beneficiaries and event attendees.
Track fundraising campaigns and communications across all channels.
Manage accounts accurately based on real-time fundraising information.
Improve the management of premises or shops, report issues and track resolution progress.
All of these solutions can help to free up valuable time for your staff and improve the overall effectiveness of your efforts.
If you're looking to understand more of the benefits of Microsoft Dynamics 365 for your organisation, we'll be happy to go into more detail on a call. Alternatively, you can book a demo with one of our consultants.
Benefits of Dynamics 365 for Charities
Charities and non-profit organisations with registered status can access Microsoft's non-profit accelerator. This allows these organisations to receive access to Dynamics 365 templates commonly used in the sector (fundraising, awards, program delivery etc.).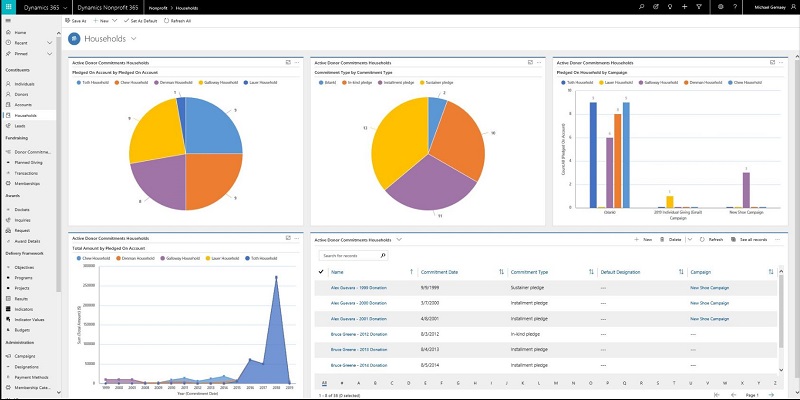 Functionality can then be added free of charge to a charity's Dynamics 365 tenant, saving organisations significant amounts on the cost of developing customised Dynamics 365 instances.
Charities can also take advantage of reduced Microsoft licensing costs for Microsoft Dynamics 365, Business Central and a range of other Microsoft products. And as a certified Microsoft partner, Akita can assist you with all your needs.
To discuss Microsoft Dynamics for charities, please get in touch.