Digitally transforming your operations
As an organisation grows, there comes a time when its ways of working no longer fit its size. Manual processes and reporting can slow growth, while working inefficiencies drive up resource consumption and cost.
An Enterprise Resource Planning (ERP) system, such as Business Central, can introduce new ways of working, streamlining processes and providing the data to drive your organisation forward.
To see the benefits first-hand, contact us for a demo.
Request A Demo
Automate processes
Running your sales, production, resourcing, invoicing and distribution from a single platform can introduce significant workflow efficiencies.
Processes become consistent, tasks can be automated, accuracy is increased, and duplication of work reduced. The end result is an overall increase in efficiency and profitability of your operations.
Unified Data
Managing all areas of operations in a single, secure platform also means all data for your entire business is now in one place.
Rather than disconnected production software and accounts programs, an ERP system enables organisations to join the dots of all its data points.
In turn, this provides better business oversight, useful new trends and overall improved business intelligence.
Uses For an ERP System
Organisations can use an ERP system across the following areas:
Sales – Track all information about enquiries from new and existing customers from start to finish.
Manufacturing – Automate processes, accurately track orders and monitor resource levels with instant data reports.
Finance – Track accurate finance data, simplify billing and invoicing through automation and stay on top of cash flow.
Supply Chain & Warehousing – Track and manage stock and orders in smarter ways, increasing efficiency.
Operations – Manage all areas of your business, see predicted sales revenues and know where to focus your efforts.
Nine out of ten companies that adopt an ERP system say that it has improves some or all of their processes. These efficiencies quickly add up to tangible time and cost-savings.
This is accompanied by an uplift in sales conversions thanks to better management of new and existing customer accounts.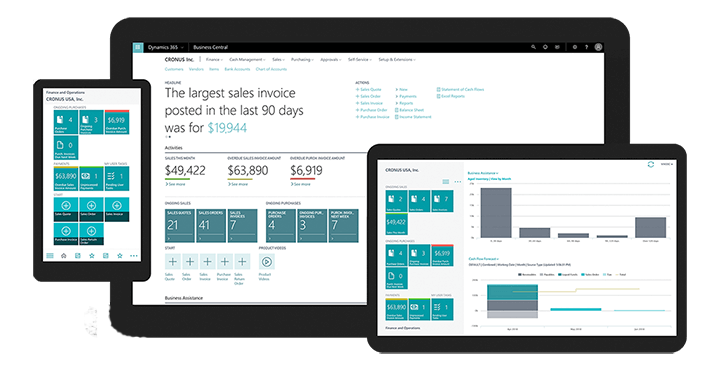 Business Central: Microsoft's modern ERP solution
Microsoft has developed ERP solutions for 20 years and its Microsoft Dynamics application is used by thousands of organisations worldwide to drive all areas of their operations.
Previous iterations of Microsoft Dynamics (such as Navision) were designed for enterprise-size organisations and their processes, and relatively inflexible as a result.
In contrast, Microsoft's latest ERP solution – Business Central – has been born out of the needs of SMEs. From its cloud deployment (making it flexible to use on the go) to its custom reporting capabilities, Business Central is designed to work the way your organisation does.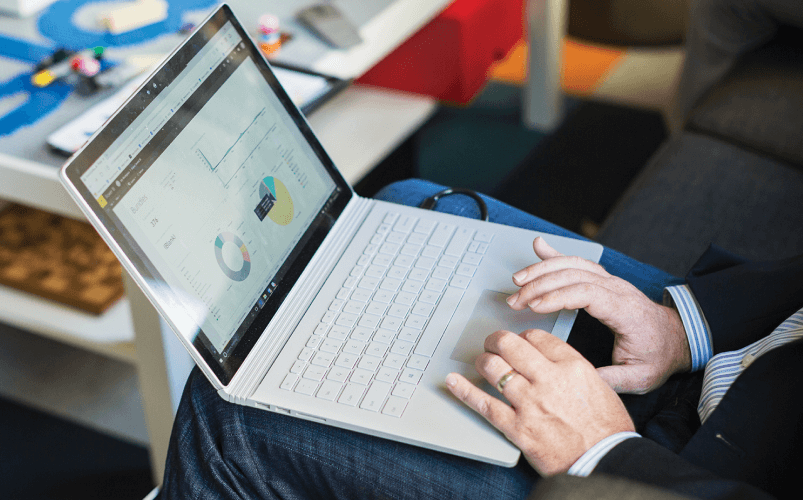 Business Central is also a far more cost-effective solution: it is licensed per user, so costs can be kept low. It's ready out-of-the-box, with minimal development required to meet your needs. And it's modular, meaning you can adopt Business Central's functionality in phases to meet your budget and operational requirements.
To arrange a closer look at Business Central, or to discuss why your organisation should use an ERP system, please get in touch.