Digitally transforming your operations
As an organisation grows, there comes a time when its ways of working no longer fit its size. Manual processes and reporting can slow growth, while working inefficiencies drive up resource consumption and cost.
An Enterprise Resource Planning (ERP) system, such as Business Central, can introduce new ways of working, streamlining processes and providing the data to drive your organisation forward.
To see the benefits first-hand, contact us for a demo:
Contact Us

Why Use An ERP System?: Automate Your Processes
Every organisation strives to streamline their operations and stay ahead of the competition. This is where an ERP system can be an invaluable asset.
By automating a wide range of processes and integrating all aspects of the business, an ERP system provides a centralised platform for managing your operations. And one of the biggest advantages of using an ERP system is the ability to standardise processes.
By ensuring that tasks are performed consistently, the likelihood of errors is reduced. An ERP system also ensures that all employees are following the same procedures. In doing so, companies improve their accuracy and reduce the amount of time and resources required to complete tasks.
Using an ERP system can also help eliminate duplication of work. With a centralised platform, all employees can access the same information in real-time, reducing the need to copy data entry and manual reconciliation. This not only saves time but also reduces the risk of errors.

Why Use An ERP?: Unified Data & Business Intelligence
Managing all areas of operations from a single, secure platform means that all of your organisation's data exists in one location. And that means it's easy to assemble and compare.
By implementing an ERP system, businesses can benefit from a single, centralised database that provides real-time information on their operations, finances, and customer interactions. This allows for improved data accuracy, better visibility into the business processes, and increased automation, saving time.
An ERP system can also provide valuable insights into business performance, allowing for data-driven decision-making that is informed by accurate and timely information. Companies can use their data to enhance operations and automate more of their tasks – freeing up employees to focus on more critical and strategic work.
ERP system reports are highly customisable, meaning reporting can be tailored to your specific needs. So you'll always have the data you need when you need it.
Why Use An ERP System: Increase Your Profits
Ultimately, the goal of an ERP system is to improve efficiency, increase productivity, and boost profitability.
By providing a single platform for managing all aspects of the business, an ERP system enables companies to make better-informed decisions, reduce costs, and improve customer satisfaction. In today's highly competitive marketplace, investing in an ERP system is a smart move for any organisation looking to stay ahead of the curve.
With the payback time of a Microsoft ERP system typically less than two years, expect your ROI – and profits – to soar.
See below for the operations areas that a Microsoft ERP system can help with:
Business Uses For an ERP System
Organisations can use an ERP system across the following areas:
Sales – Track all information about enquiries from new and existing customers from start to finish.
Manufacturing – Automate processes, accurately track orders and monitor resource levels with instant data reports.
Finance – Track accurate finance data, simplify billing and invoicing through automation and stay on top of cash flow.
Supply Chain & Warehousing – Track and manage stock and orders in smarter ways, increasing efficiency.
Operations – Manage all areas of your business, see predicted sales revenues and know where to focus your efforts.
Nine out of ten companies that adopt an ERP system say that it has improved some or all of their processes. These efficiencies quickly add up to tangible time and cost savings.
This is accompanied by an uplift in sales conversions thanks to better management of new and existing customer accounts.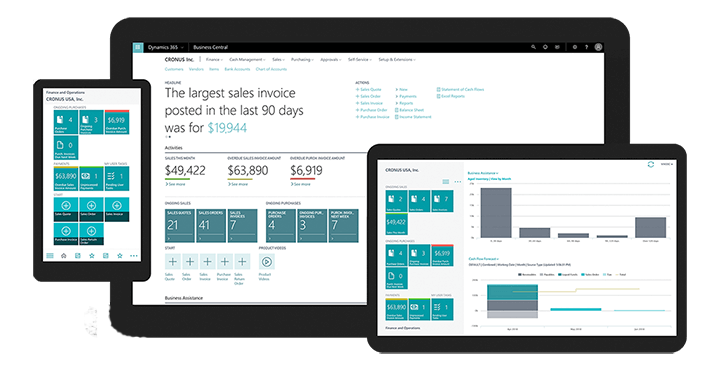 Dynamics 365 Business Central: Microsoft's modern ERP solution
Microsoft has developed ERP solutions for 20 years and its Microsoft Dynamics application is used by thousands of organisations worldwide to drive all areas of their operations.
Previous iterations of Microsoft Dynamics (such as Navision) were designed for enterprise-size organisations and their processes, and were relatively inflexible as a result.
In contrast, Microsoft's latest ERP solution – Business Central – has been born out of the needs of SMEs. From its cloud deployment (making it flexible to use on the go) to its custom reporting capabilities, Business Central is designed to work the way your organisation does.
Business Central is also a far more cost-effective solution: it is licensed per user, so costs can be kept low. It's ready out-of-the-box, with minimal development required to meet your needs. And it's modular, meaning you can adopt Business Central's functionality in phases to meet your budget and operational requirements.

About Akita Intelligent Solutions
With a 25 year heritage, Akita designs, develops and supports business intelligence technologies for organisations across the UK and internationally.
As experts in Microsoft Dynamics, we develop Microsoft ERP systems that transform the operations of our customers.
Our consultants' and technologists' structured project approach ensures that the solutions we develop are tailored to the requirements and operations of the organisations they work with.
This means that, by design, the resulting ERP system makes the organisation more efficient and – ultimately – profitable.
Need a demo to convince you on why use an ERP system? Please get in touch: