What Is Dynamics 365 CRM?
A customer relationship management (CRM) system is a contact management solution. A CRM system formalises the way that data about prospects, customers and contacts are held.
Having an organisation's key information held consistently within one secure system offers a professional and scalable solution for managing and monitoring all of an organisation's activity. It can also improve the efficiency of  organisational activities including sales, marketing, customer service and support. It's not surprising then that over 65% of businesses will adopt some form a CRM within their first five years.
Microsoft Dynamics 365 is a leading CRM application. Feature-rich, Dynamics 365 supports a wide variety of business activities.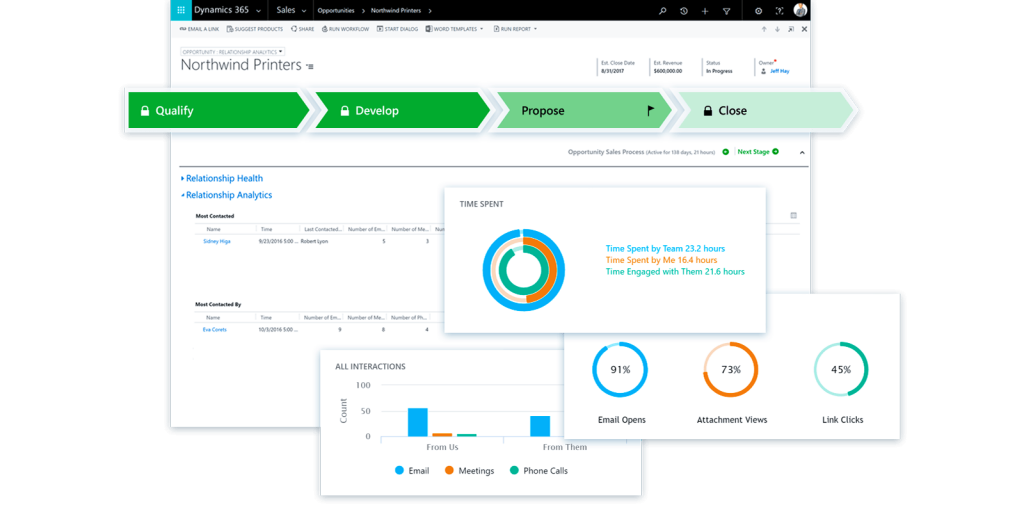 Dynamics 365 is not only a market-leading CRM solution, it offers a number of other benefits for businesses: it's cloud-hosted, freeing up valuable server space and allowing access on the go; it's licensed per user, meaning its cost-effective; and as a Microsoft product, Dynamics 365 intuitively integrates with solutions such as Outlook, SharePoint, Power Platforms, Office 365, LinkedIn and more.
To discuss a Dynamics 365 CRM solution or arrange a demo please get in touch.
Contact Us
CRM Solutions
Microsoft Dynamics 365 supports and enhances a wide range of operational activities including:
Our CRM Services
Akita is a leading Microsoft Dynamics 365 partner. We offer a comprehensive CRM service offering including:
We're highly flexible in our service provision, so can deliver both ad hoc and ongoing services as necessary.
To discuss your Dynamics 365 CRM requirements, please get in touch
Contact Us
About Akita
We're the trusted partner to organisations across the UK and internationally, delivering bespoke solutions in Microsoft Dynamics that meet the needs of business. With over 20 years of experience in digital success solutions, our consultants design, develop, manage and support CRM systems for organisations ranging from SMEs to the FTSE 250.
Our team of experts are experienced in creating CRM solutions that make a real difference to businesses and support organisational growth. Their expertise is recognised not only by the customers we attract but in Akita's Microsoft Gold Partner status. To find out more about the CRM projects we undertake, please view 'Our Work'.
Our Work