Engage customers and market to prospects in a smarter way with Microsoft Dynamics 365.
Monitor campaigns and demonstrate the ROI of marketing efforts with better tracking and attribution with Microsoft Dynamics 365.
Dynamics 365 for Marketing offers a range of solutions to make your businesses promotion more effective. Coupled with a sales solution, you can monitor your brand, understand your customers and find the most successful ways to reduce your sales cycle.
Capabilities
Multi-channel marketing
Plan and execute campaigns across email, social and digital channels with collaborative workflows that keep internal and external teams working in harmony.
Lead management
Nurture contacts and move them through lead scoring systems. When contacts are ready to buy, pass them on to sales teams with full engagement information.
Unify your data
Integrate marketing automation platforms with Dynamics 365 for Marketing and bring all your data together. Show prospect lead scores to sales teams and let them decide how to engage.
Social marketing and monitoring
Track engagement and trends from your social campaigns on Twitter, Facebook and LinkedIn from within Dynamics 365.
Marketing analytics
View predicted pipeline revenue, lead levels and get a clear understanding of campaign ROI.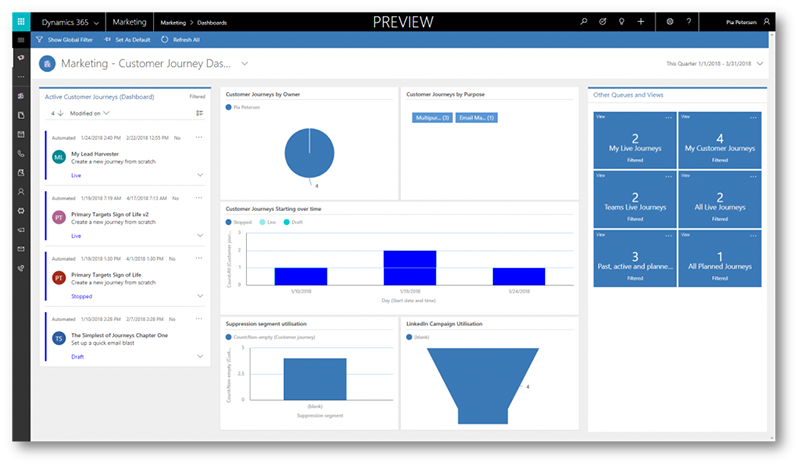 Benefits
Build brand
Deliver consistent, compelling content and experience across all touchpoints.
Engage one-to-one
Personalise engagement and deliver targeted, relevant content at the right time.
Demonstrate impact
Better understand marketing ROI and impact on sales pipeline and revenue.
Dynamics 365 for Marketing solutions
We're experienced in delivering Microsoft Dynamics 365 projects that include marketing as a focus, covering everything from contact engagement metrics to campaign ROI dashboards.
We'll align your marketing solution to work seamlessly with other areas of your business. This ranges from automatic sales notifications when a prospect reaches MQL status, to demand map visualisations that allow operations and field service teams to plan regional resources based on enquiries.
Akita can also integrate third-party marketing software and automation tools such as Hubspot and MailChimp, or social media monitoring tools. This can increase the functionality of Dynamics 365 while keeping all sales and marketing data in one location for improved business intelligence.
To discuss a solution for your organisation, please get in touch