The new applications are part of a raft of new Dynamics 365 developments.
Microsoft has announced the launch of Dynamics 365 Project Operations and Dynamics 365 Finance Insights as part of their Dynamics 365 Wave 1 2020 development.
Project Operations Launch
Available from October, available Dynamics 365 Project Operations will replace Dynamics 365 Project Service Automation. In doing so it will combine features of Dynamics 365 Project Service Automation with Microsoft Project, a dedicated project management application. Some features of Project Service Automation will also be moved to Dynamics 365 for Sales.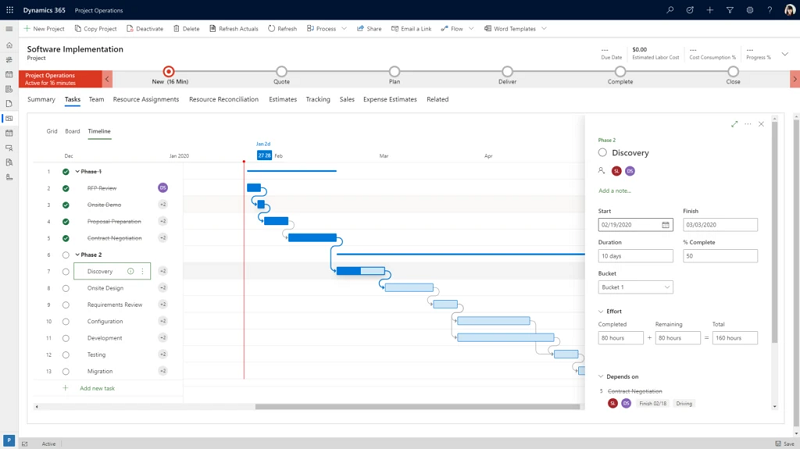 Dynamics 365 Finance Insights will be available to preview from May. Like other Dynamics 365 'Insights' solutions, it will use Microsoft's AI technology to make smarter sense of finance data being received by Dynamics 365, as well as other Microsoft products.
The result is that companies will be able to react quickly to their existing cash positions and plan more effectively based on predicted cash flows. Dynamics 365 Finance Insights also promises to automate or cut out some of the common repetitive tasks that finance staff are required to undertake.
Next Steps
Microsoft has stated that existing Dynamics 365 Project Service Automation customers will have up to four years to migrate to Dynamics 365 Project Operations. Given the integration of Microsoft Project features, it's likely that companies will jump at the chance (price dependant).
It's expected that Dynamics 365 Finance Insights will be added as a bolt-on to the existing Dynamics 365 Finance offering (semi-recently created as a standalone solution from what was once Dynamics 365 Finance and Operations).
View More About Dynamics 365 Project Operations: