Discover how a Dynamics 365 Business Central solution can handle your business' sales, planning, inventory, manufacturing and finances.
Using a fictional case study, we explain how a company can use Micrsoft Dynamics 365 Business Central for manufacturing. Using the process of producing a chair, we explain how the company interacts with Business Central and the business benefits of Microsoft Dynamics for manufacturing.
Custom manufacturing processes
Business Central can be used to support 'made-to-order' manufacturing as well as 'stock' manufacturing, or a combination of both. In this example, we have omitted some of the typical warehouse procedures (such as picking) so as to focus on the manufacturing aspect, but Business Central can support these as well.
Goals Of An ERP Implementation
In this example, a chair manufacturer is looking to implement a new Enterprise Resource Planning (ERP) solution that will create business insight and efficiencies across the production cycle. Especially of interest are:
Up-to-date inventory
By registering consumption correctly (using Bills-of-Materials for example), Microsoft Dynamics for manufacturing can keep track of the raw materials you consume when you produce products and continuously keep your inventory up to date. An up-to-date inventory can help you decide exactly when and what to buy as well as help you forecast delivery dates and avoid disappointing your customers.
Actual cost per product
Capturing the actual production cost (reviewing material/labour/machining) each time you produce an item holds two main advantages. The obvious first one is profitability: you'll be able to see this not only for the finished item but across your operations. You can then focus your sales activities on the most profitable part of your business.
Secondly, this information can be used to shape sales practices. When you know exactly how much your different products cost to produce, you can develop a margin-based commission setup for your sales staff or resellers. This will allow you to incentivise and drive sales of the most profitable items.
Structure
Every employee should have a definition of the tasks being asked of them. Having an unstable and highly varied customer demand is no excuse for not having a structured production setup. An ERP system can give structure to the tasks staff are undertaking and the information they need to record. In return, management should ensure that they are given the easiest possible way to record this information.
A proactive workforce
By requiring your workforce to register the time they spend against each stage of production has more benefits than simply allocating costs to your products. Having staff keep track of their own time and productivity will encourage them to be both more proactive and autonomous. You can even implement bonus structures to reward high-performing individuals and teams.
Example: Chair Production
For this example, the chair company produces chairs on demand. This means every chair production starts with a customer placing an order. The production of the chair starts with a piece of plywood being cut and bent into the shape of a chair seat. It is then painted and finally, the four legs are attached to assemble the final product.
[caption id="attachment_1289" align="aligncenter" width="1024"]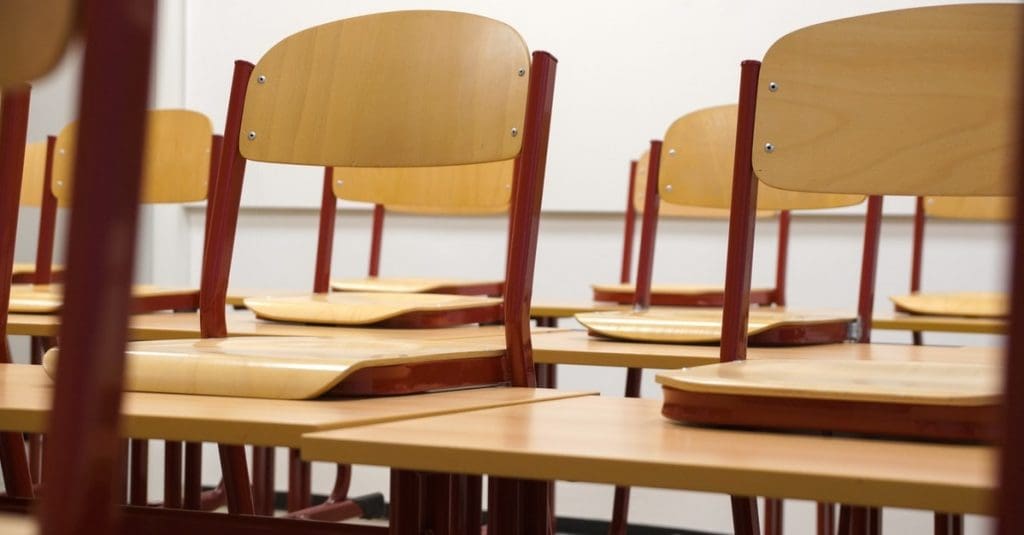 Benefits of Microsoft Dynamics for manufacturing[/caption]
ERP in production
The process starts when the salesperson receives an order from a customer to buy one chair to be delivered two weeks later. That salesperson can place the sales order in Business Central, but if the company is one that receives large numbers of order, Business Central can be integrated with website forms or marketing automation. Sales orders could populate automatically and are then checked and approved by the salesperson, introducing additional efficiencies.
A sales order will then be converted to a production order either by an operative or automatically. The production order sent to the workshop floor, where it can be printed, displayed as part of the production queue on screens, or shown within a custom production app created in Microsoft PowerApps.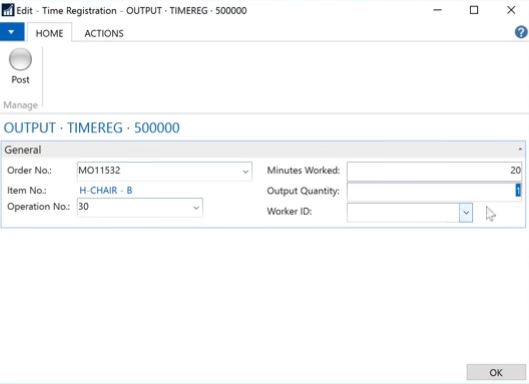 A worker then crafts a seat as per order, registers the time spent in the Power App solution (either on a tablet device, their phone or a PC) that's linked to Business Central and marks the job complete, then takes the seat through to the Painting Hall.
The painter paints the seat, logs their time and completion within Power Apps and takes it through to assembly. Legs are added and that assembly staff member logs their time and completion. Once complete the chair is quality assessed and final approval is given via PowerApps.
The chair is then wrapped, labelled with tracking details generated from the ERP system and shipped. On arrival, an invoice is automatically emailed to the customer for payment.
Benefits Of Microsoft Dynamics For Manufacturing
Arguably the implementation of Business Central will help the business to meet all of its initial goals, as well as allow for the below:
Smarter ordering
By focusing on inventory, we can see when raw materials are consumed in Business Central. Calculations can be made about the amount of plywood available for seats, or the volume of paint used. New resource orders are then automatically placed based on the order queue. This can save the business money: the production schedule for the next month may only be for orange chairs, meaning it doesn't need to order any new blue paint that then won't get used.
Improved time cost analysis
Captured business data can drive cost benefits. Machining the seat may require a more skilled (and therefore more expensive) staff member, and the cost of the machining equipment may be expensive. A minute spent machining a seat may therefore cost the business £1. In comparison, a painter may need much less training and can use a paint gun that speeds the job up. This means that a minute spent here only costs £0.50 to the business. The company can assess where the time is being spent from the Dynamics data. It can then deploy additional resources or solutions to reduce the time in high-cost areas. It can also accurately assess that the price of the product reflect the cost of production.
Adaptive costs/procedures
Should the price of materials rise, the company can determine whether it needs to work out other efficiencies to compensate for this. Each seat may now only be given two coats of paint rather than three, reducing the raw materials used and generating a time benefit to the painter.
Alternatively, the business may establish that it can accept a reduced per-item profit margin based on the rising costs. There may need to be additional sales to compensate, so time may need to be spent more on motivating sales team. Alternatively, the business may choose to raise the price of the item for future orders.
Whatever the business choice, utilising Microsoft Dynamics for manufacturing has given the business an advanced warning and thus the time to consider options.
Smarter sales
Reviewing the business data generated from Business Central can establish where incentives can be introduced to drive more sales.
If a large order comes in for the same colour of chair, for example, the painter can spray multiple seats at the same time. This reduces the per-seat time that they log, saving the company money.
The company may establish that it can offer percentage discounts against orders of certain sizes. Part of this discount will be offered to the customer, but part might be channelled into sales in the form of larger commission for larger orders. This in turn drives more sales and orders, meaning more chairs being produced, creating further efficiencies.
For more about the benefits of Microsoft Dynamics for manufacturing please view our service page: