Microsoft SharePoint is the leading solution for creating company intranets and communication sites that support both office-based and remote users. And Akita is the ideal partner to develop your SharePoint solution.
We're a Microsoft Gold Partner, experienced in developing intranets solutions for a wide variety of functions and organisational goals. And our work with SharePoint spans SMEs to major organisations and institutions.
So whether you're considering a traditional intranet, a company-wide storage platform, or a custom Sharepoint communication site solution, we're well placed to discuss your requirements.
To discuss your SharePoint intranet requirements with our consultants, please get in touch:
Contact Us
Benefits Of An Intranet
An intranet can be thought of as an internal-facing website. It's a central location for all information relating to an organisation's operations –  from useful template documents to staff HR records.
Intranets can be configured to publish news, updates or information that users may need to know, but that may not need to be made public knowledge via a website. It can also be a location for your users to collaborate on files, regardless of their physical locations.
An intranet can also be a means of communicating company culture and wider values – the latest charity work or sustainability goals, for example.
Microsoft SharePoint is the market-leading intranet software solution. Beyond the benefits of its wide range of capabilities (covered below), many organisations will find they have access to SharePoint through their existing Microsoft 365 licensing. This makes it highly cost-effective as a solution.
Smarter Internal Communication
Intranets are an effective tool for communicating internal information across a company, and is a great way to a great way to keep all users engaged – particularly if the workforce is spread across a variety of locations
Setting up a SharePoint intranet (or a communication site as part of a wider SharePoint setup) can be the ideal way to share key organisational announcements, policies, and employee notices. Organisations can communicate in a variety of formats (news pages, links, images and videos) to get their message across – more effective and longer-term than email or other messaging solutions.
SharePoint as an intranet can also become the home of workplace calendars, holiday booking forms and resource scheduling tool, providing a truly centralised location for your organisation's operations.
Book A Demo
Intranets For Document Sharing
A SharePoint intranet can also be a useful resource for storing files and documents. By pooling resources within SharePoint, an organisation can reduce duplication of effort and standardise output, creating efficiency gains in the process.
As a document or file management solution, a Microsoft SharePoint intranet can also support collaborative working on documents. Whether Excel, Word, PowerPoint, users can edit files simultaneously. This saves time on projects and reduces issues relating to version control (which can be overseen by your SharePoint administrator).
SharePoint provides every organisation with 1TB of cloud storage – more than many file servers. This is then accessible by users wherever they are.
For more information on SharePoint as a file server please download our white paper:
Download
Uses For SharePoint Intranets
Read thought leadership and case studies on the value of intranets for functions within an organisation:
SharePoint Intranet Development
We're a leading Microsoft SharePoint developer, creating intranet solutions in both SharePoint Online and On-Premises that deliver against organisations' requirements.
Through scoping and stakeholder engagement, we'll determine exactly what your organisation needs to achieve with your intranet or communication site, and provide suggestions as to the best way to achieve them. With our wider business experience, we can also suggest broader SharePoint and Microsoft 365 functionality that may benefit your organisation as you grow.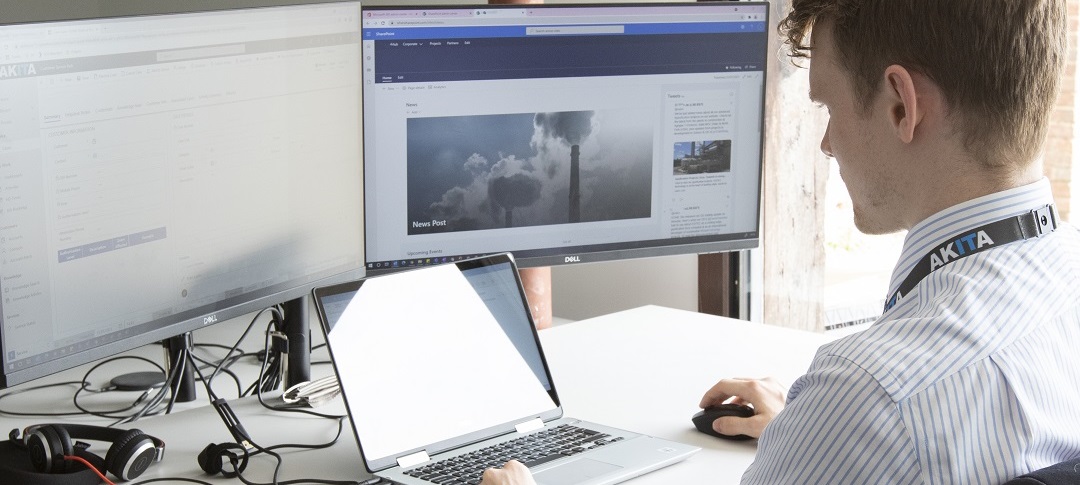 Once an approach is agreed upon, we'll then design and deliver your solution upfront or in phases as per your requirements. This includes establishing user access matrixes, ensuring that only users with the right permissions can access files and information relevant to their position.
We'll also brand your intranet or communication site to keep the look and feel coherent with the rest of your brand, ensure that SharePoint is both attractive and easy to use for your users.
Microsoft 365 & Office 365 Integration
As a Microsoft solution, a SharePoint Online intranet can be configured to work seamlessly with Microsoft 365 applications and your wider Microsoft tenant.
SharePoint makes live collaboration on Word, PowerPoint and Excel documents simple, with easy sharing and version control as well.
We also regularly develop Power Platform solutions alongside intranets as part of wider digital transformation projects. And a SharePoint intranet also makes the ideal location to host relevant Power Apps and Power BI reports that your organisation may rely upon.
Mobile-friendly Intranets
By default, all intranets built with SharePoint Modern Experience are mobile-device friendly, meaning that they can be accessed by users on-the-go without any loss of features or experience.
In addition, our SharePoint Online intranets can now be linked to Microsoft Teams, allowing users to access key information alongside messages, chats and calls – a true unified communication solution.
View Our Work
Reliable SharePoint Partner
All of our SharePoint intranet projects are secured with Microsoft's market-leading security features. Additionally, we can protect access to your intranet by securing Microsoft 365 accounts with multi-factor authentication and other advanced security solutions.
As a Microsoft Gold and Tier One partner, Akita can also provide any licences required for your SharePoint intranet. Equally, we can advise where your Office 365 and Microsoft 365 licences can give you access to a SharePoint intranet already.
To discuss a SharePoint intranet project, please get in touch below: