Smarter Selling For Your Organisation
Microsoft Dynamics 365 Sales is an advanced sales CRM solution that provides the contact management and business intelligence tools needed to turn more leads into business.
Microsoft Dynamics 365 Sales helps sales teams to manage enquiries at scale, providing them with the AI-driven insight to know more about potential customers and when they are ready to buy.
Akita has worked with organisations of all sizes to deliver Dynamics 365 Sales. We've helped them improve their sales management, and smash their targets in the process.
Ready to see if Dynamics 365 Sales CRM solution can help you win more business?
Contact Us
Features Of Dynamics 365 Sales
Microsoft Dynamics 365 Sales can assist your team to be more successful in the following key ways:
Manage leads & customer engagement
Automate and simplify lead and customer engagement, shortening the sales cycle. Dynamics 365 streamlines contact information and records, making it easier to quickly see key information and communications.
On-the-go functionality with the Dynamics 365 Sales app 
Microsoft's dedicated sales app allows salespeople to access and update information from Dynamics 365 on the go. This means your teams are always armed with the information they need and can respond to new requirements quickly.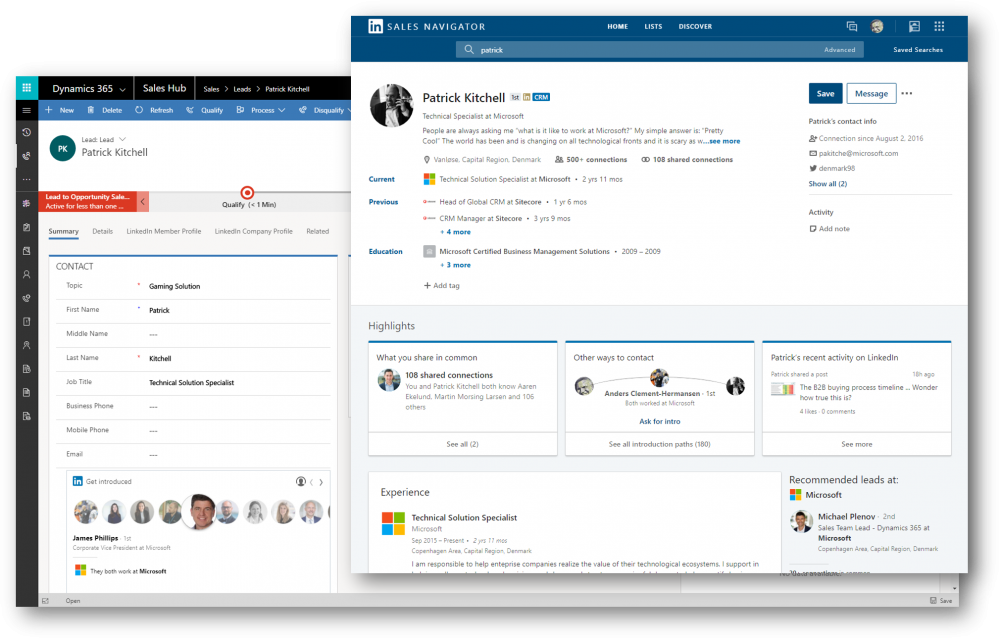 Personalise communication
Track all aspects of customer communication, allowing your sales teams to better understand customer and prospect interests. Dynamics 365 connects intuitively with both Outlook and LinkedIn to keep track of company and contact updates, allowing you to further personalise communication. And with Sales Insights, you can even get AI-style intelligence about which leads should be prioritised based on buying signals in emails.
Track performance & pipeline
Dynamics 365 makes it easy to see both historic and real-time sales data, helping to predict upcoming sales trends and ensuring supply and resource levels. Data can also help sales managers to know which team members need their efforts focused upon, or which deals are most likely to convert. Microsoft Power BI can then be used to turn sales data into understandable graphs and visualisations.
Want to see more? Watch our demo of Dynamics 365 Sales.
Microsoft Dynamics 365 Sales Costs
Ready to adopt a sales CRM solution? Discover the following implementation strategies to get organisations up and running:
Our five day, fixed-price QuickStart Sales implementation is designed to get you up and running with Dynamics 365 Sales as quickly as possible. You can even spread the cost.
Read more about the deliverables:
More Info
Whether you've got complex CRM requirements, are looking to migrate to Dynamics 365 from another CRM system, or have 3rd party
integrations to consider, we'll be able to create a tailored plan for Dynamics 365 implementation and adoption.
Get in touch to discuss your requirements with a consultant:
Contact Us
As a Microsoft Tier 1 CSP partner, Akita can supply Dynamics 365 licensing at the same cost as buying direct from Microsoft. We can also work with organisations to find ways to save on their licensing.
Find out more info on our Dynamics 365 licensing offering:
Licensing

Benefits of Dynamics 365 For Sales Teams
Built For Purpose – A CRM specifically developed and tailored to the needs of sales teams.
Efficient – Integrates with all the tools a modern sales force uses, delivering smarter working.
Intelligent – An AI-enabled solution, Dynamics 365 can help predict when it's best to engage with customers and prospects.
Scalable – Used by SMBs through to enterprise organisations, Dynamics 365 scales with your success.
Proven – Research shows Dynamics 365 Sales pays for itself, delivering a return of over £15 to for every £1 invested.
Discover more about the practical benefits of Microsoft Dynamics 365 Sales in our case studies:
Our Work
See how Dynamics 365 can transform your sales operations
See Your Next Sales Solution
Watch a demo of QuickStart Sales - our package Dynamics 365 Sales solution:
Watch
Microsoft Dynamics 365 Licensing
We supply Microsoft Dynamics 365 licensing at the same cost as buying from Microsoft. Here are the licence variations to support sales:
Professional offers a comprehensive sales CRM solution, with full lead management functionality, product detail repository and quick campaign marketing functions. Professional integrates easily with Outlook, OneNote, SharePoint and Power BI.
Contact
Professional offers a comprehensive sales CRM solution, with full lead management functionality, product detail repository and quick campaign marketing functions. Professional integrates easily with Outlook, OneNote, SharePoint and Power BI.
Contact
Microsoft offers heavily discounted licensing for charitable organisations. Contact us to discuss more:
Contact
Microsoft Dynamics Services
As a professional Microsoft Dynamics partner, we can provide hypercare and post-go-live assistance as part of any CRM project.
We also offer a range of services for existing Microsoft Dynamics users looking for consultancy development or ongoing support relating to their Microsoft Sales CRM requirements.
To discuss our Microsoft Dynamics services, please get in touch:
Contact Us

About Akita Intelligent Solutions
With a 25 year heritage of digital success solutions, our consultants design, develop, manage and support Microsoft Dynamics setups for some of the leading organisations across the UK and internationally.
Our team of experts are experienced in creating Dynamics solutions that make a real difference to organisational growth.
Their expertise is recognised not only by the customers we support but in Akita's Microsoft Gold Partner status.
To discuss Microsoft Dynamics Sales CRM requirements please get in touch: