Microsoft has now ended sales of Dynamics NAV 2018 for new customers, while increasing it's promotion of Business Central.
We explore Microsoft Dynamics NAV vs Business Central, how they differ as products and why your organisation may want to move from Nav to Business Central.
What is Microsoft Dynamics NAV?
Dynamics NAV has been a Microsoft product since 2002. Since this time, it has developed into a market-leading Enterprise Planning Resource (ERP) solution.
It has been used for end-to-end business management for companies from SMEs to enterprise in size. And its flexible design and customisation options has seen it being adopted by thousands of businesses all around the world.
So why has Microsoft released Business Central?
A complaint levelled at many ERP systems is the perceived high cost of getting started.
Most companies recoup the cost of ERP ownership in year one (from efficiencies and increased sales). However, the price tag of a customised Dynamics NAV was perceived as high by many small businesses.
Recognising this, Microsoft sought to develop an out-of-the-box ERP solution, with all the main features companies want pre-made. Dynamics 365 Business Central was launched in 2018 as an opportunity for businesses to have a ready-to-go ERP system with minimal extra development.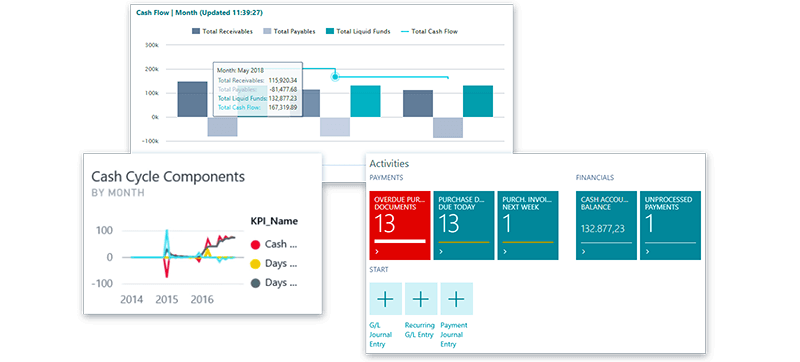 Business Central also fits better into Microsoft's development roadmap. At present, businesses might be running one of up to seven different versions of Dynamics NAV. So many versions also make it difficult to deliver updates and security patches. Business Central, in contrast, is always on the latest version by default. Major updates take place twice a year and any required patching is performed as necessary.
New developments are also coming thick and fast for Dynamics 365, from AI enhancements to new possibilities from products like Power Apps. Microsoft is keen for businesses to enjoy all functionality: this isn't possible if many of them are using older versions of NAV.
Dynamics NAV vs Business Central: What's the difference?
In reality, there aren't too many differences between the two solutions. Business Central is in effect a more streamlined, efficient version of NAV, at an overall lower cost. The main differences are as follows:
Licensing
Unlike NAV, Business Central is licensed by the user. Users can purchase a monthly or perpetual licence to use Business Central.
Licensing is structured around user requirements. So, alongside Premium (administrator) and Essential (key functionality) licences, Microsoft also offers Team Member licences. These offer predominantly read-only access to your ERP (with some basic editing functions). This is the perfect solution if users only need to be able to see information in your ERP rather than make significant changes.
Team Member licences are also around a tenth of the cost of other licences, so can save organisations significant amounts. You can read more about Business Central licences here.
Hosting
NAV has traditionally been an on-premise solution. In contrast, Business Central was born in the cloud (though an on-prem version is available).
Many companies will find a cloud ERP more beneficial to run: updates are easier, you can get access anywhere from any device, and Microsoft takes care of hosting and security within their data centres.
Microsoft has even recently rejigged storage costs for Dynamics 365, meaning that you'll have to develop a fairly large ERP instance before needing to pay for any additional storage.
Integrations
As mentioned, Business Central integrates intuitively with other Microsoft solutions. Contact data syncs easily with Outlook, unlocking improved communication. SharePoint Online can be used to store documents, pictures or files relevant to Business Central records. And PowerApps can be used to transform Business Central data into custom apps that serve your business however you need (take a look at this example we created).
Migrating from NAV to Business Central
The benefits of Business Central alone might be enough to make organisations migrate from NAV.
Equally, the writing is on the wall for the future of NAV. Microsoft has said there will be no new versions of NAV and has stopped selling NAV 2018 to new customers. The page title of the NAV overview page on Microsoft's website has even been changed to 'Dynamics NAV is now Business Central' .
Support for NAV will continue but is being phased out: patching for NAV 2013 for example will end in 2023. In the life span of an ERP system, this is not a long time to migrate to a new solution.
If you're looking to migrate from a version of Dynamics NAV to Business Central, please get in touch. We regularly undertake Dynamics migrations and can ensure a smooth transition. New to Business Central and would like more information? We'd be happy to provide a tour of features as part of a short demo.
For more information about Business Central services: