Dynamics 365 is the smarter way to manage customer requests and support enquiries.
With a Dynamics 365 for Customer Service CRM solution, you can deliver effective customer service and support at scale, without losing the personal touch.
Why use a CRM system for customer service?
Over 95% of consumers rate customer service as an important factor in their loyalty to a brand.
When polled, around a third of people say they have abandoned a brand in the past year because that brand didn't deliver a good enough personal service.
In contrast, loyal customers are twice as likely to try your other products as new customers. Existing customers will also spend over 30% more than new customers.
Organisations adopting a Dynamics 365 for Customer Service CRM will find themselves better able to meet their customers' requirements, delivering personalised and improved customer satisfaction at scale with no additional effort. And by delivering better customer service, you're more likely to increase sales.
Capabilities of Dynamics 365 for Customer Services
Communicate over every channel
Deliver end-to-end customer service across all communication channels. Track all interactions from within your customer service CRM to be able to deliver incisive and personal service.
Self-service
Power self-service customer solutions, such as predictive live chat or chatbots, delivering up-to-date answers and information that satisfies your customers' needs without the need for an agent.
Better case management
Give customer service staff the ability to resolve issues faster and more efficiently. Differentiate support responses based on contractual SLAs and be able to provide a more personal service with instant access case data in your customer service CRM.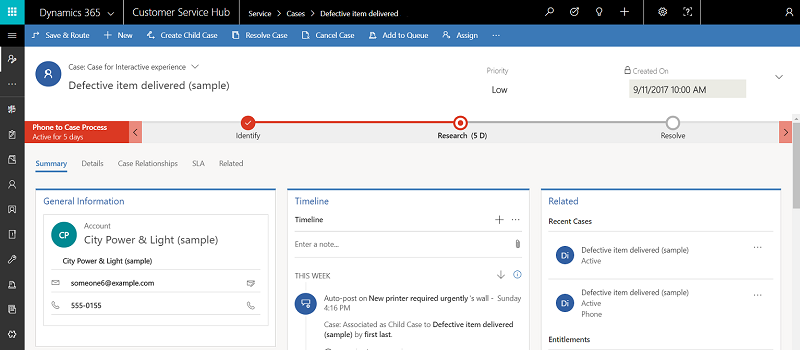 Benefits
Earn customer loyalty
Provide personal interactions that resonate with your audience across all devices and channels.
Empower agents
Provide customer service staff with everything they need to deliver high-quality and effective service.
Work smarter
Quickly adapt to new customer requirements and predict future trends to be able to resolve requests faster.
Drive improvements
Use the data from Dynamics 365 for Customer Service to track performance and calculate the efficiency of customer service strategies.
Dynamics 365 for Customer Service demo
If you're interested in a closer look at the capabilities of Dynamics 365 for Customer Service, why not book a demo with us? One of our consultants will guide you through the key features via video call.
Then enjoy a no-obligation, 30-day free trial where you can explore Dynamics 365 at your own pace. We'll also be happy to answer questions during your demo and can suggest next steps at the end if you like what you've seen.
For a Microsoft Dynamics 365 for Customer Service demo, or to discuss development, please get in touch: