Tailored cloud project management solutions
Discover SharePoint project management solutions that can cover everything from single requirements to multi-project, multi-phase deliveries.
Cloud-based and accessible, SharePoint is a flexible solution for busy project managers. Plus as it's available through many common Microsoft 365 licences, a project management system in SharePoint can be far more cost-effective than dedicated software.
Ready to see SharePoint as a project management system? Book a demo:
Contact Us
Supporting Your Project Management Workflow
Create
Build project areas from templated SharePoint sites then bring in the required users to access files.
Select
Compile all required documents and ideas and structure them into sprint folders as required.
Plan
Add project steps (using SharePoint Lists or Gantt charts), assign owners and set up alerts as deadlines approach.
Manage
Oversee all project stages from central hub dashboards, accessible on the go - allowing you to deliver on time.
Features Of SharePoint For Project Management
Microsoft SharePoint can be configured to fulfil a range of project management requirements:
• High level overview of project status / progress
• Keep data all in one place
• Ensure clean and accurate data is held through field requirements and data validation
• Line level permissions for granular project access management
• Automate creation of templates
• Granular permissions for project roles
• Track key documents if required to progress a project
• Automatic archiving on completion of project
• Assign tasks to users
• Create email reminders as deadlines approach
• Dictate project planning milestones and scheduling
• Overall project performance
• Per task completion
• Per document and file completion
• Option to integrate with Power BI for advanced data visualisation
• Microsoft Planner
• Microsoft Project
• Monday.com
• Consignment Tracking
Advance Project Management Features – At A Low Price Point
Beyond team sites, we also configure SharePoint as a project tracking tool specifically for busy project managers.
Projects can be linked to Microsoft Teams allowing easy and trackable communication around projects, plus enabling access on the go.
SharePoint can also feature Gantt charts, detailing the progress of various streams of a project – or even multiple projects – with automatic updating as tasks move through to completion. And your solution can be fully branded.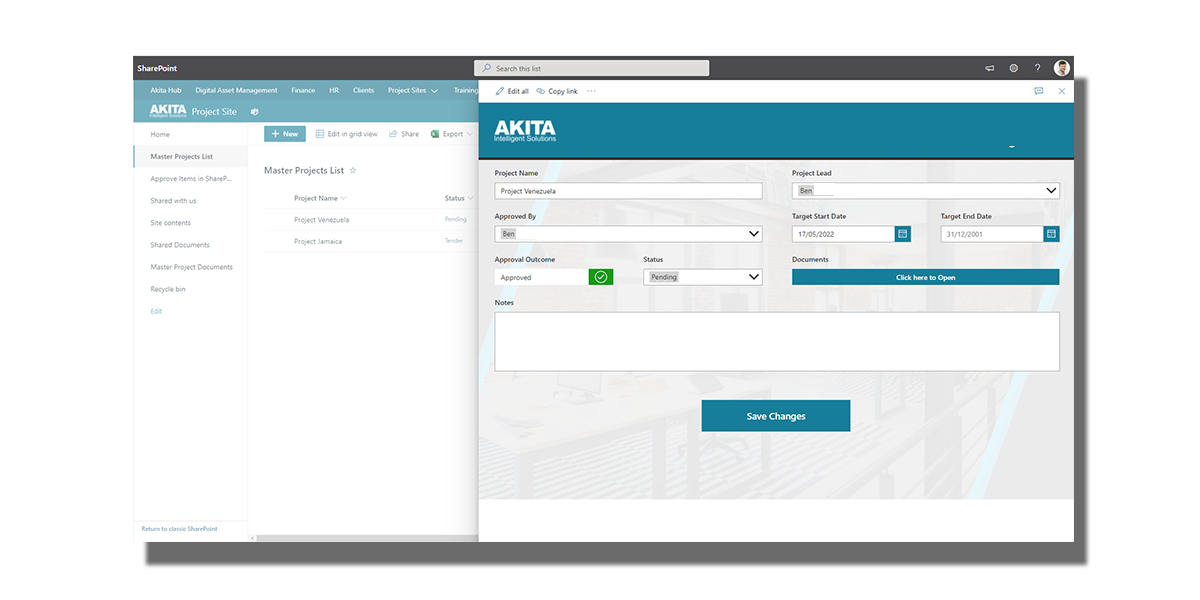 With Akita's in-house expertise in Microsoft Power Platforms, we can also expand SharePoint's automation functionality further. Using Power Apps and Power Automate, project management systems can include advanced data validation functionality, custom forms, advanced workflows, automated permission control and smart approval processes.
automated templating and structuring of projects
Smarter Project Management With SharePoint
Discover how we've developed SharePoint for project management capabilities in our case study:
Our Work
Why Use SharePoint For Project Management?
Aligning Systems – Your SharePoint project tracking solution will be part of the same familiar system as your intranet / communication site.
Smarter Document Management – SharePoint offers advanced document control and management features – ideal for storing and collaborating on project files
Accessibility – Your project management system can be available across any device, or anywhere you can login to your Microsoft 365 account
Security – Benefit from Microsoft's advanced security and data protection measures such as multi-factor authentication and the ability to roll back to previous versions should needed documents be deleted
Cost-Effective – SharePoint is significantly cheaper than most project management systems. You may already have access through your existing Microsoft 365 licensing

About Akita Intelligent Solutions
Akita Intelligent Solutions is a leading provider of digital transformation consultancy and solutions. We design, develop and support business intelligence technologies for organisations across the UK and internationally.
Our expert SharePoint experts have experience working across a broad range of transformation projects with leading organisations in the UK and internationally.
Their expertise also extends into wider business systems and processes. So they'll also be able to advise on best practices and how to future-proof the solutions you're implementing.
To discuss our SharePoint consultancy, please get in touch: