The announcement of Dynamics 365 Virtual Agent for Customer Service holds great potential for automating customer services.
Virtual Agent for Customer Service is an AI-based, all-round solution that enables organisations to easily make the most of artificial intelligence (AI) for customer service.
The Virtual Agent is easy to interact with, despite the sophisticated technology with which it operates. Therefore, organisations can focus on the content as the powerful virtual agent engages with customers through smooth and personalised conversations.
It also doubles as a powerful analytics tool, collecting real-time data from interactions with customers that can then be used to improve future responses and improve customer satisfaction.
Benefits of the Virtual Agent for Customer Service
Quality and quantity of content
This is one of the critical sources of customer satisfaction. The agent can provide high-quality content over a wide range of information needs, servicing customers' requirements rather than giving generic responses.
It can adapt to natural languages
The Virtual Agent can understand user responses while maintaining good conversation flow, making it a suitable tool for a wide range of demographics.
It can take action on behalf of the user
As a result of seamless integration with the solutions such as Microsoft Flow, Virtual Agent can trigger actions such as pointing users to relevant web pages, contact details or downloadable content.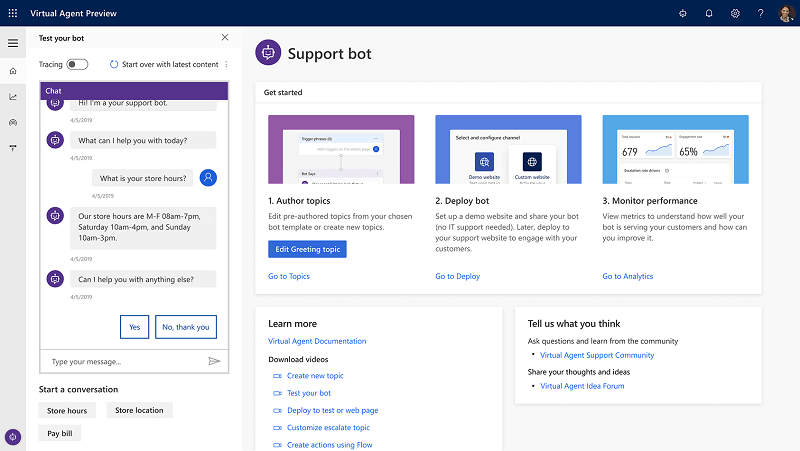 With the new Dynamics 365 Customer Service Insights integration, organisations can also benefit from suggestions and practical courses of action in regards to critical customer needs.
The importance of excellent customer service
1. It's cheaper to retain customers than it is to acquire them. Just 5% of customer retention could increase profits for an organisation by 25%. Using the Virtual Agent could therefore help increase operating profits for an organisation.
2.Happy customers are highly likely to recommend something to family, friends, or co-workers. Being able to support customers whenever they have a question (as opposed to when you are in the office) can therefore improve customer satisfaction and increase the likelihood of attracting more business.
3. Approximately 75% of users share their positive experiences with an organisation. The reliable nature of the agent can therefore project a positive brand image. Organisations can also use Dynamics 365's social integrations to monitor comments about its service, potentially using this to improve its processes.
The Dynamics 365 Virtual Agent for Customer Service is an application focused on the solution rather than the technology. The result is helpful automated conversations with customers, guiding them to the solutions they need. These features allow an organisation to achieve its customer retention goals and remain profitable by working smarter, not harder.
For more information, please get in touch