Continuing our overview of the Dynamics 365 October update, we look at updates coming to Dynamics 365 Business Central.
While perhaps not as exciting as the updates aimed at marketers and sales professionals, these forthcoming changes are important additions to Business Central as Microsoft's newest Dynamics 365 offering:
Accessible on every platform
It took Microsoft some time to get Dynamics 365 to a point of being fully accessible across all devices. Thankfully, it's taken a much shorter time to achieve the same with Business Central. A good user experience on tablet will be welcome, though we are most interested to see how well Business Central will work on mobile.

Microsoft is also promising to improve accessibility standards – an important factor that many websites overlook.
Improved desktop experience
Much like the Dynamics 365 facelift that occurred with the version 9 update, Business Central will also be getting a desktop experience reboot.
According to October release notes: "Customers get a new, refreshed user experience that helps them become more productive, while Microsoft partners value the ease with which they can now take the product to market and on-board new customers."
Given that Business Central is still a relatively new product, we predict changes will be nuanced. However, the improvements we saw for the Dynamics 365 desktop interface when we upgraded is enough to make us think this is a noteworthy improvement.
A better experience with Power BI
Power BI is growing in popularity as an advanced reporting tool for assessing company data. As of the October update, users will be able to get access more Power BI reporting functionality from within Business Central, rather than leave the platform.
Users will also be able to customise Power BI reports within Business Central, adding the option to create in-depth analysis of key data at the touch of a button.
Advanced search and filtering options
While these may not sound like exciting updates, they're probably the most useful as they are likely to reduce time and increase user efficiency.
A new search field will cover all pages and reports, as well as documentation. Items are broken down by abstract so it's easier to click what's of interest rather than a record with a similar or duplicate name.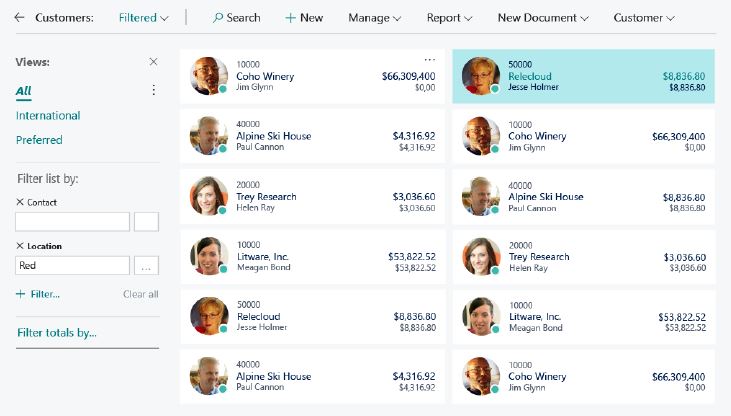 Meanwhile a new filter pane allows you to see filters currently applied, add new filtered columns quickly by typing their name, and apply more values to filters. This addition should help to move Business Central away from Boolean logic-driven filtering that can be tricky to master.
To book a demo or to get your Business Central project underway, please get in touch.